I have had no energy for the last two days. My cold came back with a vengeance. A horrible, wrathful vengeance. I even left work early yesterday, which I do pretty much never. =(
Anyway, I'm way too gross for make-up, and couldn't see trying to do my nails while I'm constantly reaching for tissues, so lets just enjoy my Drugstore&Beauty.com orders, shall we? They had great sales recently, so I couldn't pass them up: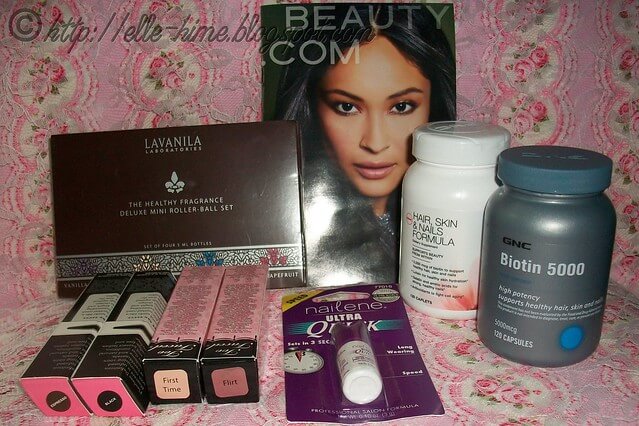 Drugstore.com items:
GNC Hair, Skin & Nails Formula
GNC Biotin 5000

Beauty.com items:
BE Flawless Definition Mascara in Black and Espresso
Too Faced Glamour Gloss in First Time and Flirt
Lavanila Deluxe Mini Roller-Ball Set
The Drugstore and Beauty sites have such a huge array of products! I bought the GNC supplements to see if there would be any improvements in my nails from taking them. Ever since late this winter I can't get my nails to grow long like I used to. I don't know if it's from the harsh chemicals and cleansers at work, from lack of moisture, or just some major shift in my chemistry, but it's annoying! The nailene glue is also for trying to hold my poor nails together, and I figure I'll use it for nail art rhinestone later on.
My favorite mascara has turned out to be Bare Escentuals Flawless Definition. Not the volumizing version. I still use and try other new mascaras, but this is the one for me. And lately I've had a hankering for a good old brown mascara. Black is awesome and it has it's place, but I've been wishing for a dark brown again. It's a nostalgic feeling, since I started wearing brown mascara before getting hooked on black. Every new mascara that comes out is...black! So finally I got smart and just went for my favorite in Espresso. Thank you Beauty.com for having this harder-to-find color. ♥
I love Too Faced Glamour Gloss. (
It's true - see here!
) It's a major addiction and a good thing that they aren't available in more colors or I would be a less wealthy girl. I was planning to wait to buy the rest of the colors on my wishlist from Too Faced's site, but... I think I got impatient. I now have all the colors my heart desires! But I have to wait until I'm less germ-infested before I will try these pretties, because I don't like contaminating my make-up.
I have not tried Lavanila before, but I love natural products, and these are about as natural as perfumes get! I will have to get my sense of smell back before I try to see what I think of these. Hopefully I'll be better soon!