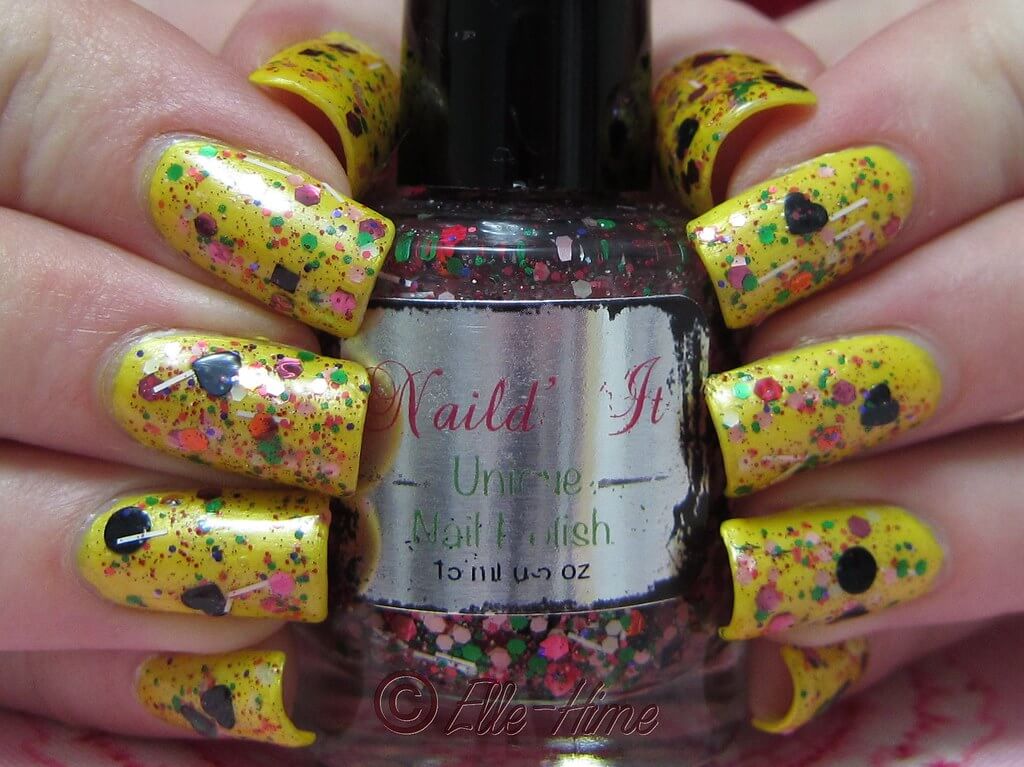 Channeling my inner summertime was very easy yesterday. I ate lunch outside sitting in sunny 52° weather, completely atypical of December 3rd in any other year of my life. And with
China Glaze
Sunshine Pop and
Naild'It
Summer Lovin' Melon on my tips, it still doesn't feel like winter at all.
This was my first time using Sunshine Pop. It is a bright yellow with silver-white shimmer. Basically
China Glaze
Happy-Go-Lucky
with a slight frost. The bright yellow isn't the kindest to my skintone but I love it anyway! My first coat of Sunshine Pop was was a thick, streaky mess. It had issues with bubbling and I was almost ready to call it quits right there. I kept my wits about me, dropped some polish thinner into the bottle, shook it again, and was able to continue without bubbles, fortunately. It still took two more coats to be decently opaque, and then it had more frosty brushstrokes than I liked. I immediately followed with my fast drying topcoat and that evened it out wonderfully. In the end I love it!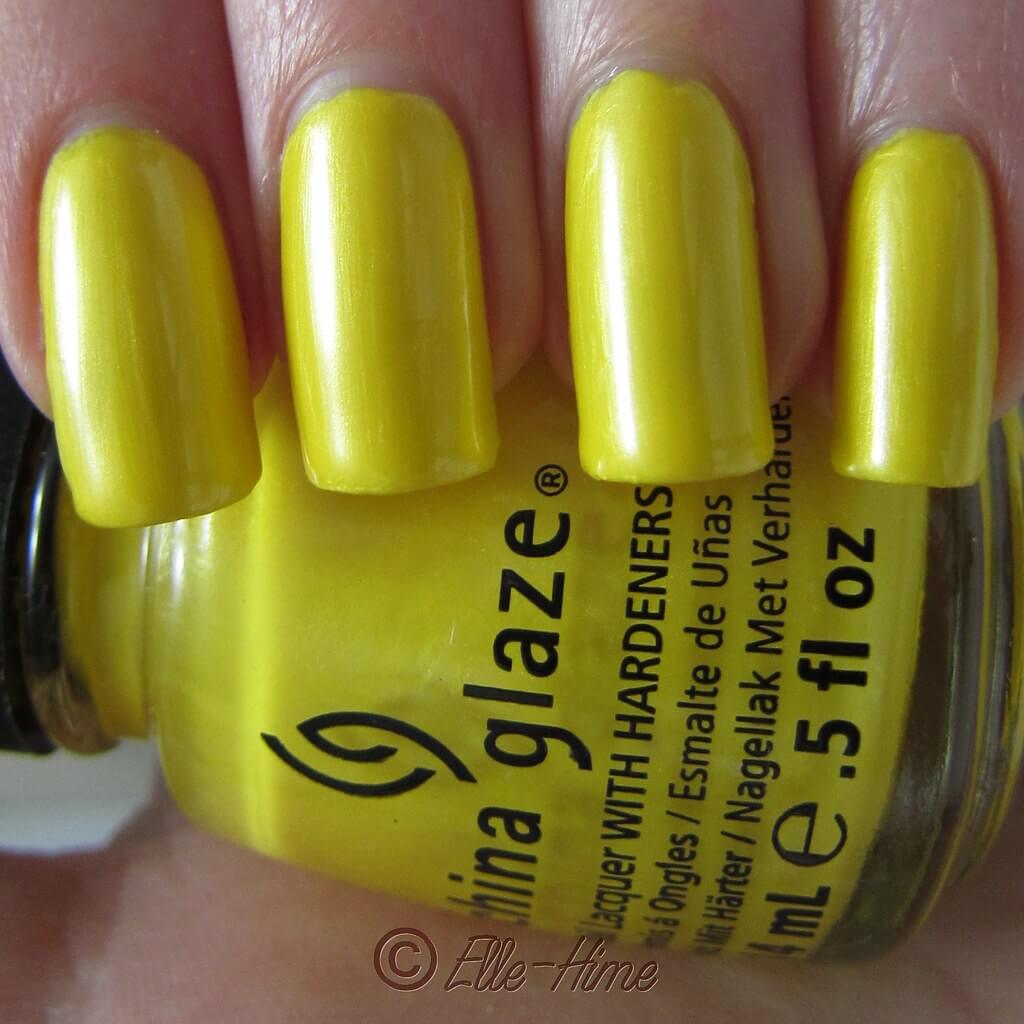 What do you think? It isn't the best formula I've had to work with, but I think it is worth the three coats. Topcoat made all the difference in my attitude going from "meh, it's so-so" to "wow, candy-colored-sunny-bright-goodness!" And I knew it would also be a protective barrier between the glitter that was about to go over top.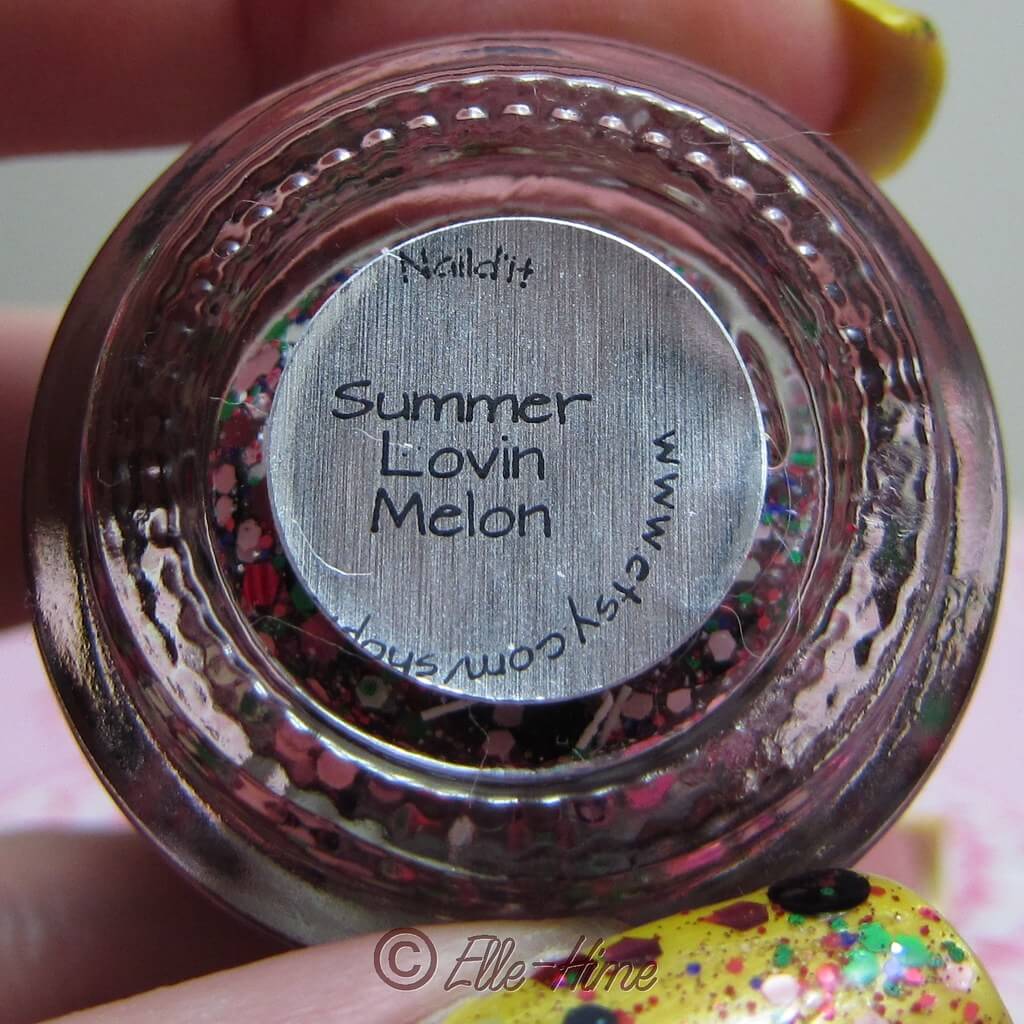 I was fortunate to win a bottle of
Naild'It
polish from Kim at
OverallBeauty
. She offered it as a prize in a
water marble contest
. Summer Lovin' Melon is my first bottle from the brand. It is full size (15ml) and has silver printed labels, but some words aren't easy to read. I really like the sturdy bottle shape, but at first the stubby handle looked goofy to me. The brush and handle are perfectly good, though. Now I love how the handle is flat on top. All I had to do was turn the bottle upside down (I think I left it for a half hour?) before using it and I had no issues getting the glitter out!
In fact, a lot of times I was wiping glitter back in. The formula is very thick. This helps the glitters not to slide around when applied but you do need to watch out for brush overload! Looking at the bottle it can be hard to tell what is hiding in there. I didn't realize that it includes black circle glitter until one came out on my brush, and then another, and another!
I used two coats of Summer Lovin' Melon, but would be happy with one, as well. The glitter is easy to apply and only needs dabbing to cover thin spots. The large black hearts and circles were often on the brush without me realizing. There are black squares as well, but these seem more sparse in the formula. The other colors are large pink and orange hexes, white bars, striped matte red hexes, satin green, purple, light pink and white hexes. Microglitter comes in red, too. I chose a yellow base to show everything off, but next time I'll try a watermelon pink to get it's namesake look.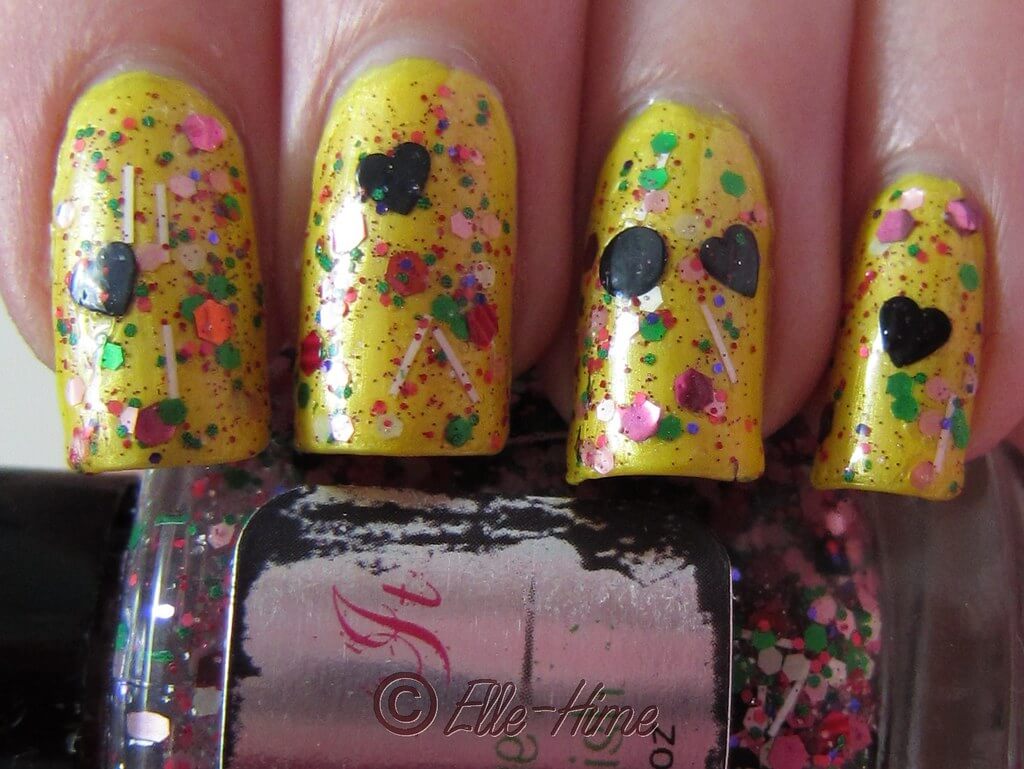 I had to photograph both of my hands to show how colorfully my nails turned out. Yes, this is a chaotic polish, but it is fun and eye-catching. I just wish I would have had sunshine when it came time to do these pictures!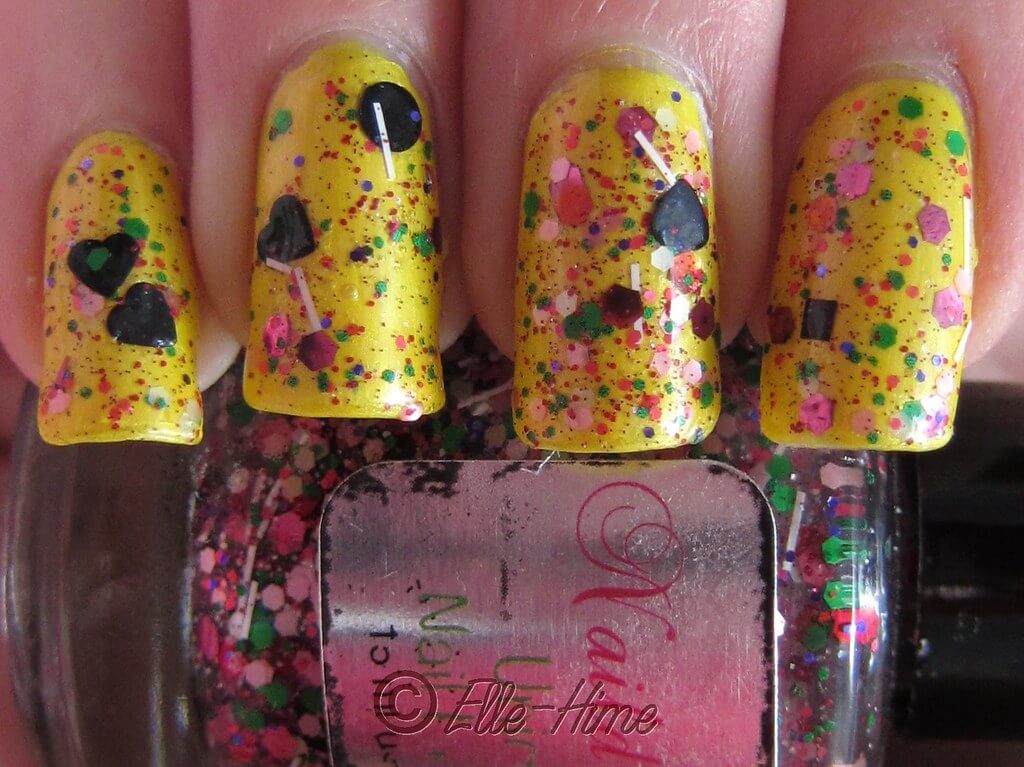 A word on topcoat. I used two coats of Gelous and then a coat of my thickened fast-dry top coat. While not a topcoat-thirsty glitter the larger pieces will stick out. I sealed them in this way and there are only a couple spots that have a bump. This doesn't bother me any, but it is worth noting. This ended up being a very thick manicure but that is what I was going for - my nails have been "tough as nails" since applying it. (From start to finish I did 10 coats of my nail polishes on each nail...)
In the end I have been pleasantly surprised by this busy glitter polish. Judging by other swatches Online I thought it would apply as small glitter with a stray heart here or there, but that wasn't the case. It was easy to work with, and is my first polish to contain those awesome circles. Right now the
Naild'it
etsy shop
is closed, but you can buy these from various indie polish e-tailers. They go for about $10-$11 from what I've seen. Honestly that is steep for me so I'll probably hold off on these unless I
really
love the color.
I hope you found this manicure helpful. Let me know your thoughts in the comments! =)