Things are looking up! My last doctor visit went well and my fluid levels are where they are supposed to be. So long as this continues I should be able to safely carry this baby to term! As of today that only makes 3 weeks to go, anyhow... I'm fine with her waiting until then to come out, haha. =)
So, this month... kind of made up for buying so little earlier in the year... Some things were gifts though, too! And pretty much everything else in this picture was on sale.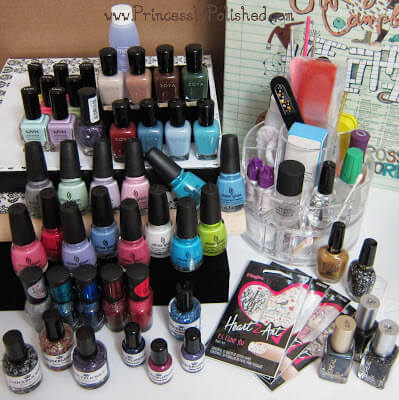 Usually I would have a bunch of pictures and list off everything that I accumulated, but I'm not doing that this time. (Combine a busy week & weekend with the exhaustion of pregnancy...) Instead I'll leave links to what I've already shown on my blog!
I've already tested more of what you see here... tune in next week for Nyx swatches and more Laquerlicious eye candy! I think I want to try out the nail decals or foil sheets I found next...