I'm sharing the manicure I just did today. This is the result of getting an idea in my head and not being willing to let it go even when I got my first clue that it might not be the best idea with color I chose. Ever have one of those stubborn moments? I just did; at least it didn't turn out too badly.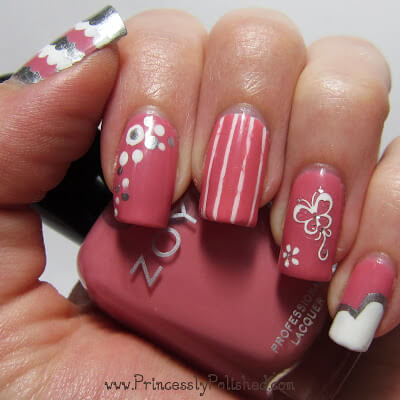 The idea for this manicure happened when I picked up Zoya Simone from my Mom's sales. The pinkish hue held nuances of vintage, lady-like, and sophisticated. Wouldn't it be neat to do a patchwork/quilt square manicure with this color and white? Well, that was a nice idea until I started using Simone and realized that it really isn't a good color for nail art. While two coats were good on a plastic swatch nail, it took three to get rid of VNL on my own nails. The formula is a bit runny, as well. Simone really doesn't get along with taping methods. My poor middle finger looks sad because I had to use two coats of Simone on my white base, and I tried to be quick about pulling the striping tape up but it was gloopy anyway... blah.
Oh well! My other two colors were Zoya Purity and Pure Ice Silver Mercedes. I tried two new techniques - a ruffle nail (thumb) and bubbles (index) - both dotting-tool designs. The butterfly nail is done with stickers and my pinky is a cloud nail - super easy! What about the other hand? Well... I'm not sure what I'm doing with that yet. Maybe just a solid color, to give myself a break. ;P What do you think?