Hello, princesses. It's vary rare for me to share sale announcements or any type of advertising on my blog, but this one is way too good not to point out! One of my favorite make-up sites is having a sale on one of my favorite things... nail polish! Behold: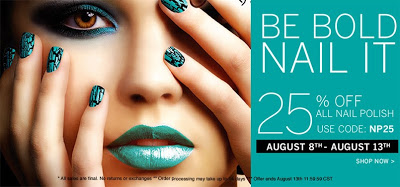 Source: CherryCulture.com! All the images in this post were pulled directly from their site.
To make this a little more interesting I'm going to share a few of my favorite brands to buy from Cherry Culture, and specifically the products I enjoy most by those brands! Working in brand-alphabetical order...
Some of my most-loved and most often used colors come out of this collection. These are great performing 2-coater pastels and brights that are a wonderful addition for anyone who enjoys colorful nails, or needs some basic colors for nail art. I own all but one from this bunch! Also, these tend to be hard to find in stock, because of their popularity. Right now Cherry Culture seems to be well-stocked for the sale, yay!
Yes, more cremes. Good cremes, though! Really good cremes. I especially love Aquadelic, Dance Baby, Kinetic Candy and Sweet Hook. One thing to note is that Wicked Style is practically a dead-on dupe for Heli-Yum from the Up & Away collection. Both are colors I love, but you don't need both!
This is an older collection but it includes three of my most-loved glass-fleck polishes: 108 Degrees, Blue Iguana, and Senorita Bonita!
For being "cheapie" polishes these tend to be very good! I've got a bunch of them. The website swatches really don't do them justice. My suggestion is to look up swatches of the collections Online!
Of course I had to include these! I only own a couple, but their price is good, the polishes are full-sized, the magnets are easy-to-use and have unique designs available. Hello, ring-shapes on my nail! Not everything has to be stripes and waves...
Can you tell I love a lot of L.A. Girl collections? What can I say, they are good quality and affordable. These glitters-in-a-clear-base are great basics for layering, and my top pick is the black glitter, Uninhibited. It was one of the first available black glitter toppers, before the black glitter craze even hit!
If you like metallics, and in particular foils, have a look at these. Most of the shades here are highly-pigmented, wonderfully formulated foils. A few are metallic shimmers. Again, you'll find swatches Online if you search for the color you're interested in. My favorites are Chromium Green, Graphite, and Pink Steel.
This one has a little bit of everything. Awesome dark shimmering shades, fun glitter and shimmer toppers... Once again I suggestion looking for swatches of the collection Online rather than going by the dinky site swatches.
Okay, okay. Enough of the L.A. Girls stuff. Moving on...
A drugstore brand, but I can't usually find all the colors in my local CVS, and Cherry Culture tends to stock them cheaper. Their newest collections, Retro Glam and Exotic Plumage have both had highly favorable reviews, and you'll find them both here. The special black & white glitter toppers are listed separately, however.
I have been using and loving these for quite awhile now. They are affordable linear holographics with user-friendly formulas. Their rainbow effect isn't crazy-strong, but they really are stunners! I think it's because of the holographic microshards in them. These can be worn on their own, but my Mom and I have found them to be excellent for layering over other shades.