Today marks 4 months since my husband Joe and I were married. I have said very little about our wedding, wanting to take the time to explain what went on and why I was away longer than expected. It took more time to put in writing than expected, but it let things settle in my mind. Here is the tale of how we got married while dealing with unexpected complications.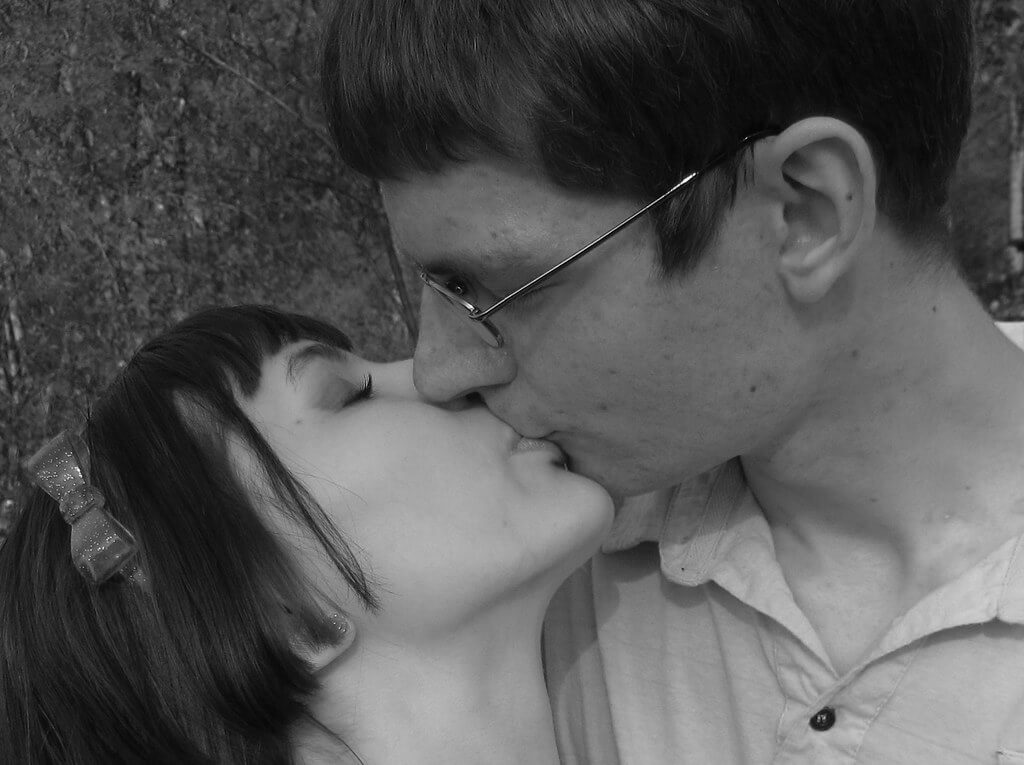 It was April, we were deep in wedding preparations for our chosen date, May 5th. Our wedding was going to be a simple affair, with the ceremony in the early afternoon that Saturday and a dessert reception to follow. We had found a place to live; Joe was waiting on the keys still so he could move in. I was busy with making a dress for my maid of honor. At last on April 18th we were able to pick up the keys to our new home, but at that same time we came to a tragic realization... Joe had the chicken pox.
Varicella Zoster. Chicken pox. He never had it as a child. I had been exposed to it several times before but never had a full-blown case myself. Coming down with the chicken pox as an adult can be dangerous, even deadly, especially for grown men. In his 20s, we had no idea what Joe was in for.
The week and a half that followed was scary, worrying, and to some extent horrifying. Never in all our research did we realize just how covered in chicken pox one person could be. No pictures showed a case as extreme as his. After a few days of a 103 degree fever we took him up to the Emergency room to be sure it wasn't going to turn into pneumonia or infection. He was going to be alright, and we were doing all the right things so they let us go after some testing, but so many nurses came into his room because a case as bad as his was never seen before. He was completely covered in blisters and totally miserable. I've never seen anyone sick like that before and hope I never do again.
To brighten up our days a little, I bought us our first pet. A crowntail betta fish that we named Pastel. (He is now in our living room and doing well!)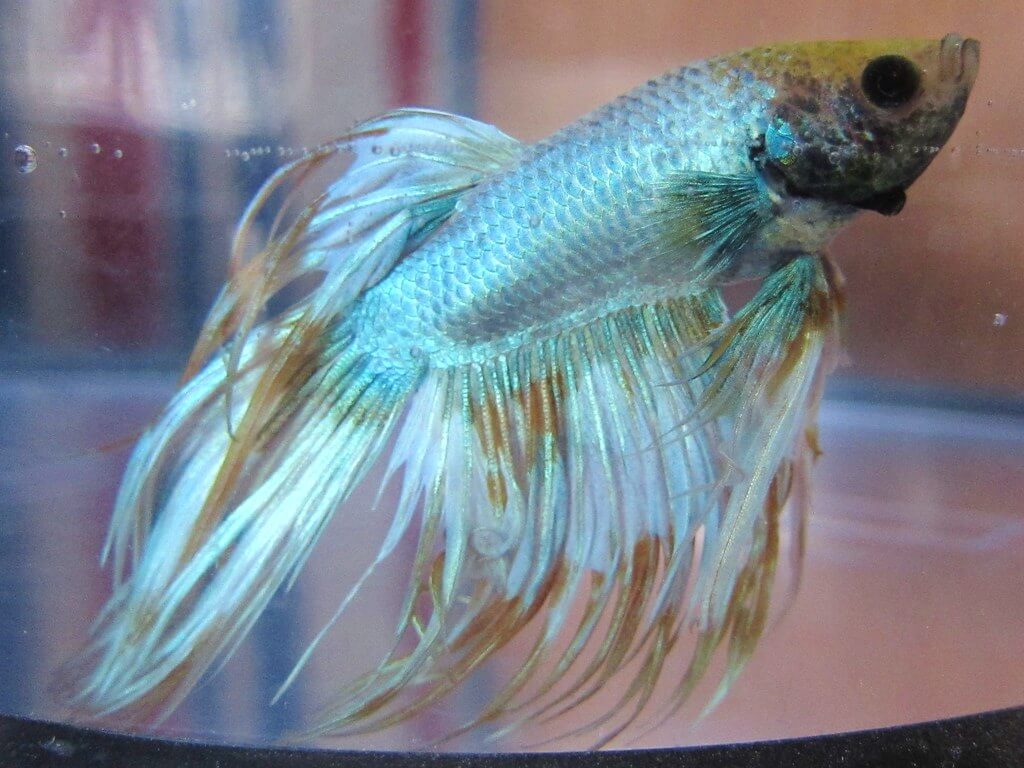 Plans had to be changed, people had to be notified, and there was no way we could pull together some of the last minute wedding plans. With the risk of contagion many of our attendees had to regretfully decline because of health issues. Our guest list slowly dwindled. We cancelled the wedding reception until a later date.
At the same time, we had the keys to our new house, but Joe was bedridden and completely unable to move anything into the place. I would take things over here and there from my own family's house, but I was also still going to work and mainly focused on being sure that Joe was alive.
Oh, and one morning I smashed my foot into an end table so hard that I broke a toe. At that rate I figured that if we did get our things moved to a new house it would burn down with all our belongings in it. I sure couldn't wear the heels I picked out for the wedding, anyway.
At last Joe came out of the danger zone and was showing signs of improvement. I had a limp. Joe was exhausted and still couldn't do much, but with the help of family we got Joe's things moved from his apartment to the new house. It was May, Joe was recovered enough to be around people, no one caught the chicken pox from Joe as we had feared, and we were all doing our best to pull together a simplified wedding. We just had to go pick up the new suit for Joe, and that meant a nice outing on a beautiful spring day, including stopping for ice cream!
We went out together on May 2nd. I was so tired and achey... by the end of having something to eat, getting Joe his suit and getting back to the car, I had him check the back of my neck. Sure enough, I was getting the chicken pox. Joe was very upset, and it was an emotionally rough few hours for both of us. Once we got back to our hometown we made a trip to the emergency room and went out for a prescription that would hopefully help. Oddly enough the weather turned into one of the worst storms we had that spring.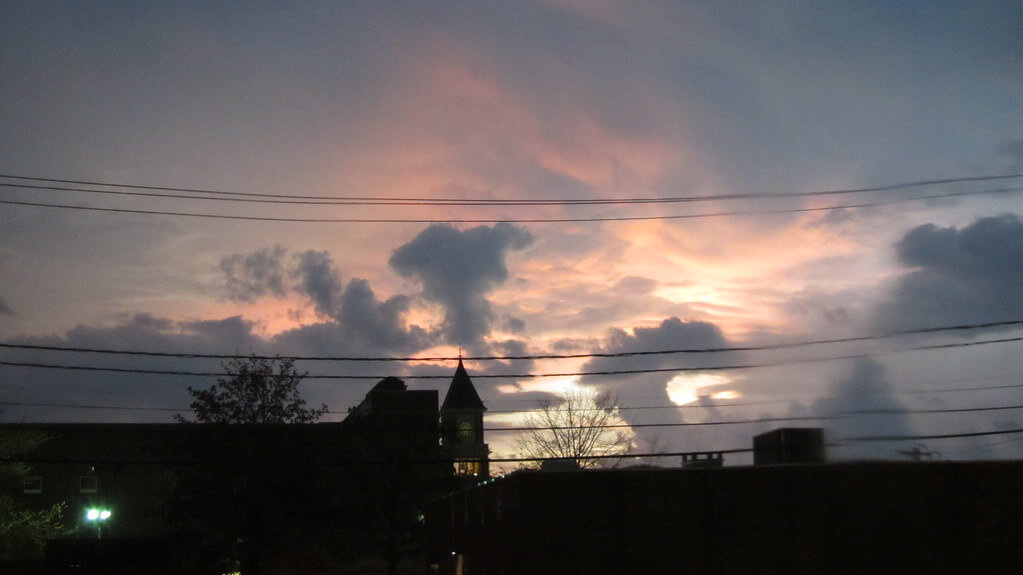 It was pouring and hazardous to be out in it, but the skies were gorgeous.
Plans were further simplified. Only a small handful of close family would be attending our wedding, and the time an location was changed. I couldn't go get my hair done up. There was no way that I'd wear the gorgeous silk and cotton dress that I designed and my mother sewed. I wouldn't wear that ensemble while covered in blisters.
On May 4th, we were in these states respectively:
Sprouting new chicken pox and being exhausted, and healing from chicken pox blisters while still exhausted. Still, there was a happiness in knowing that we were going to get
married
the next day, and a giddiness in that. We were also so glad that all the calling, planning and replanning would finally be over.
I had stayed overnight at my mother's house and took a comfortable knit dress that was originally hers (I once had a matching dress as a little girl) for the wedding. To spare others I kept my arms covered with long pale pink gloves. I did nothing with my hair other than wash and dry it. I curled my lashes and applied lip gloss. My nails were bare as well as my feet. I was too tired to stand for very long and my broken toe was still recovering.
Joe got to wear his new suit with a handsome brocade vest that was sewn by his mother. One of these days we will get dressed up for our wedding photos as they were intended. (We also cancelled our photographer.)
It was a beautiful morning and the deck had a nice ambiance for an impromptu outdoor wedding. Wind chimes would tinkle softly in the occasional breeze and a few butterflies were about, attracted to all the flowers that were around. It was indeed simple and informal, but it was also gloriously stress-free, and we had comfy deck chairs to sit in!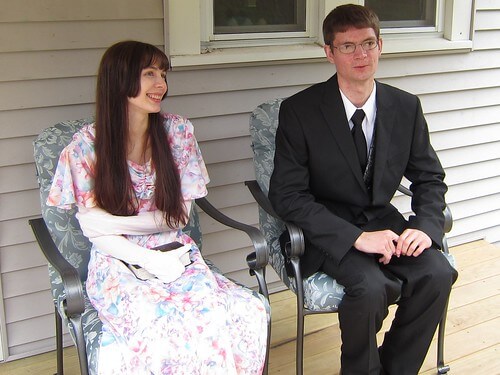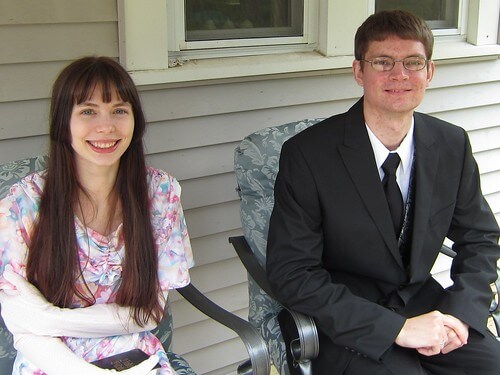 Here are a few shots taken during our wedding ceremony: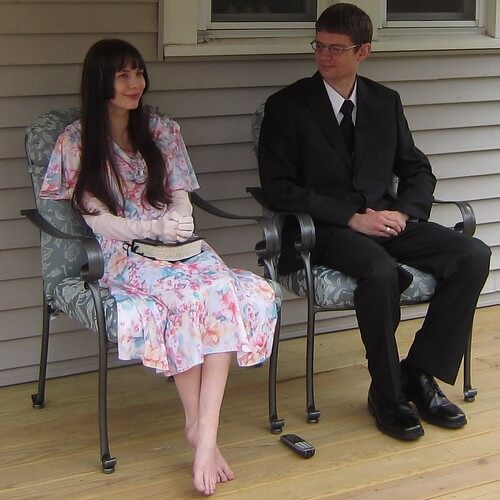 Plenty of smiling. That phone on the deck? Family that could not attend was listening in.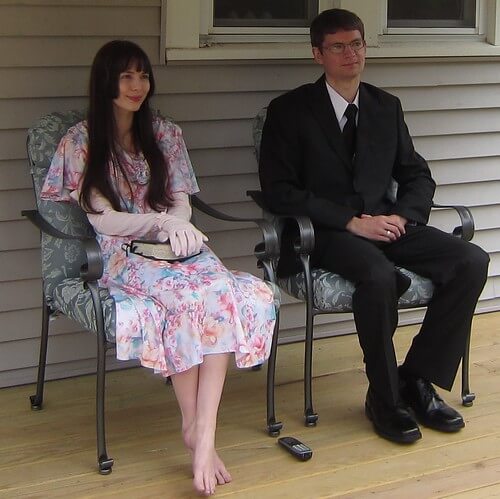 Listening intently to wonderful Bible-based advice to get us through the future... then onto vows!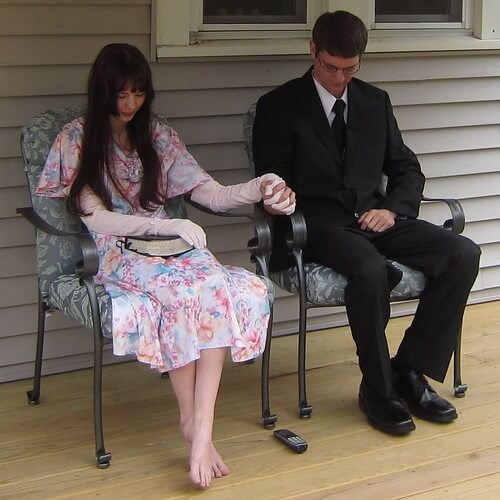 And ending with a word of prayer... as well as a kiss that I don't have any good pictures of!
At last, we were married! No, it didn't all go as planned but everyone was happy and there were more hugs exchanged with the few people that were there than I could ever count. We all went to have lunch at my grandparents house, who graciously offered their place and their kitchen for the meal. Another set of grandparents picked up a sheet cake, which was a sweet surprise. (Our original c
ake plans were cancelled, yes.) And we saved our customized cake topper: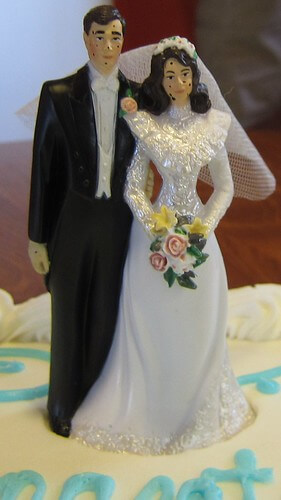 It really captured us, don't you think? The meal was delicious. We got to take our time with family, giving thank-yous and saying goodbyes. Afterwards Joe and I went home together, to
our home
, as happily married newlyweds.
I didn't end up getting the chicken pox as badly as Joe did. We had the week off after our wedding to recuperate and we just stayed home. By the next Saturday my spots were gone save for a stubborn few and we felt that it was safe to venture out into the world. We went to a park and snapped lots of photos of the flora and fauna, as well as the photo at the start of this post. It was a beautiful day.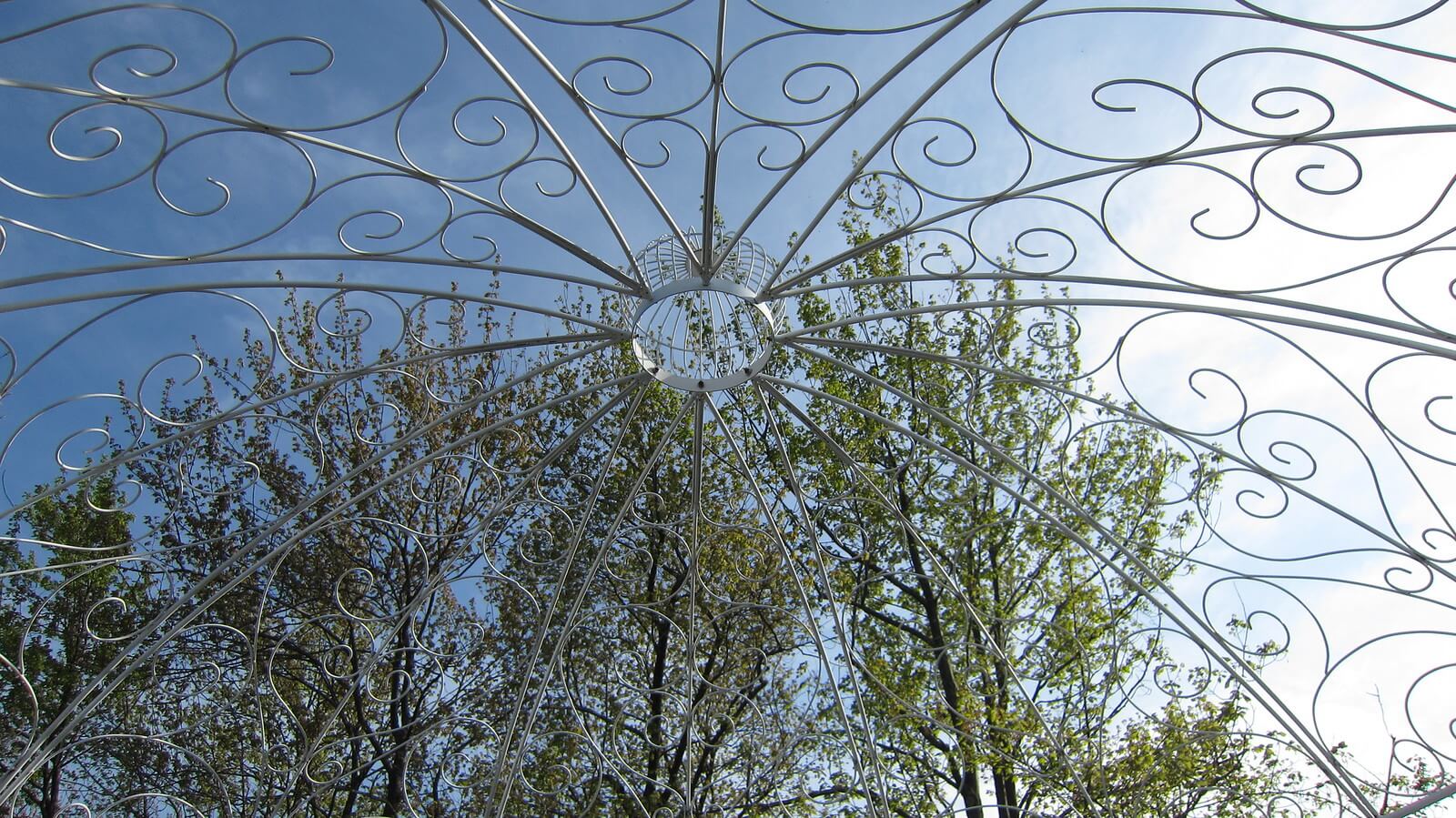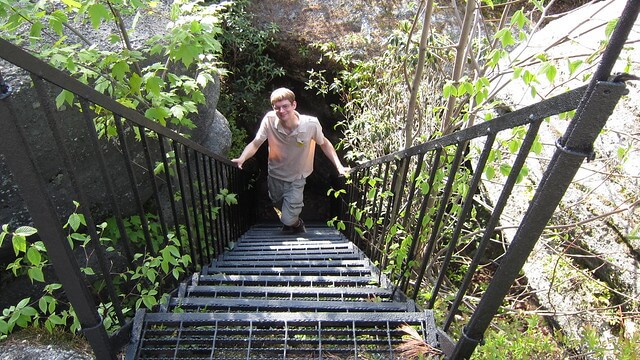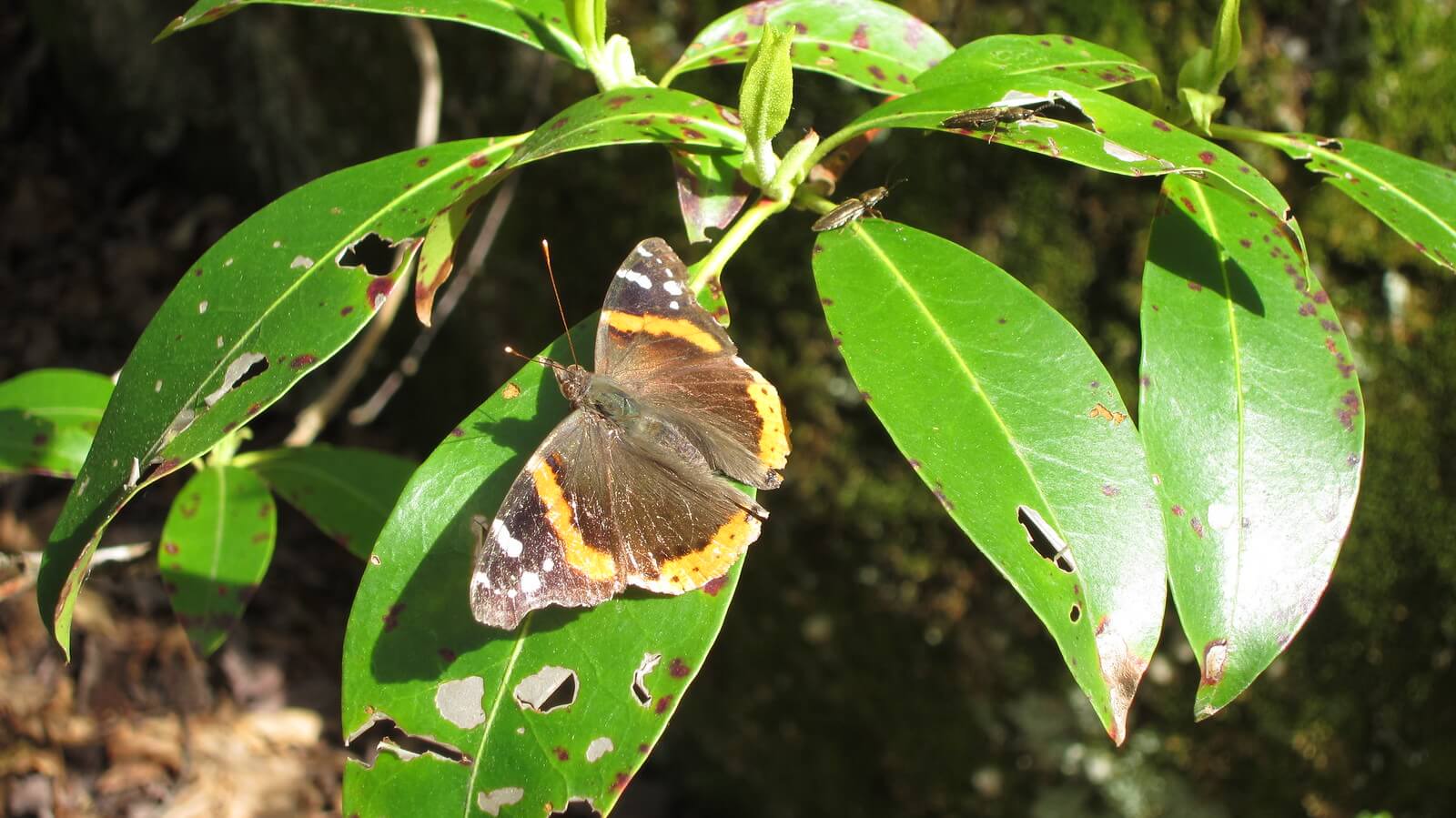 And now we're doing fine. We are ridiculously happy together. My belongings were finally moved from my grandparents house, out of my old room and the attic I used for sewing, and settled into our house. Our place feels like home. Last month we got to have our belated reception party, and it was great. While the chicken pox were not kind to us, and my husband still has the scars to show for it, it did make us realize just how weatherproof our relationship is. We got through that, we can get through anything!
Sure, it's still a tiny bit sad not to have gotten the wedding that we had planned on. There are things that were taken away by our sickness that we can't have replaced - memories and shared time with friends. We didn't have the so-called "fairy tale wedding", but we've most certainly gotten a good start on our happily ever after.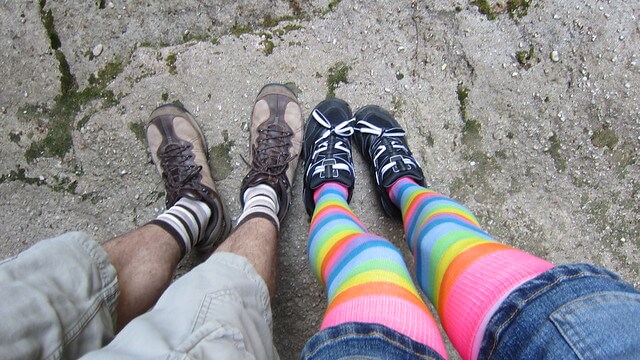 Thanks for reading. ♥
~ Rochelle