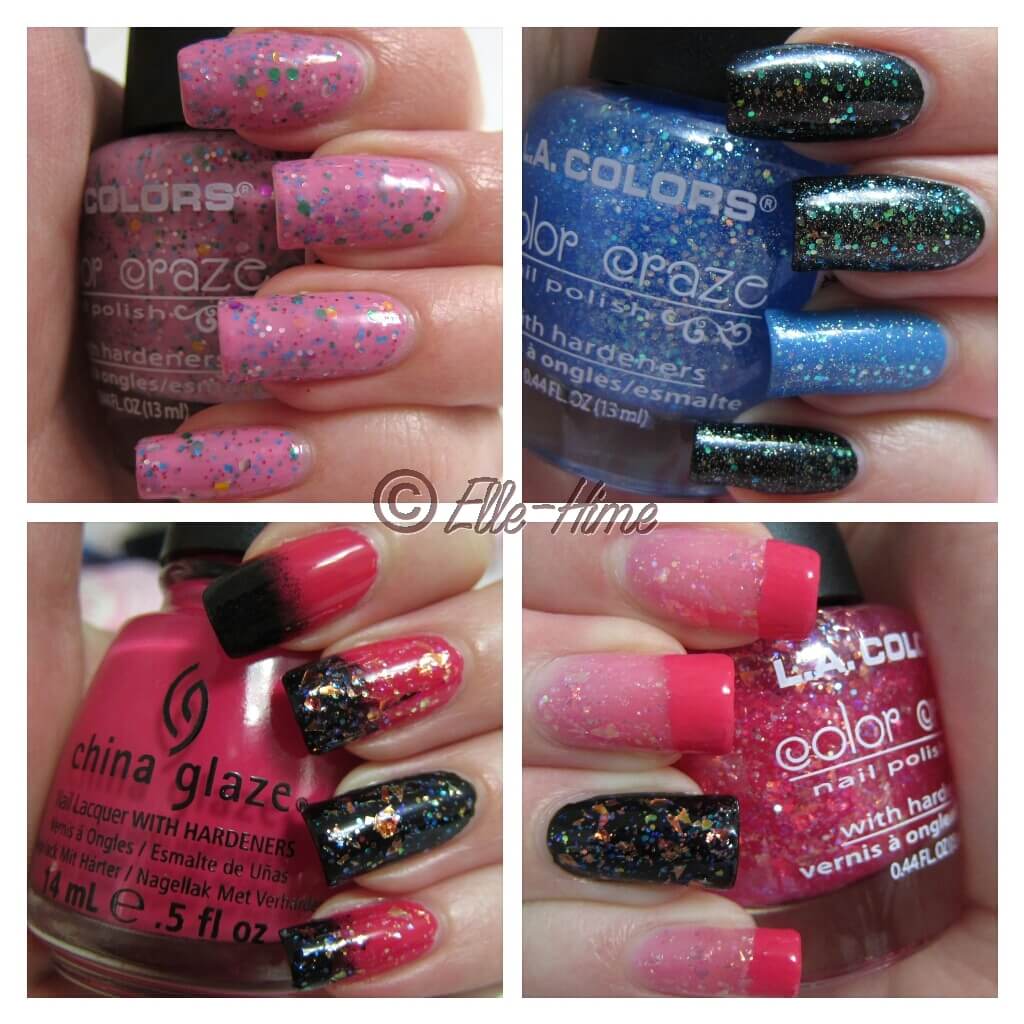 L.A. Colors recently added new glitters and cremes to their Color Craze line. I picked up six of the new glitters, and these are the three I've tried so far. I've been really happy with them because they are exciting nail polishes at a very low price! From left to right below they are Candy Sprinkles, Flurry, and Broken Hearted.
Candy Sprinkles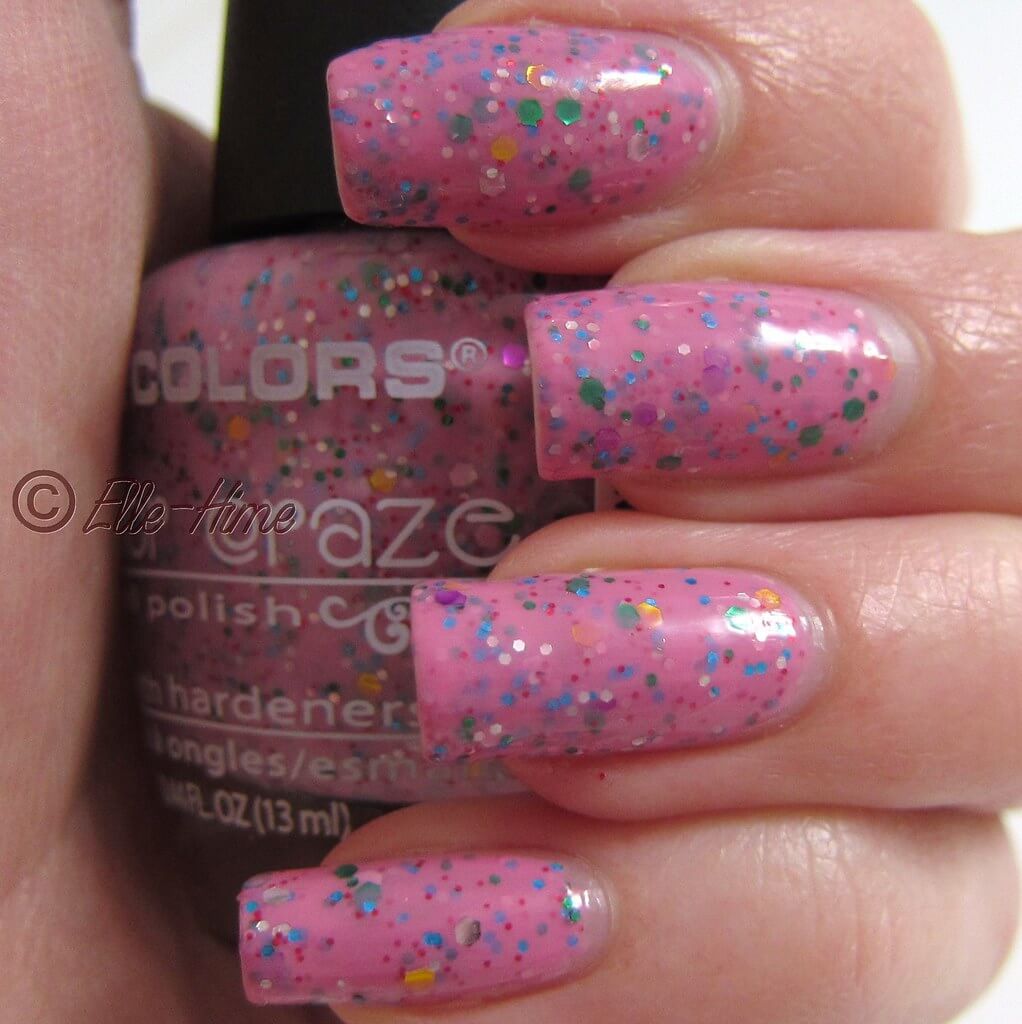 This polish may look familiar, as it is very dupe-y for
Deborah Lippman
Candy Shop. It isn't the first look alike, with
Claire's
releasing their own Candy Shop polish. I passed on that one because of the warm-toned pink base. It is worth noting that Candy Sprinkles looks paler and cooler in the bottle than it is when dry, but I found the color to be wearable. I don't own the original Candy Shop so I can't make a comparison here, but Internet findings show that DL's blend has a jelly pink base and more concentrated glitter, more of the larger glitters, and additional orange glitter.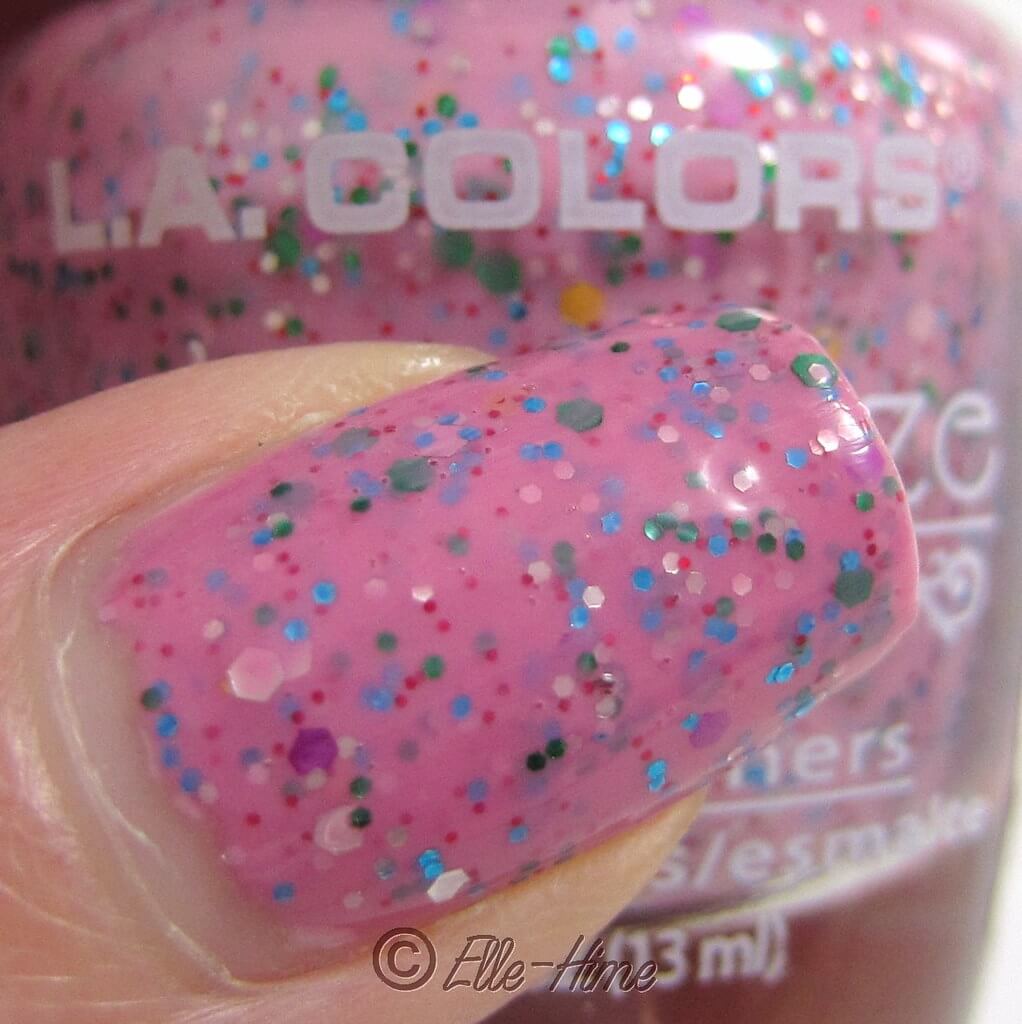 So how do I feel about this rendition? The creme base is opaque at two coats, and the mix of glitter is very good. Larger hexes in silver, magenta, green and yellow. Small pieces of silver, blue and green. Red glitters are tiniest of all. Personally I really like it. They put a lot of blue in, which sets off the pink nicely, and having the smallest glitter in only red makes it stand out. It's not perfectly balanced but also not an overloaded, muddled mess. Two coats were smoothed out with regular top coat and wore well. Removal was surprisingly easy. And when you can buy it for $1-$2 per bottle, it's not hard for me to choose Candy Sprinkles over either version of Candy Shop.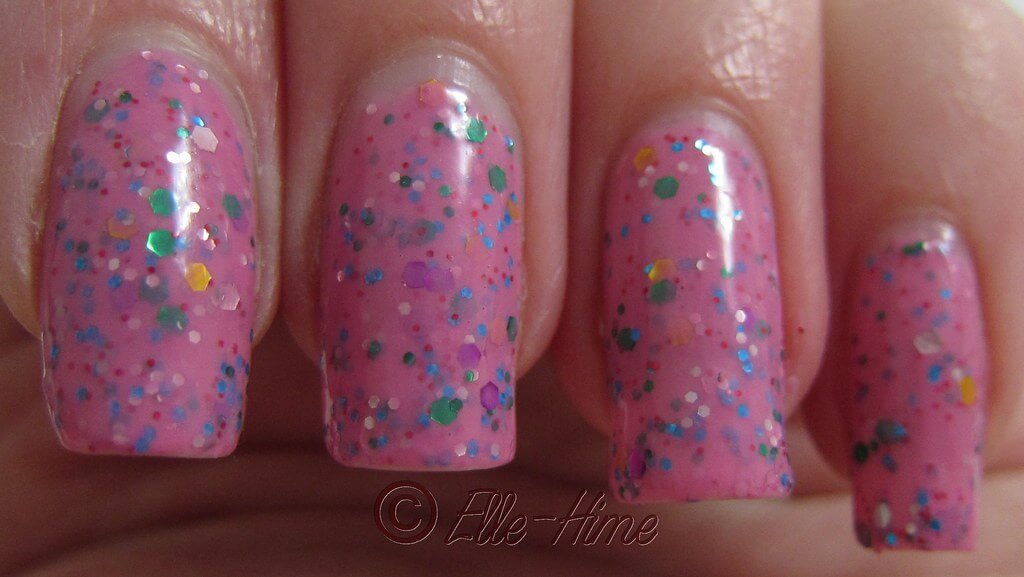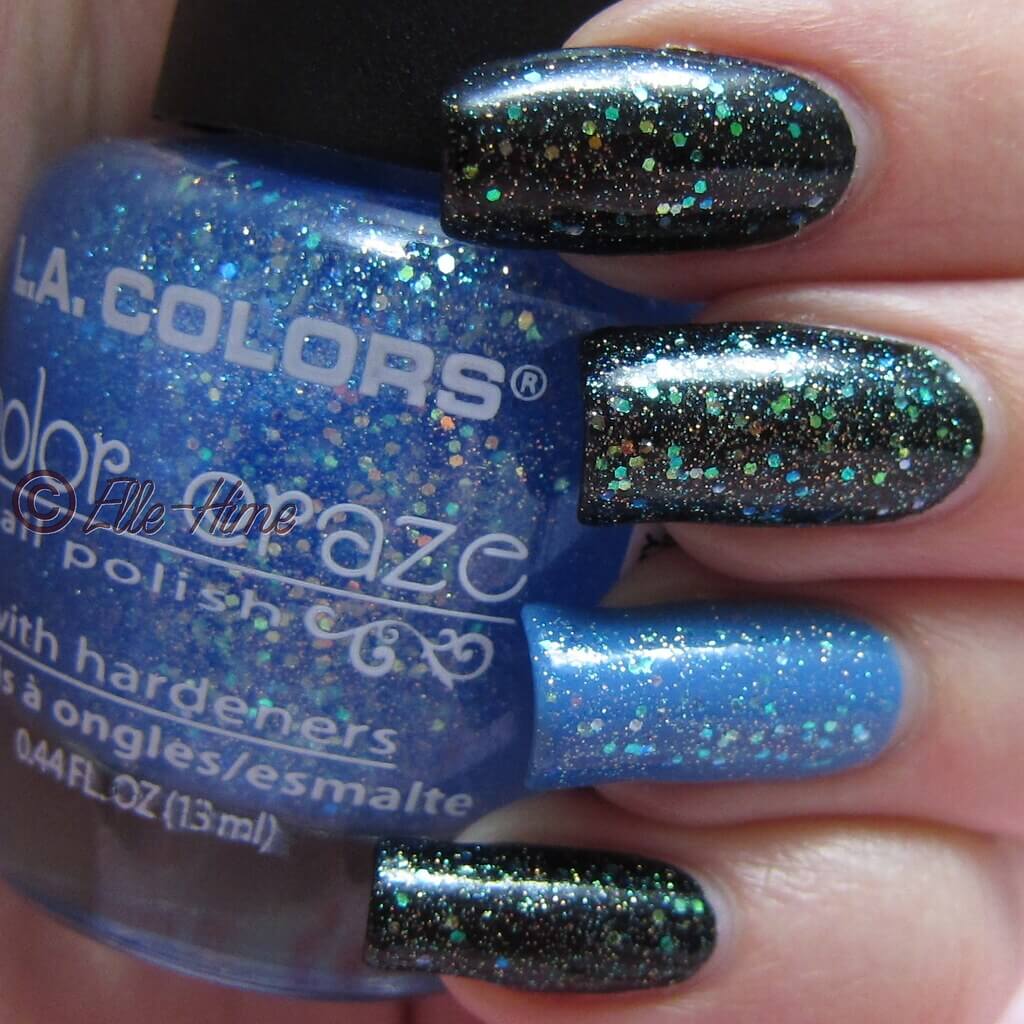 This is the manicure I'm wearing right now! My base colors were China Glaze Smoke and Ashes, and Zoya Yummy, which was the closest blue I had to Flurry's bottle color. I love this polish more than I expected to! Flurry is packed with both iridescent micro glitter and small hexes. My pictures can't fully capture all the color shift going on here. Over black the glitters flash emerald green, lime green, yellow and orange. Sometimes even teal blue. Over blue I see aqua green, purple, yellow and faint orange. My husband said they looked "like space" with all the colors, and I have to agree!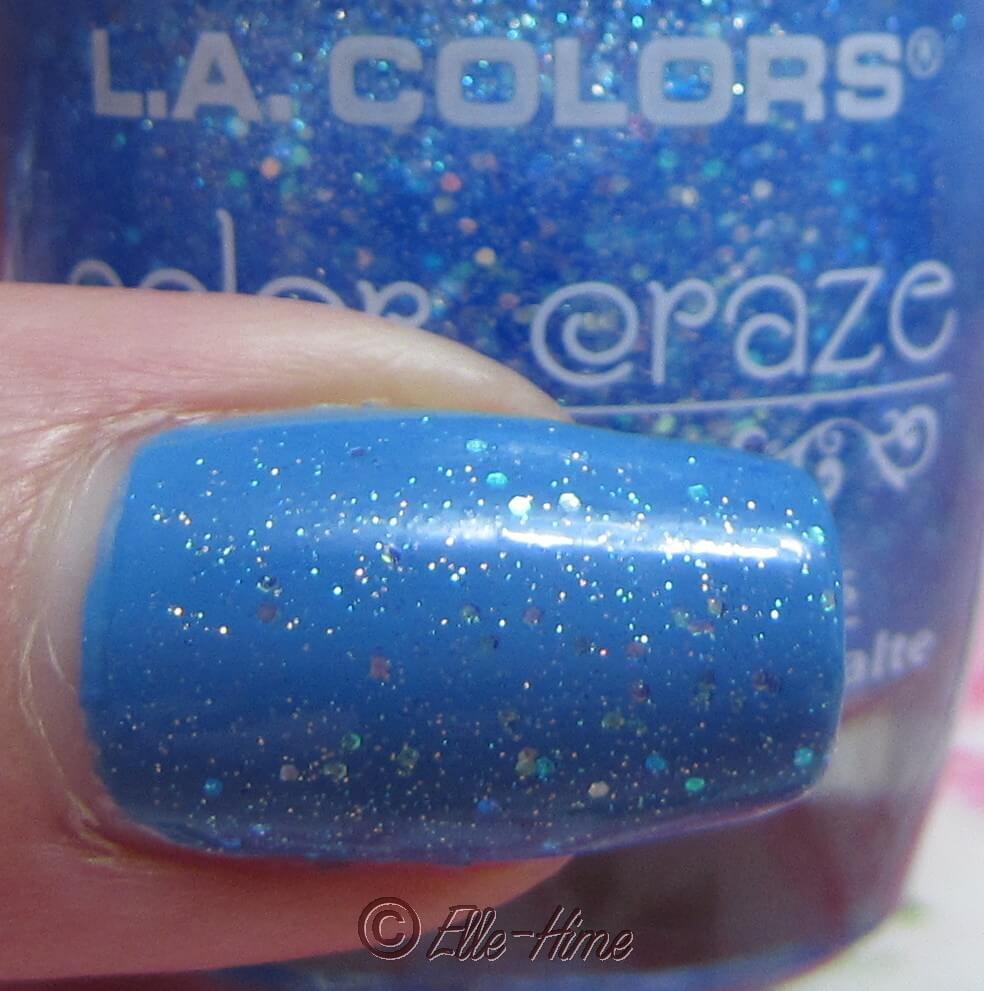 I used one coat on my index and pinky fingers, two on my middle and ring fingers. I like it both ways. The polish has a thick-but-smooth formula that is very easy to apply. It dries nicely and is completely smooth with top coat. I think the blue jelly base should be sheer enough to layer over a variety of polishes. Maybe not the most unique polish but I'd definitely recommend it!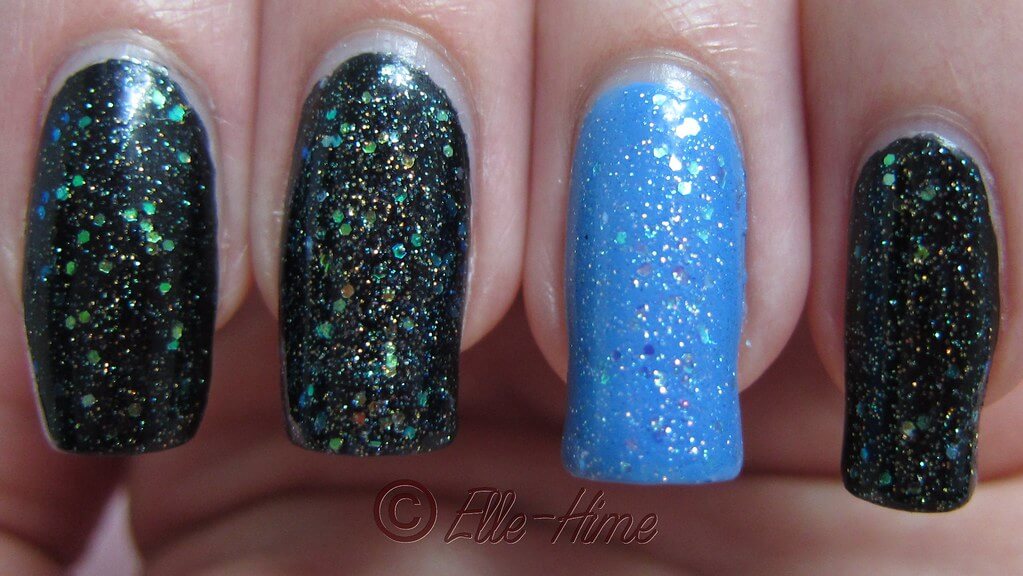 I wore this polish two ways, so you're getting double pictures of everything! My right hand had a gradient of Essie Licorice over China Glaze Wicked Style, which is the bottle color of Broken Hearted's jelly base. My camera was having trouble capturing the vibrant pinkness! I used one coat of Broken Hearted.

After using Broken Hearted and seeing how vibrant the base was I decided to do my left hand differently. I used two coats of Broken Hearted both alone and over my black accent nails. While it does add a nice bit of pinkness I wasn't too fond of the visible nail line, so I freehanded my tips with Wicked Style.


One coat or two, look at those colors! This blend of glitters is awesome. I can't think of any other polishes that mix iridescent shredded bits with small and tiny hexes. The shreds shine orange to yellow. The hexes flash an entire rainbow, showing mainly blues and greens. It is like crushed candy on your nails. =)


Application was easy, with a few glitter shreds needing to be poked down into submission. Top coat smoothed everything out nicely. I didn't have to fish the glitter out at all, in fact I often was wiping excess back into the bottle! I'd say black is definitely the base color of choice for this pretty polish, but it can make an interesting French manicure, as well. (I will note that I had some patchy pink staining on my right hand; the fault of Wicked Style. My left hand is fine.) I doubt I'll ever use more than two coats, because I wouldn't want the distinct colors and glitters to get lost.


I'm very happy with these three polishes, they are definitely keepers! L.A. Colors 2012 Color Craze polishes are sold in 13ml bottles that you might be able to find in your local dollar store! Have you spotted these yet? Which manicure is your favorite?