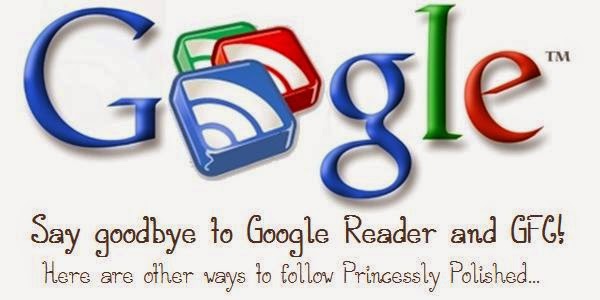 Ahh, the close of Google Reader and Google Friend Connect. I don't know about you, but it crept up on me. Fortunately we have one week left to make up our mind about how to keep up with our favorite blogs before these tools officially close on July 1st. Let's take a look at some of the ways you can keep following Princessly Polished.
You could stick with Google...
Apparently Google wants everyone to move to their Google+ service, essentially the new GFC on steroids. I have a Google+ page where I post updates from Princessly Polished, and you can
find that here
. Honestly, though, I don't think that Google+ is a very good way to manage your blog reading list, and I don't enjoy their layout much. This is definitely more of a social service than anything convenient to reading blogs.
...use one of my FeedBurner services...
This is another service owned by Google, but I haven't heard anything about it shutting down. You can use FeedBurner to
subscribe to my blog posts by E-mail
. This is handy if you don't want to make an account somewhere, but you will usually be getting "yesterday's news" with this option.
You can also
access my RSS feed
and choose your own reader to follow my blog. This is quite utilitarian. Gets the job done, but not many bells and whistles.
This is my new first choice in blog feed managers. The site is well-established, easy to use, and you can
find Princessly Polished there
. I already made the switch by importing all the blogs I followed in Google Reader, which is as easy as
one click
! Bloglovin' has several options to customize the service to your own blog reading style, and it doesn't clutter up your life with extraneous social features.
Another bonus to the Bloglovin' service is the ability to use the mobile app to keep up with blogs on the go. It is available for
Android
and
Apple
devices, and free for both! It is smooth and clutter-free just like the web version. I've installed the app on my smartphone and am impressed by how well it works.
Obviously there are many other blog readers out there. These are just what I have had experience with. If you're using something different and loving it please share in the comments below! And if you were like me, using GFC to follow blogs, don't forget to switch how you've subscribed to Princessly Polished before July so you don't miss out on my future posts!