Today is Picturesday! The theme is "Zoya Nail Polish", and these are the photo submissions I have to share with you: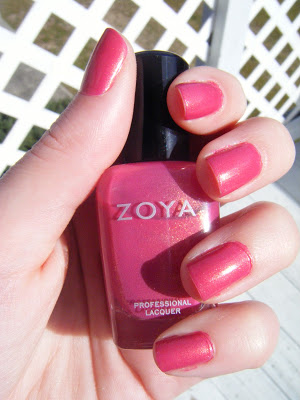 Name:
Sarah at Starlight Radiance
Website:
Starlight Radiance
"I'm wearing two coats of Zoya -
Cheri, a lovely creme pink with gold shimmer. Isn't she prettty?"
My Comments:
What pretty nails! This is a great pink Zoya color. Thanks
so much for sharing, Sarah!
Next Picturesday will happen two weeks from today! As always you can
see this post for the basic details and instructions on how to enter
. No worries, it's free and easy! ;P I picked the next theme based on my blog's current wallpaper/background, which lots of people seem to like...
"Snowy"
to be featured February 2nd, 2012
You may submit any picture that of something that looks icy, snowy, or is specifically snowflake themed. Maybe it's jewelry you made? Or your ice princess make-up look? Another way to do it: if you have snow in your area, get some real snow in your picture!
Thanks for your readership and hopefully next Picturesday will be exciting, too... but I need your help for that!