Yes, another haul post today, with items from two different places. Some goodies came from CherryCulture, and a couple polishes were found in a store locally. It just got me thinking about the differences between shopping Online and In-store, especially when it comes to little colorful things like this. Here is some discussion!
I think we all prefer to see things in person, hold them in our hand and put them up to our skin or favorite shirt to make sure they match correctly. But there is a sort of thrill that goes along with picking items out Online and being surprised when you receive them. Sure there will be some letdowns and the inevitable pair of shoes that just don't fit, but generally I'm happy with my purchases.
Then on one hand it's nice to find something and have it right away - sometimes you need it right away. But I don't think I'm the only one who looks forward to getting a package in the mail later on. It's like a present sent to yourself. I think it is a lot of fun to unwrap things, and watch this...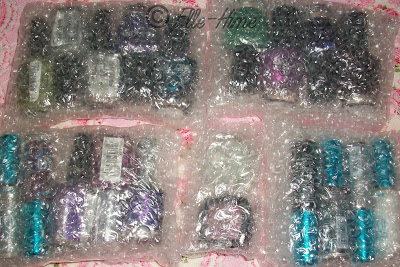 Go to this:
Alright, fine, onto the haul goodies!
Note that the
Milani
nail polishes aren't pictured again - I already have them in my collection and picked up a few more as gifts! Also the
LA Girl
eyeshadow in Mint isn't pictured again because it only showed it's true color in that group shot.
Nyx Girls Nail Polish in Fame and Super Funk: can't wait to play with these glitters! Nyx Single Eyeshadow in Baby Pink: was listed as being a matte color but it is most certainly not. This is a frosty, pearly color. Haven't opened it, but it is a pretty color.. don't know if I will keep it, though.
L.A. Colors Art Deco nail polishes in Rainbow Glitter, White, Black, Black Sparkles, Silver Glitter, and Silver. Rainbow glitter is really neat but not what I was looking for - it's already gone to the blog sale page. (Tiny multi-color glitter in a clear base, more like a glitter top coat than something you'd use for striping.) These are good but I wish the brushes were skinnier!
L.A. Girl Rock Star nail polishes in Crowd Surfing, Overdose, Scandal, Punk, Groupie, and Party Animal. I really liked the few I had from this collection so I picked out some more. I don't know exactly why I got Overdose - It's tiny purple and blue glitter with champagne gold micro glitter mixed in. Fantastic coverage but not my thing - it went to my sale page. Scandal may be a dupe for another polish in my collection but I'll keep this bottle instead. These are nice colors and I will be sharing swatches eventually...
So, that is what I got in the mail... I didn't mind waiting for them to arrive and it was fun getting to see what they looked like in person after only seeing them in pictures. So sparkly! A few things ended up being duds but that can happen when you buy something in person, too. How many times in the past did I buy an eyeshadow in stores only to have to look nothing like the pan color once applied? So glad those days are over!
In the end I think the swatch-and-review search method of shopping works pretty well. It even comes in handy for something that can be found in retail stores. Also, it's easier to visit a website to see if something is in stock than to prowl around a store wondering and searching for it. I did a lot of that for these next two polishes:
Sally Hansen
Diamond Strength nail polish in Glass Slipper and Princess Cut.
No, I probably don't need to own both polishes. But they are both really pretty in the bottle and I was so excited to finally have found them. I knew they were going to be released. I had gone to a Walmart out of town a month ago and found just two of the bottles from this collection in colors I didn't care about. Late last month my local Walmart had a display of the new gem-shaped bottles... but it was only a few colors from the collection. Then, finally... finally! They got them all in.
Glass Slipper was actually suggested to me by my first ever giveaway winner. I was looking for a silver flakie polish. While this definitely isn't silver, it's unique and a realistic alternative to my unobtainable wishlist polish
CND
Sugar Sparkle. Also much cheaper!
Anyway, what is your preference - shop in stores or from the comfort of your home? Do you get excited about things you buy Online or do you prefer seeing them before buying?