Today is Picturesday! The theme is "It Sparkles!", and these are the photo submissions I have to share with you: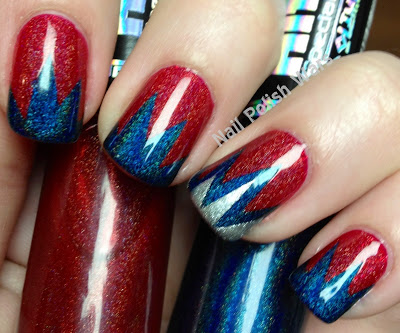 Name:
Nicole
Website:
Nail Polish Wars
"I used two coats of Hits Ares, and then taped off sections to create the
bang effect. I applied one coat of Hits Apolo, and repeated the steps on the
ring fingers for an accent with Sally Hansen Celeb City. I finished off with
one coat of SV."
My Comments: Isn't this gorgeous? A nice clean tape mani, which work great with most
holo polishes. Also a simple and classy way to dress up your ring finger. I own Celeb
City and it's a wonderful silver foil - recognized it right away! Thanks for sharing Nicole!
So, that was actually the only photo sent to me. I'm not too bummed, though, this is a new thing so hopefully I'll have more participation in the future. Speaking of that...
Next Picturesday will happen two weeks from today! As always you can
see this post for the basic details and instructions on how to enter
. No worries, it's free and easy! ;P The next theme is inspired by my current giveaway (which will end on January 20th)...
"Zoya Nail Polish"
to be featured January 19th, 2012
Submit a picture of your nails looking pretty with any Zoya nail polish color! Or you could do a picture of how you store your Zoyas, a shot of your Zoya collection, etc.
What's that you say? No Zoya nail polish in your collection? =( Well, cheer up! Zoya is doing a promotion for two free nail polishes of your choice from their website...
Zoya Natural Nail Polish & Nail Care Treatments
Go there and use the code ZOYA2012. It's only good until the 9th, but maybe if you hurry up and buy now you'll have your new nail polish in time for Picturesday. ;P