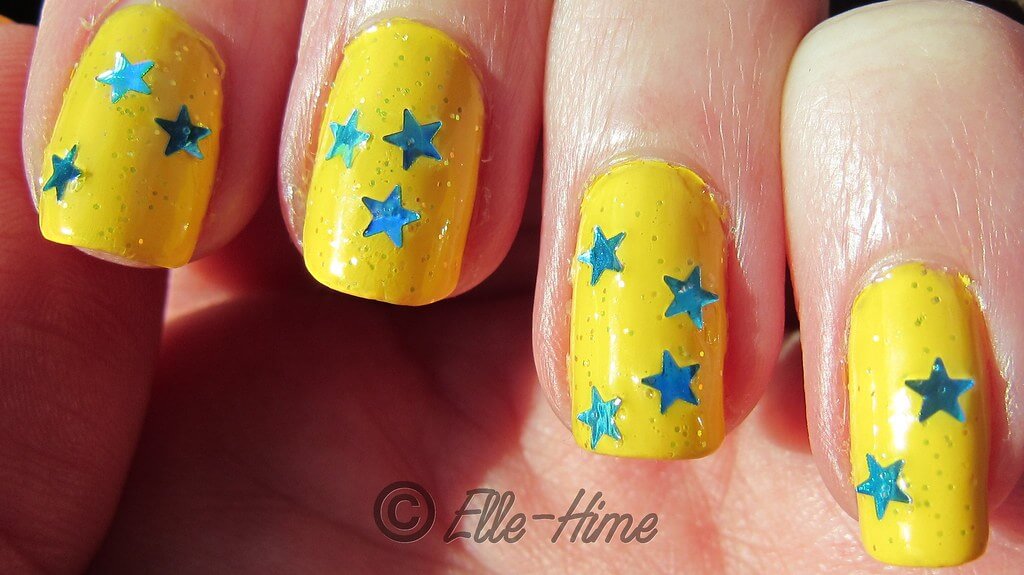 I picked one nail polish out with my last Forever 21 order. I'm always drooling over their accessories and every so often they have some neat polish up for grabs. I don't have a F21 store nearby, so I just chance it going by Online descriptions, and get to be surprised when it all arrives.
When I was unpacking this bottle I was at first afraid it wasn't going to work for me, seeing all the orangey-yellow sparks in the bottle, but then I looked closer and I realized it is something special. This nail polish has no real name - the label just says Blue/Clear; Online it is listed as "Blue Stars Nail Polish". But when I looked at it in person, saw the flashing aqua-blue stars and unusual iridescent glitters, to me this polish is Sea Stars.
More about the glitter polish after the jump. I have to say that last week was really, really rough for me. I was having a bout of being depressed, sad, whatever you want to call it, and after a week I really wanted my usual chipper demeanor back. (So did my family and boyfriend, it was rough for all of us.) So when it was time for my nails to be refreshed I went for the happiest color I could. China Glaze Happy-Go-Lucky was my yellow creme base - 2 coats. It actually looks better on my skintone than these pictures suggest, but it is pushing for me, I know.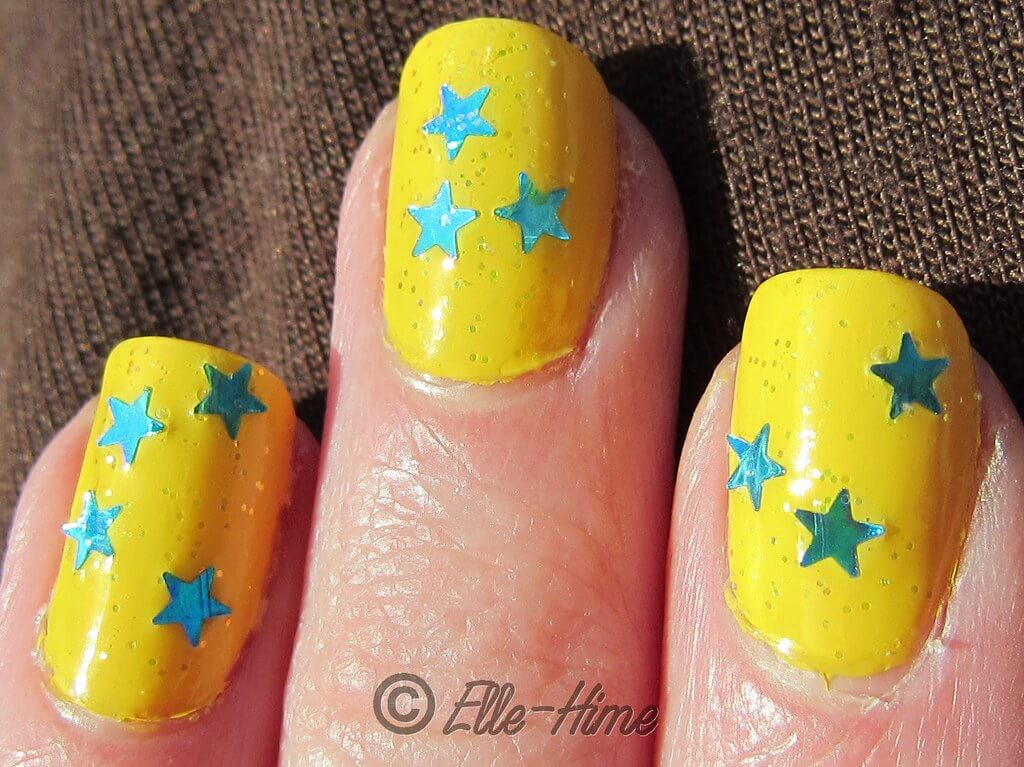 Fortunately my mood did pick up yesterday, along with the sunshine. These nail pictures are taken in full sunlight, no flash. (Love my new camera - I took these in a moving car!) If you'd like to see glitter bottle shots keep reading!
This polish is loaded with stars. I used two coats in the pictures but more often than not so many star glitters came out on the brush that I was wiping them back in. Pictures couldn't fully capture how the stars are holographic. They mainly shine aqua blue, teal and green, but at the right angle they show yellow and orange. The smaller hex glitter is really special. It is sort of a cross between color-changing and iridescent. It sparkles both yellow, orange, and blue-green colors. Really pretty and unique.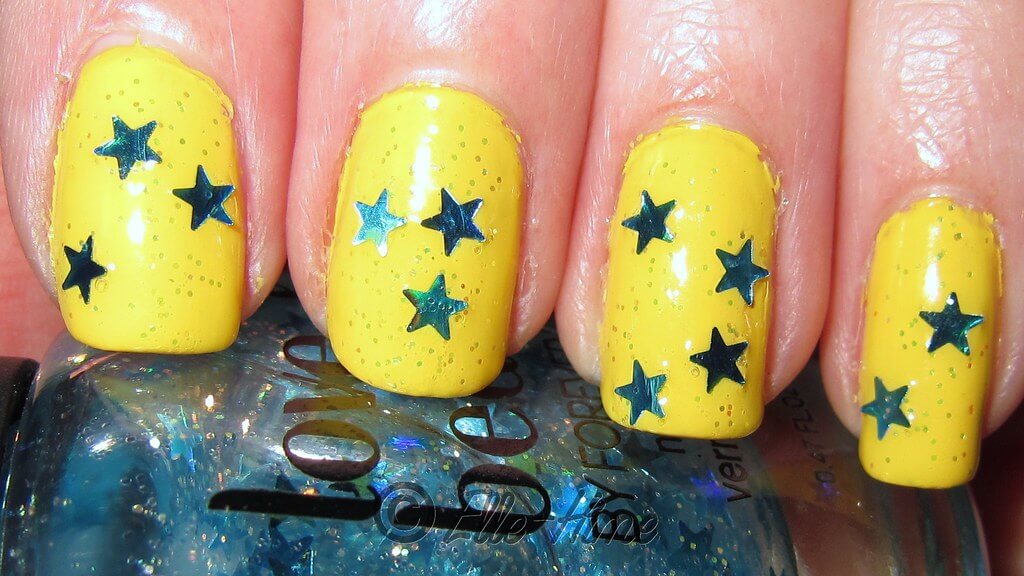 With flash - 2 coats Love & Beauty Sea Stars over 2 coats China Glaze Happy-Go-Lucky
The only drawback about the
Love & Beauty
polish is that you need a thick layer of topcoat so all points of the stars are sealed in. Happy-Go-Lucky by
China Glaze
is a very nice polish but I think mine needs a little thinner added. It didn't seem to want to self-level very much at all.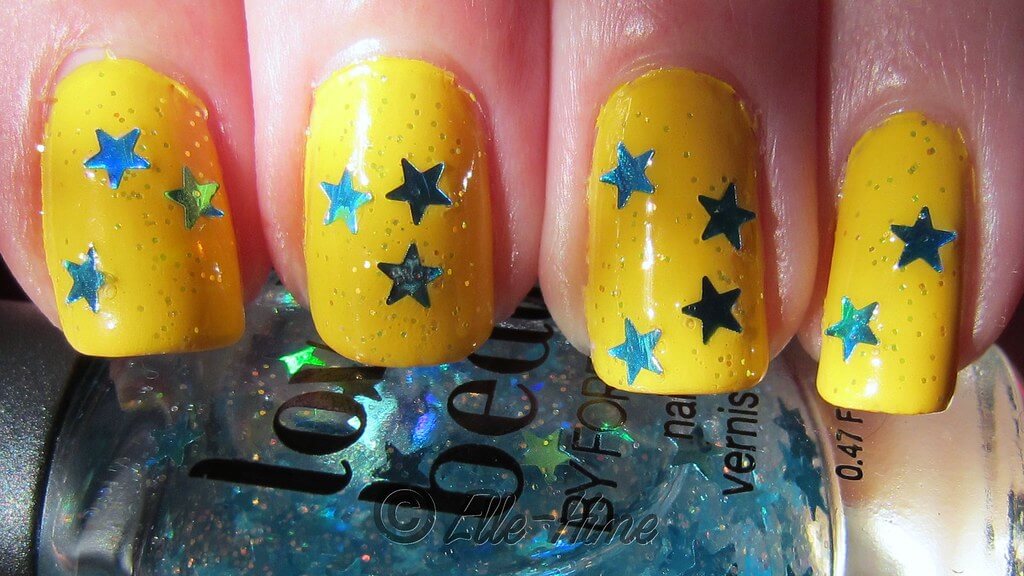 My nails again in mottled sunlight.
I think it's cool that a star nail polish reminds me of mermaids, bright coral reef scenes and bubbles more than a skyscape. What do you think of it? If you want your own bottle of Sea Stars, try checking out
Forever 21
or
click this link
. Did you know that
F21 does cashback
now? =)