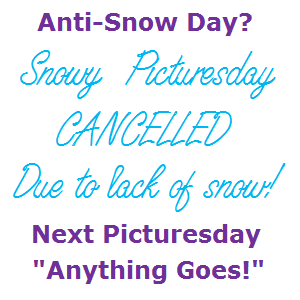 Yes, I am taking the opposite of a snow day. When I announced the theme for today's Picturesday post, Snowy, there was actually snow on the ground here. Finally. Our weather is usually a frozen tundra for 5 months of the year, but this time it just won't stick. So, I picked the theme thinking I'd be inspired to round up some neat snowy pictures from other bloggers to share.. but guess what, I didn't. The snow melted off again and I actually got fed up with it being so mild.
On a sad note, the constant shifts in weather means our pond has been freezing and thawing every few days. I've been worried about how our fish could be holding up. Unfortunately, one of our large koi was found dead this morning. =(
So, I'm giving up on snow fort-building weather and ready to move onto spring! I love spring! Anyway sorry for not rounding up pictures to share today. I have hardly had the time or gumption to blog these past two weeks. Since I'm feeling uninspired (or perhaps inspired by everything!) here is the theme for two weeks from today!
to be featured February 16th, 2012
If it fits within the guidelines and basic rules for Picturesday, you may submit it! Show a favorite picture from the past, something new, or something made by you!