I decided it's time for another giveaway! This time I have an assortment of some my favorite (and everyone else's) Too Faced products!! This will probably be the last giveaway I have time to do for awhile since I'm busy with planning my wedding, so I wanted to make it something special and glamorous!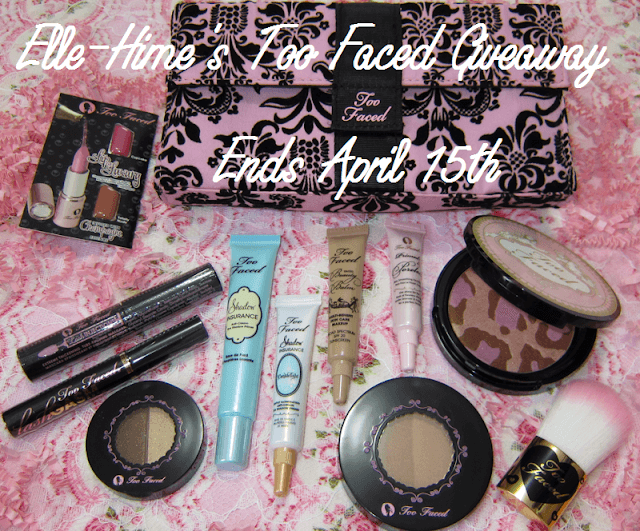 One winner will get:
A damask make-up bag
Lip of Luxury samples
Lash Injection deluxe sample
LashGASM deluxe sample
Cocoa Puff & Honey Pot - Eyeshadow Duo
Shadow Insurance (original) full size
Shadow Insurance (Candlelight) deluxe sample
Beauty Balm (Nude Glow) deluxe sample
Primed and Poreless deluxe sample
Pink Leopard Brightening Bronzer in mirror compact
Sun Bunny Bronzer
Limited Edition Flatbuki Brush
All items are 100% new and obtained by myself!
How to enter:
Use the Rafflecopter widget to record your entries - it also saves your E-mail address automatically, so I can contact you if you win. Leaving "enter me!" comments is totally unnecessary and you won't be entered by them!
This giveaway will be running until April 15th, 2012.

International entries:


To clarify: Puerto Rico and the Northern Mariana Islands are not considered International - you are US territories so feel free to enter this giveaway if you are living in any of these places.


I need International contestants to understand that I don't currently have the budget to send packages Internationally. However, I am more than willing to send these to you if you will pay part of the shipping cost. This will be a flat rate of...
$10 USD for Canada and Mexico
$14 USD for everywhere else
You will get proof of mailing and will be sent by International Priority mail (generally takes 1-2 weeks). If you buy something from my Blog Sale, I will send your prize along with those items. Or, if you know someone living within the United States or US Territories I will happily mail to them! Huge thanks to all the International entrants in my past giveaways - you have been wonderful about this!

Rules:
Must be following my blog through either GFC or HelloCotton.
Must be 18 years of age or older or have the consent of your legal guardian to enter.
Must enter using the Rafflecopter widget and have valid entries. Illegal entries will result in disqualification.
a Rafflecopter giveaway