This week has been kind of crazy for me... I'm still getting over a cold, I've been working *all the tiiime*, half the town has lost electricity a couple times this week, and my laptop is not liking the new battery I bought for it as much as I hoped it would. =/
My selection of a giveaway winner ended up being very delayed and I feel bad about that. Without further ado, I'm happy to say that the winner of my
Great Engagement Giveaway
is...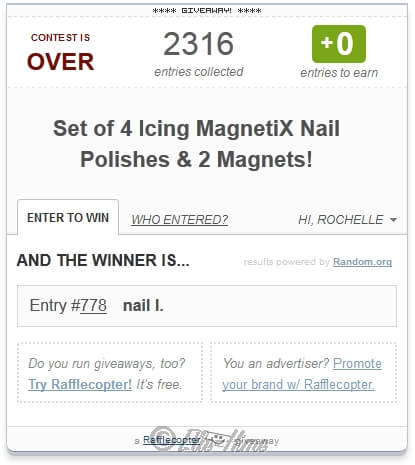 I was very happy to hear back from her and she will be pitching in on shipping the prize since she lives in the UK. She has shown that she fulfilled the forth rule of the giveaway which was "Be happy and excited!!" ;D I'm trying to get some other polishes from her wishlist so there will be more in the package making that long journey overseas, haha.

Thank you to everyone who entered and for all the kind comments and tweets I've been getting! I wish I had enough nail polish to go around to all you wonderful fans. =) ...Well, then again, my collection does keep growing...
I was fortunate enough to win a giveaway from
The Polished Pixie
awhile ago (thank-you again, Shally!) and my gifties showed up this week! I tore into them right away, look how cutely they were done up:
Here I have
Sinful Colors
Cinderella (!!) and Unicorn (!!), and the shy one in back is...
Petites
Color Fever in Galaxy. This is a really neat burgundy-brown polish filled with tiny glitter. The glitter looks pink, though it might be silver that just appear pinkish because of the dark base. Whatever you want to call it, I call it pretty! The 1st pic is no flash in sunlight, the 2nd is with flash.
These three polishes are all wonderful.
Sinful Colors
Unicorn is a polish I could adore just for the name, the fact that it is a perfect pastel yellow is awesome. Cinderella has lot's of pretty glass fleck that shines pink, purplish and pale yellow depending on the angle it is at. Two more pictures of this one because I'm not sue when I'll get to try it out!
Cinderella - with flash
Cinderella - no flash