I saw a video on making your own "nail polish strip" decals and though it was a clever idea. My idea for nail art was "bubble bath". They turned out just fine on the wax paper I painted on, I gave them a day to dry, and then I tried to put them on my nails... The photos speak for themselves.
The decals were surprisingly easy to get off the wax paper and not as delicate as I had feared, but I tried doing them as sheets of clear polish with the designs. Because my nails are so rounded (and small) this really doesn't work for me. I had issues with bubbling and wrinkling. I think it may have also been the fault of the Essie base colors I was using... I tried to smooth a spot out on one and it created a bald spot under the clear decal - argh!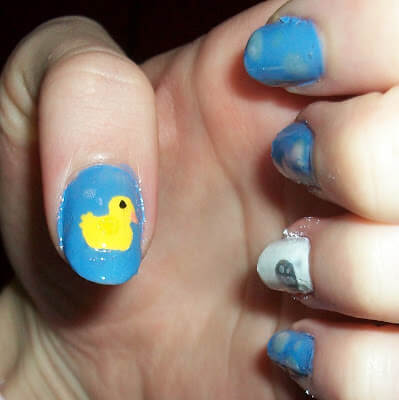 How can you tell that I don't care about a mani? I don't watermark the photos! Haha I didn't bother because there is no way this is staying on my nails. (I didn't even clean it up, I'm sure you noticed.) I wanted to share it anyway, though. =) I'll do something more simple and reliable for today instead. I'm not giving up, though! I really like the whole polish decal concept and it was fun to make these, I just have to find what works for me.
Bonus points to whoever can tell what each nail was meant to represent!