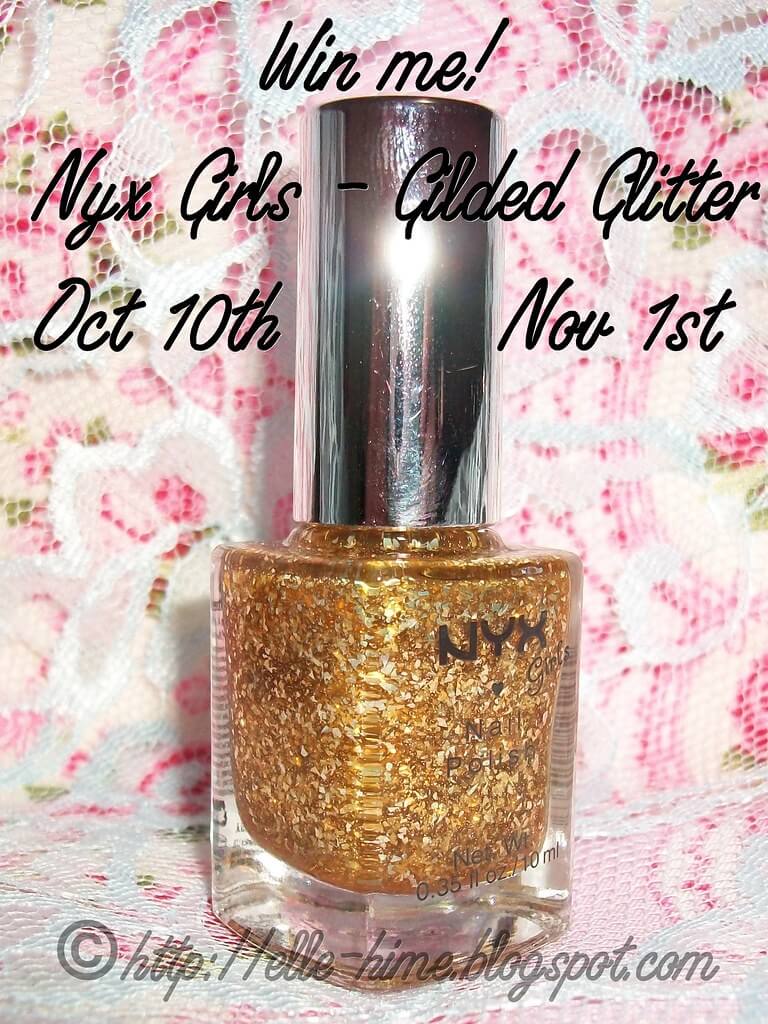 A picture is worth 1,000 words! You can even click this one to see the flake-glitter goodness up close. That would be Nyx Girls nail polish in Gilded Glitter. Now that you're drooling, here are the details.
First off, wait, a giveaway already? Yes, already. For one, I was invited to join Rafflecopter, which is the bestest way to run a giveaway on a blog EVER. (Prepare to be blown away if you have not used it before.) For another, I was searching for a silver glitter nail polish *just like Nyx Girls Gilded Glitter* in silver. It is my dream polish, but I can't find one! So I'm hoping someone will notice what I have in gold, and point out a silver version to me. =D
This might not be the biggest giveaway ever but I hope you all enjoy it because I am psyched about it! More details, a swatch of the polish, and the amazing Rafflecopter Giveaway Entry System after the jump!
Rules:
1) Open to US residents following my blog using GFC.
2) All entries will be validated and cheating entries = disqualification.
3) Open from Oct 10th-Nov 1st, 2011.
4) First chosen winner will have 24hrs to respond. If they don't, another winner will be chosen. A winner will be announced once I have someone respond to my notification of their winning.
(International readers may enter if they have a US-based friend who can receive and send them their prize!)
More About the Prize:
The winner will receive one bottle of Nyx Girls nail polish in Gilded Glitter. Size is 10ml, ingredients are Big 3 Free, and it is totally new other than to swatch it here on a 1-inch button. You can click these pictures to see them larger. It's a clear polish with tiny gold shimmers in it, and irregular shaped flake or "flakie" glitter. This is what is looks like at one coat:
If you're having any trouble entering or have questions/comments please leave 'em here! One of the nicest things about Rafflecopter is that you don't have to do all these entries at once, it will record what you have left to do. Enjoy!