Hello everyone! I have a few more Glamour Glosses to share with you all. This time with the added bonus of swatches done on my lips, and applicator comparisons! The colors I have are Chihuahua Bite, Flirt, First Time and a look at the sample size of Barely Legal vs. the full size. Some pictures can be clicked for larger versions.
If you read
my earlier review
you already know that I rave over these glosses and I shared my thoughts on their plumping qualities. Rather than repeat myself I'm focusing on colors here and better reviewing the different applicators. Here are the colors swatched and my thoughts on them.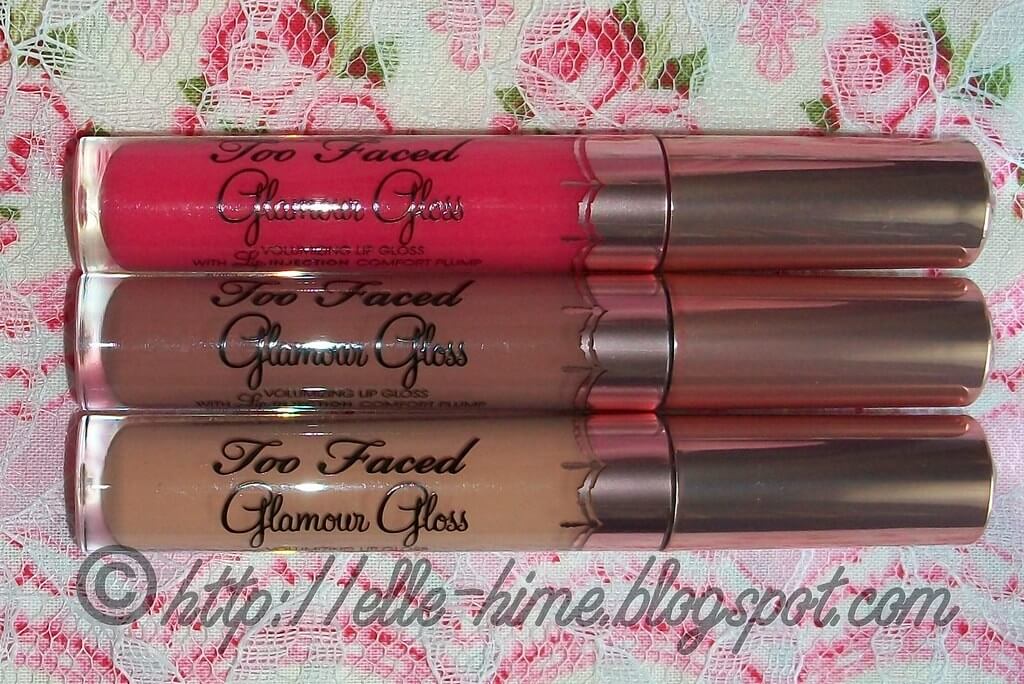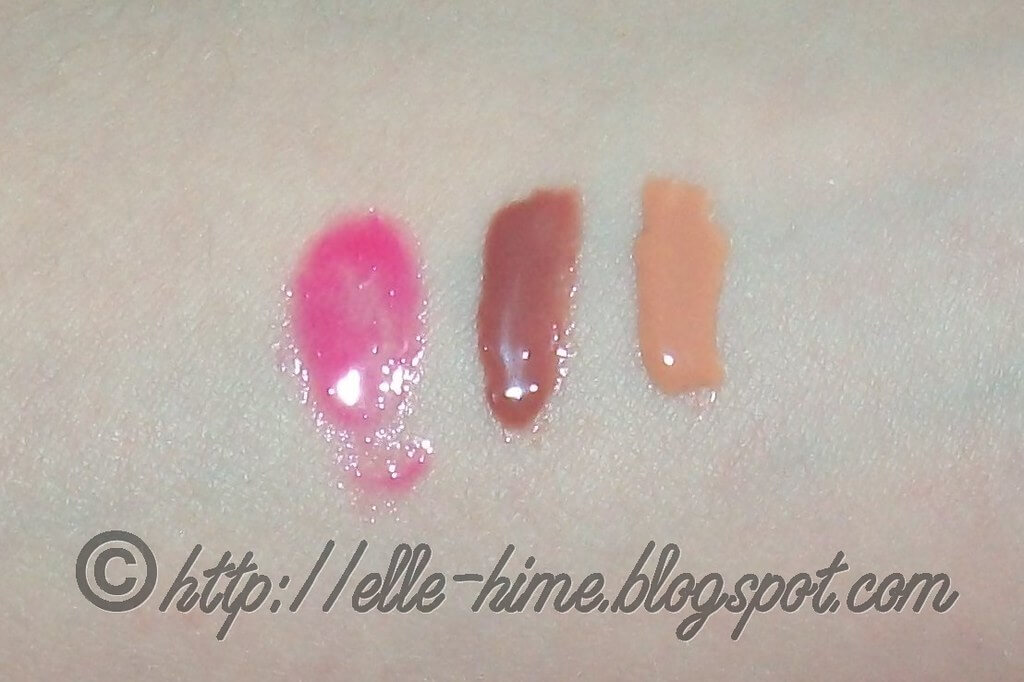 ↑ With Flash | Without Flash ↓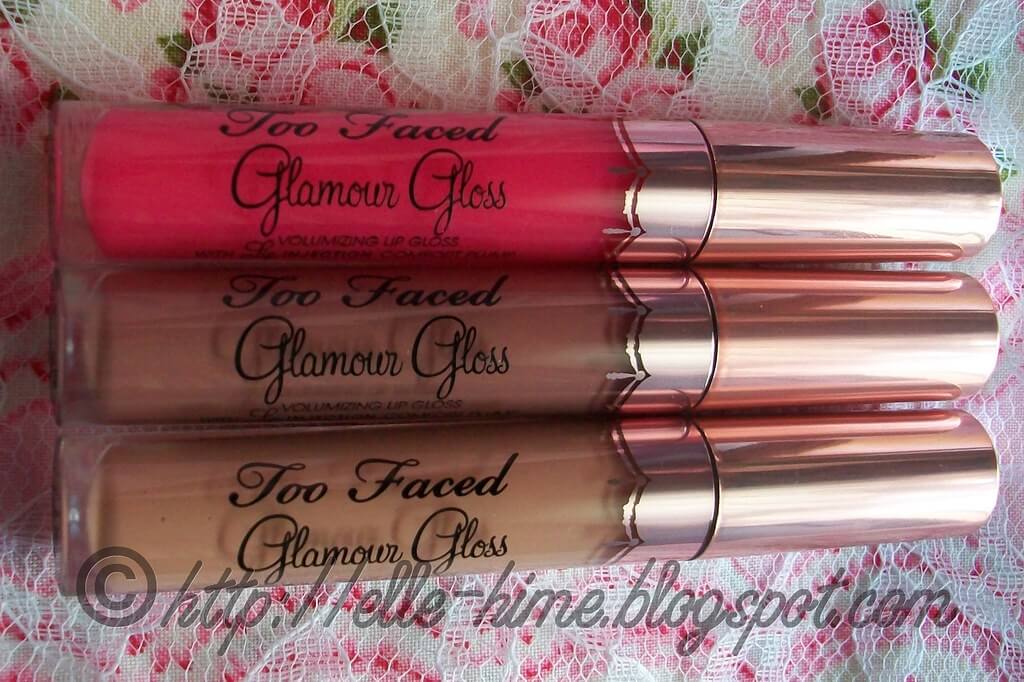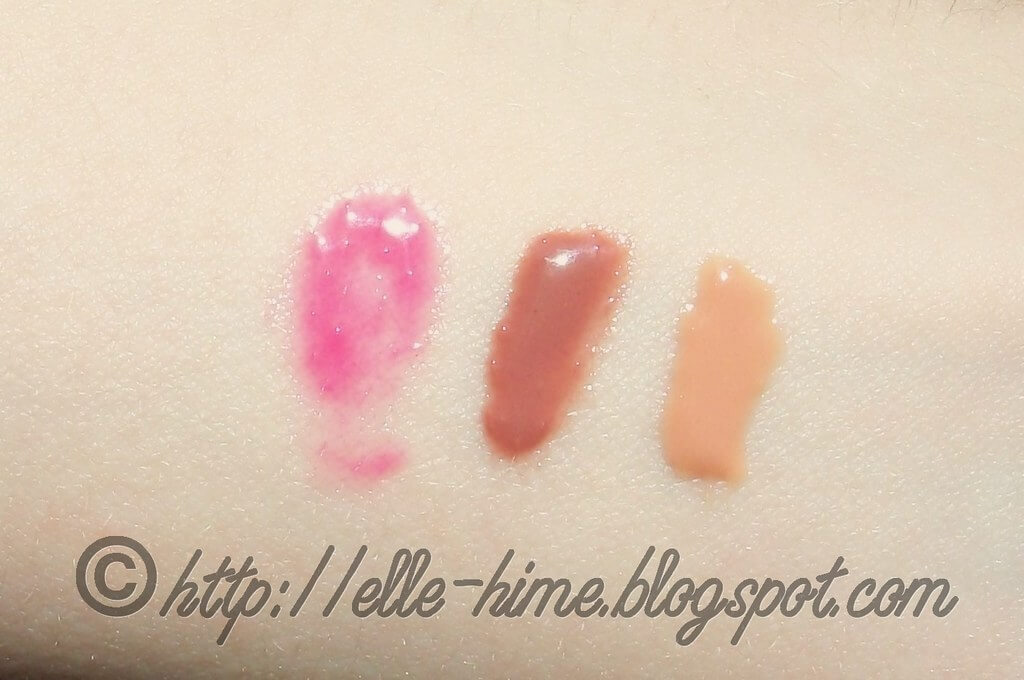 Chihuahua Bite: (Too Faced's description: Sheer Strawberry) doe-foot applicator
This is one of the newer Glamour Gloss colors to come out and compared to all the others it looks sooo bright in the tube! While I personally would not mind wearing such a bright pink on my lips now and then I'm happier to find that this turns out to be a lovely wearable pink. It looks great on my cool-toned self and works perfectly over my pigmented lips. To me it is just as essential to it's sister color This is Pretty!; no shimmers, just gorgeous pink shine that stays put! Here is a shot of me wearing it without flash, in sunlight: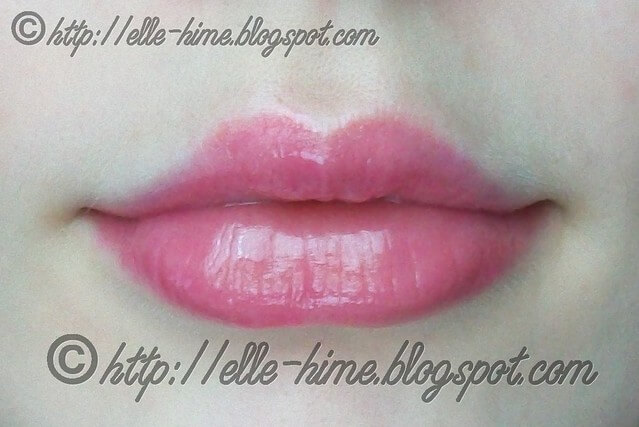 Flirt: (Too Faced's description: Pink Mocha) brush applicator
In the tube this just looks like a neutral brown... it's mocha but I don't know about calling it pink mocha. Flirt really reminds me of hot cocoa! Too Faced should have scented this one with chocolate rather than the usual vanilla-mint, haha. Anyway, this is a great color. With how pigmented my lips are it's my version of "nude" lips without them looking weird. It takes away the pink tone in my lips. This shimmer-free gloss is very pigmented and very shiny - I love that about it! Below I have a picture taken with flash that came out well, then a sunlight picture which shows the shine more: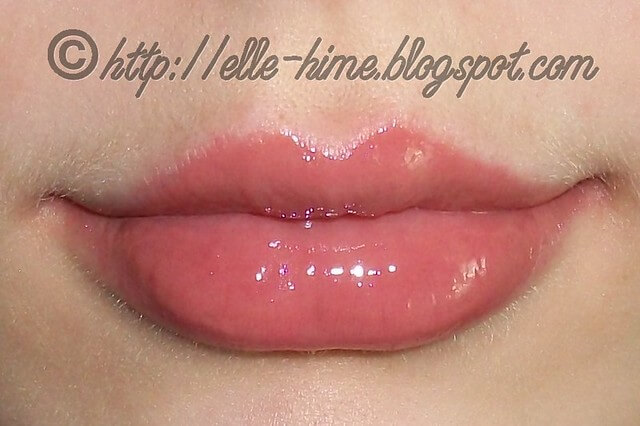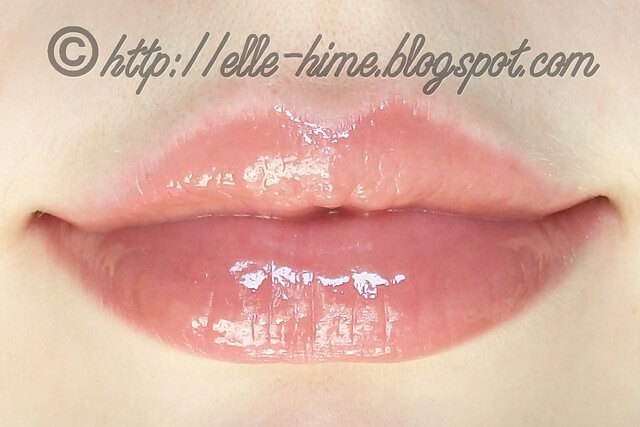 First Time: (Too Faced's description: Perfect Nude) brush applicator
This is every bit a nude color. No shimmer or glitter, just straight-up shiny lip gloss. Unfortunately for me it goes the way of most nudes and is too beige on my complexion. Also, I could not get full coverage on my pigmented lips. I'm sure this will work fine for people who are not as pale as me or have lighter lips but it is not a color that I will hang on to. Barely Legal is a better pale color for me. First picture here is with flash, the second in sunlight: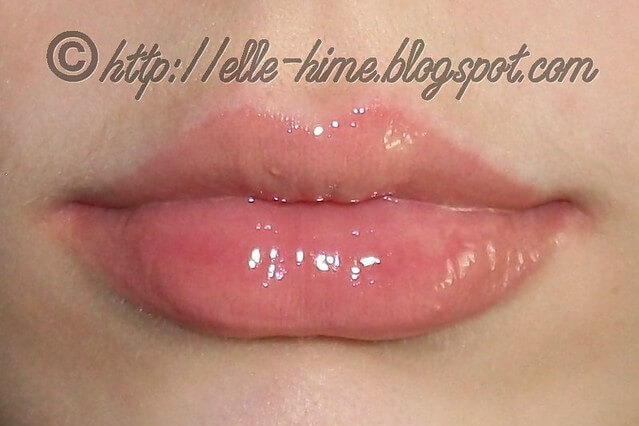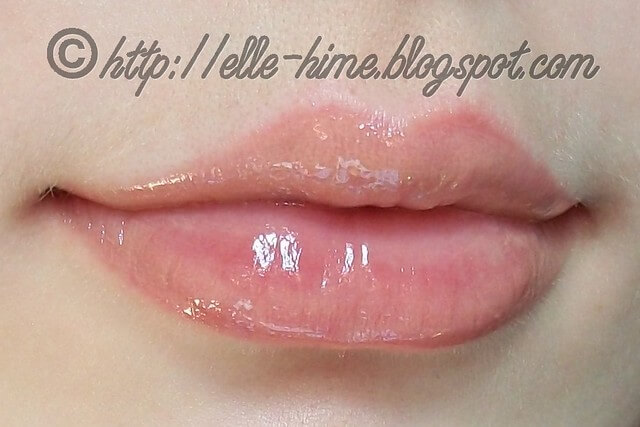 Lip Brush vs. Doe-Foot Wand:
Now a word on the different applicators that these glosses have. There is no answer for why some have brushes and others have doe-foot wands, and both have their pros and cons. While I personally prefer the amount of product you get on the brushes they can be drippy when you remove them from the tube, and some have issues with fraying. The doe-foot applicators are easy to use, but have more of an issue with gloss building up on the opposite end of the wand. Here are pictures of the three extremes right after being pulled from the tube: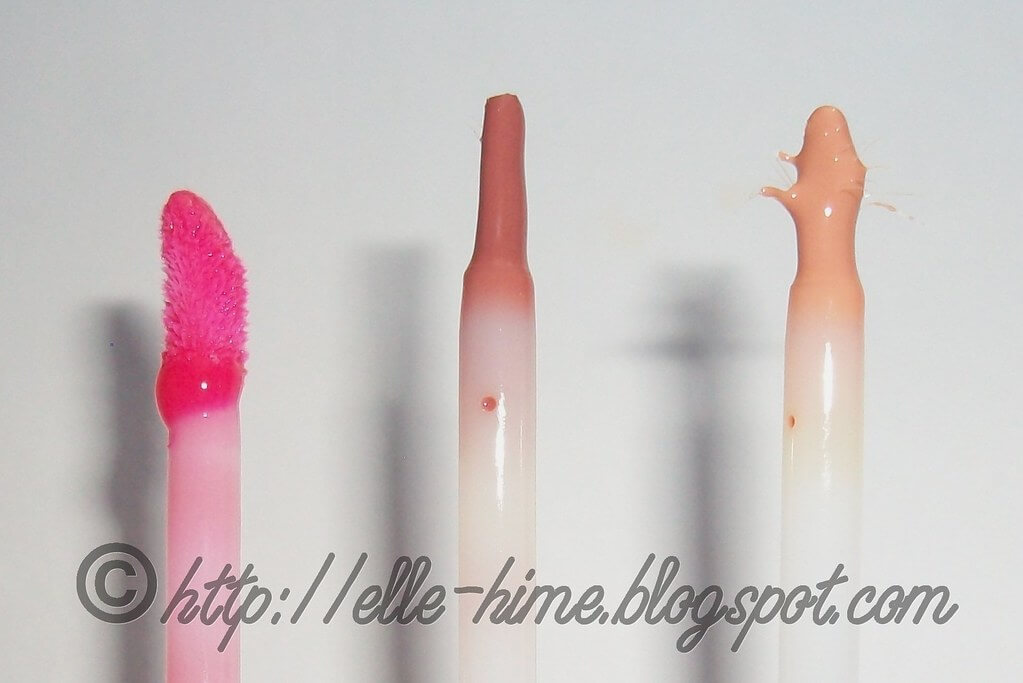 Chihuahua Bite's doe-foot applicator is a nice size but just doesn't seem to hold all the gloss where it really should. What's with all the gloss on the stick rather than the foot? Every doe-foot including color I have in these glosses ends up with a good half-inch or more of gloss built up at the cap. I use my ring finger to get the build-up off and apply it to my lips, sometimes without even opening the gloss all the way.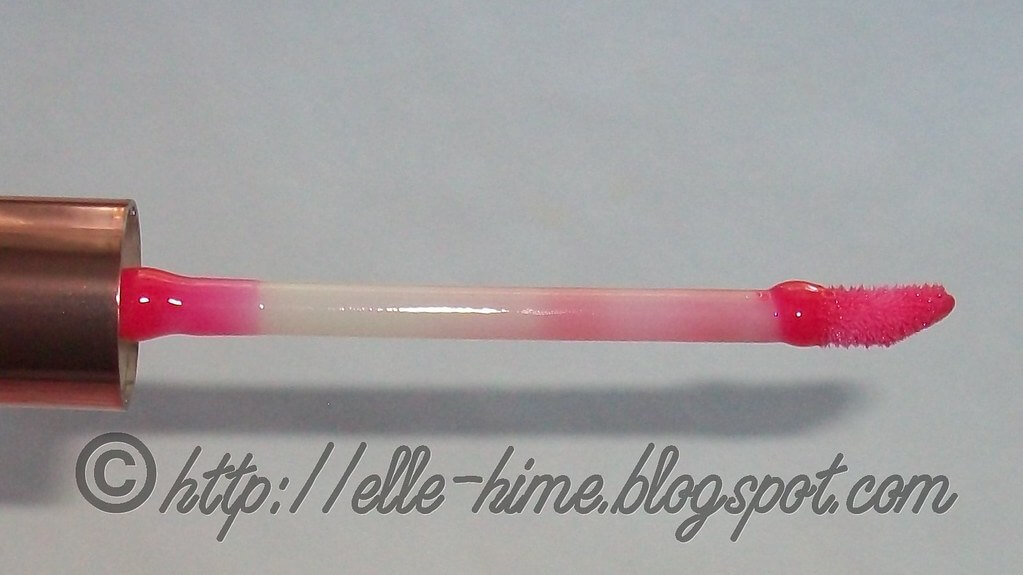 While Flirt has a perfectly well-behaved brush, First Time has the worst-frayed brush I have found on these glosses so far. It would have to be trimmed quite a bit before I would call it usable. Maybe these are hard to quality control, perhaps they fray in the bottle, I don't know. It stinks because otherwise the brushes are nice and soft and don't have issues with their wands being coated in gloss.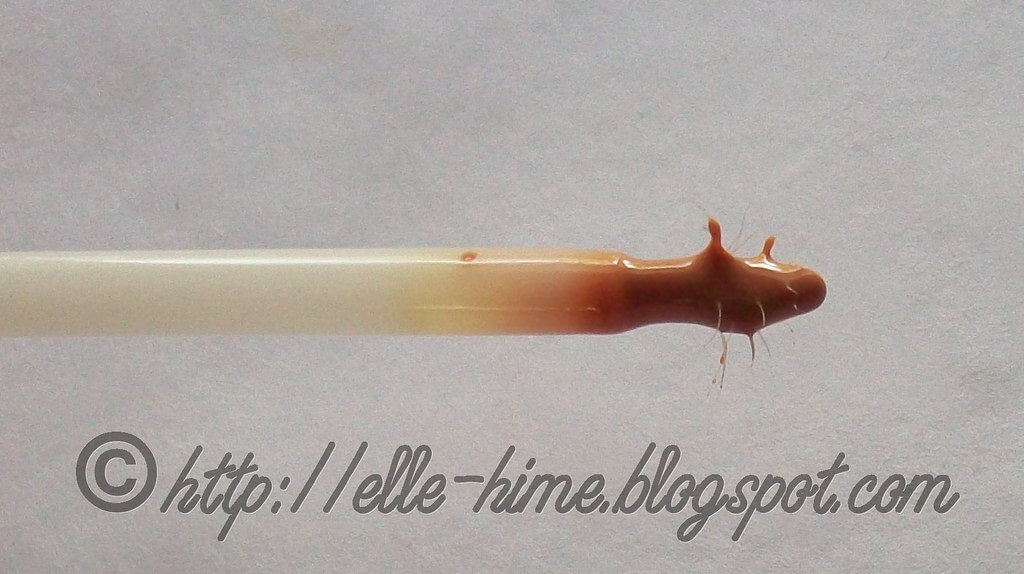 Barely Legal... More Than One Color?
One more picture before I go. I had come across someone Online saying they had used the sample size of Barely Legal, liked it, and went to buy it again when they ran out... but the full-sized Barely Legal was not the same color. Huh? Now I have my own mini of the gloss and I have to agree that it does not look the same as it's big sister in the tube. Full-sized Barely Legal is softer and more pink, the sample size is more peach. Anyone interested in me swatching these for comparison?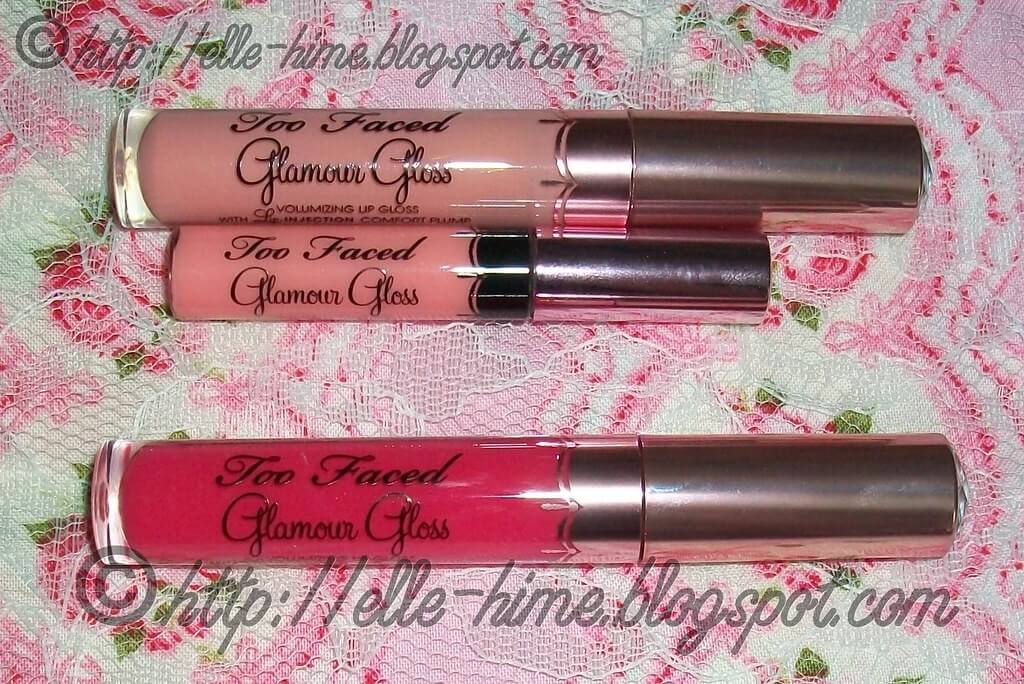 Thanks for reading and remember I love your comments - I'm happy to answer questions and hear if my review was of any help to you~