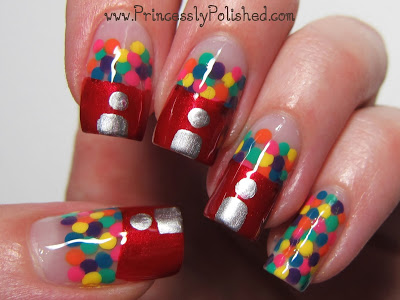 Hello, dear readers! I'm so excited to share this post with you! Not only am I sharing some cute original nail art I did, I'm teaching you how to do it with a tutorial! This is my first time creating a how-to collage (it took some trial and error), so please give me your feedback! First off, some information about the polishes I used.
For the gumballs:
China Glaze Happy-Go-Lucky, Grape Pop, Four Leaf Clover, Suger High; Sally Hansen Sun Kissed and Zoya Breezi
For the gumball machines:
Zoya Elisa and Pure Ice Silver Mercedes
Obviously gumballs and their dispensers have a lot of room for creativity with colors, and you could pick pretty much anything you want. I wanted something easily recognizable so I reached for the classic candy and dispenser colors. This design works really well on squared nails, and takes advantage of your natural nail shape to create the glass dome of the gumball machine. All you need are your nail polishes, some dotting tools, and french tip guides. On to the tutorial!

Yay, it's easy! And fun - I had a blast wearing this manicure. All kinds of people wanted to check these colorful nails out, and they could tell what they were! To me, that's nail art success. What do you think? If you try this please leave a link in the comments below so I can check it out! =)