Hello, Princesses! Today marks one month left until my baby girl is due, so I'm letting her inspire the theme of this giveaway with some pretty pink and purple things! Last week was my 2-year anniversary of blogging, so this giveaway also commemorates that accomplishment. Let's take a look at the goodies I have...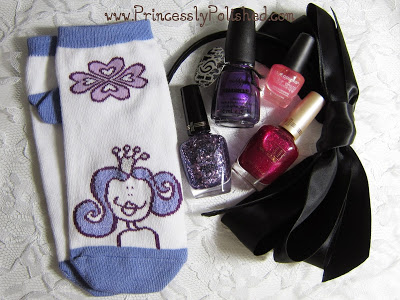 A pair of princess-themed socks,
China Glaze Crackle nail polish in Fault Line,
L.A. Colors unnamed mini,
Milani nail polioshes in Jewel FX Lavender and Pink Flash,
and a black ribbon hair bow!
Here is a closer look at the polishes...
This giveaway is open to all followers living in the US (and US territories)! International followers may enter if they have a US mailing address to send the prize to!
You should either be 18 years of age or older, or have the consent of your parents/guardians to enter.
All entries are recorded using the Rafflecopter widget below, and falsified entries will be removed.
The selected winner will be notified by E-mail and have 24 hours to respond before another winner will be chosen.
Any questions or clarification needed, let me know!
a Rafflecopter giveaway