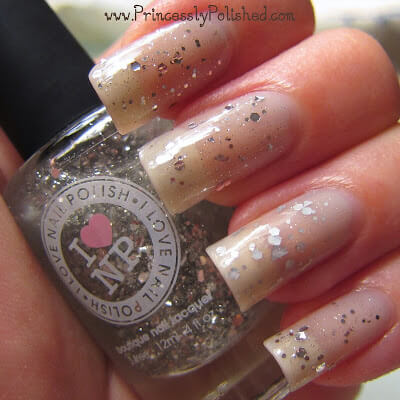 Here is a quick swatch post of my nails from this weekend. I did them in our hotel room so I didn't have my usual lighting setup. Not the best photos but this was a really simple combo, so I'm letting them pass. I used 2 coats of My Pointe Exactly from the OPI NYC Ballet collection, which is a sheer grey jelly. My nails were more grey-toned than they appear here. Then I used 2 coats of I♥NP Silver Spoons, and I used one more coat of My Pointe Exactly on my ring finger to create a jelly sandwich. These nails were subtle but very shiny!
My Pointe Exactly is a very good neutral jelly that I am so glad to have finally found in stock on Drugstore.com. Glad I picked it up because it will definitely see more use in both French manicures and layering for "jelly sandwiches". Coverage is quite good. Also, I think I have finally made peace with OPI's wide brushes; we didn't get along before this. The above photo shows my results without any clean-up!
Silver Spoons is unique among silver glitter topcoats thanks to those awesome little silver shards! They aren't gigantic, lay flat and don't create texture on the nail. (If I could find a topper of just these well-behaved silver shreds I'd be quite pleased!) The silver microshimmer also has a wonderful sparkle that I love. I was surprised at needing two coats for good coverage, however. Sadly this polish is discontinued and gone forever... sorry!
I wish I could have better captured the sparkle and shine of these nails - you'll just have to imagine it! The look reminds me of Cinderella for some reason... What do you think?