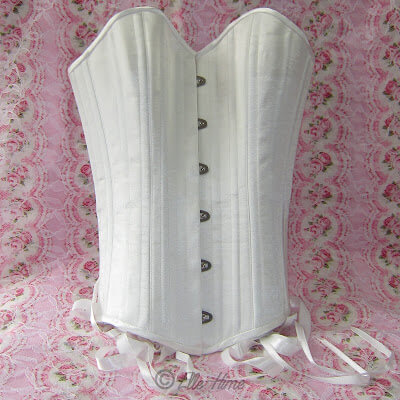 Shown above:
Timeless Trends White Satin Overbust Corset
As always you can click my pictures to see them larger!
Last month I was browsing through the Timeless Trends website, when it occurred to me that "hey, maybe I should try one of their overbust corsets". I already own one of their underbusts and it is a great corset for the price. I contacted their customer service (which is very helpful), and confirmed that I was going to be trying the correct size. I placed my order and had the corset a few days later. Here is my review of this off-the-rack corset!
Size:
The size I purchased was 20S. All corsets will have a bit of leeway in what body shapes and sizes they can fit, and you should refer to the
helpful guide on Timeless Trend's website here
to find your size. The 20S overbust corset that I'm reviewing has a 12-inch busk, fits a natural waist of 25-24", and is intended for A and B cup sizes.
Quality:
Timeless Trends corsets are made of top-notch materials. They have real spiral-steel stays that are super durable and comfortable to wear, and the busks (front closure) are very sturdy as well. There is waist tape sewn in to help reinforce the waist. The outer fashion fabric (in this case satin) is laminated to the inner fabric, and then the whole corset is lined with soft, sturdy cotton. The laces can vary depending on what corset you get but the ones I have had used ribbons - these are easy to lace and tie and have been durable.
The overbust model is longer than their underbust in both directions, so they have additional lacing to adjust the hips. Here are two pictures of the back of the corset when it is laced shut, which is how you receive it.
Another difference between the overbust and underbust corsets that Timeless Trends sells is how the overbusts have the addition of a "modesty panel". It is made of the same soft cotton that lines the whole corset. Here you can see it in the opened corset:
( You can also see the waist tape going around the middle of the corset! It is sewn into the inner layers of fabric so you can't feel it when wearing your corset. )
And here I moved the panel away from the laces. You can see that it is sewn on just one side. Its purpose is to cover the gap in the back when you are wearing your corset. Corsets aren't supposed to be laced shut on people - a gap in the back allows for your spine to be comfortable. So, the modesty panel covers your skin, and also protects it from any chafing that might be caused by the laces. Personally I wear a thin cotton corset liner in my underbust for the sake of keeping the corset clean. The ribbons on these Timeless Trends corsets have never hurt my back. One thing I did experience with the modesty panel in place is that the ribbons did not pull as smoothly; lacing in took a little longer. However, it also had the side benefit of the ribbons staying put when I tugged them. It was much easier to get a secure bow tied behind my back!
Here is one more picture; the lower inside edge of the corset. You can see where the modesty panel is sewn in, then one of the grosgrain ribbon garter loops (next to the black size tag), the small 20S ribbon tag and the Timeless Trends brand tag - none of which are a bother, and then the adjustable hip lacing area.
Because I am of small stature (not quite 5'3"...) the size 20 underbust corset will start to cut into one spot on my hipbone when laced tightly, and I went for the overbust in hopes that the extra length and room for hip adjustment would fix that problem. It does and it doesn't. I never had and rubbing or pinching in the fit of this corset, but I did find that the grommets and ribbons over my hips were a little bothersome. I would definitely suggest having something to wear under them. A mini hip modesty panel would have been a superb addition.
I will say that for being a few inches longer than my underbust it wasn't a huge difference in how much skin was being covered. These corsets come up fairly high on your back in either style that you want, so depending on the plunge of a neckline in the rear they may not work for all outfits. For me they both came up to "bra strap level" in the back, which I am totally okay with. In the front I had the same coverage as the usual balconette-cut bra. Overall it gives a very supportive fit.
My experience with this corset was that it did take slightly longer to put on than my underbust, but it was completely comfortable. By opening the hips more I could lace down to a 23" waist with no pinching, stress to the corset, or or uncomfortable sensations of any kind. I loved the clean look of it on my back. The hips still gave me trouble, just because the extra grommets and ribbons were there. I'm sure it would have been fixed by something being placed under them... However, I didn't like the exact overall look of it on me, and that is why it was returned. I'm a very petite girl and apparently I'm better suited to pairing a good underbust corset with one of my favorite strapless bras. The overbust overwhelmed-my-bust and it wasn't near as flattering to me as I had hoped. ;P
My recommendation:
If you are considering ordering a corset from Timeless Trends, I do think that they are a wonderful business that offers a quality product for a fair price. I wear a corset for the support and smoothing of my shape under clothing. I have been wearing one of their underbust corsets for over a year, though not every day each month. It has held up nicely to the wear and never hurt me; rather it helps! Definitely learn how to measure yourself properly and realize that off-the-rack corsets are not for everyone. But, if you are curious, try it! =)
I originally went to Timeless Trends because I was curious about corseting but didn't have all the money to drop on something custom made. In my eyes this is the perfect way to start if you are a beginner, or even a nice way to flesh out a collection. With their versatile styling and plentiful options for fabric and colors you are sure to find something you like! You can find them on the web at:
Disclaimer: The corset featured in this review was purchased, and returned, by me. I had offered to do a review and so I have. All these words are 100% my own and my honest opinion.
I know this a different review than what I normally post, but it is very much a part of me and something I'm comfortable with. Any questions, just ask! =)