First the polish, then the explanation of why my blog has been neglected for almost a week.
You may remember my recent post of trying my new Nails Inc. Magnetic Effect Polishes that ended in great disappointment. I was hoping it was just a fluke and so I've tried them again. Looks like I found what these polishes need! I didn't do anything differently in my application or technique, but I did use a different base coat. The first time I snagged my old Poshe bottle, which is a fast-drying base coat. Last night I used Orly Bonder. This time my polish applied evenly, did not destroy itself with bald spots, and actually stayed wet long enough to make perfect little magnetic waves. So huzzah! ...Now I'm really bummed that I missed the Nails Inc. 3-polish set (twice)!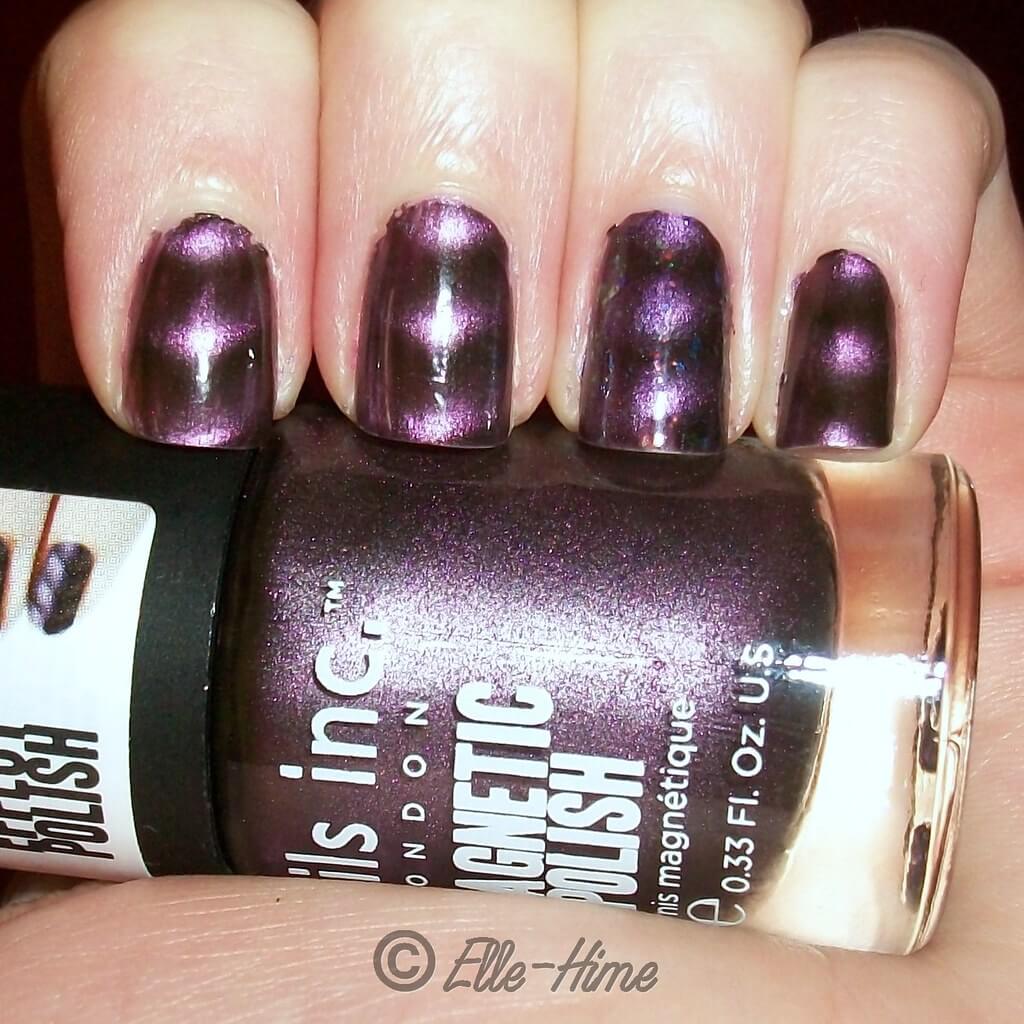 When it is working properly Houses of Parliament is a nice dark purple with lavender-looking magnetic particles. This was just one coat, the way it should be. Shown here with top coat because magnetic polishes don't dry very shiny. Also, can you take a guess at what is layered on my ring finger? It is a very thin coat of Cult Nails Clairvoyant. =)
~~~
So, my nails are done differently. This is the shortest and squarest I've ever shaped them. I like the squared look, but I'm really missing my length. All of these nails were in good condition but I shortened them to match my very tragic thumb. Over the weekend I had a major nail break while trying to pick something up and the nail broke down into the nail bed. Ouch! It is still hurting me now. So needless to say I was pretty discouraged and didn't feel like blogging anything.
When I started this blog my nails were very short, and I was having trouble with them peeling. For years I had healthy, long nails. Since the start of this year they wanted to do nothing but break off. I had fallen very ill and I don't know what happened but that seems to be the start of my nail problems. Break and peel, break and peel. When I started blogging some polishes I found I really enjoyed it, and it inspired me to get my nails back into shape. They are gradually growing out to be healthy and I'm not making the rookie mistakes that I was. I'm even taking supplements for nails! The break to my thumb is probably the last remaining growth "before vitamins". Still it is a downer and I'm worried about it growing back properly.
To go along with the nail problems I have been extremely busy and hardly home at all. I have all sorts of pics that I meant to share last week, and even some half-written posts. My blog is really just a hobby so when life gets crazy it has to take a back seat. I apologize to everyone for not being here and want to say Hello to all new followers. Wow, I did not expect to be over 90 today. I'll try to treat you all to some pretty polishes and haul posts for the rest of the week. =)