I have big news!
Glitrix on etsy
has teamed up with me for a giveaway! Because she is a total sweetheart and lives in Singapore she's even helping me make it an International giveaway! And on top of of this giveaway goodness she is running a special sale for all of you, my lovely readers:
Use code " 2011GLIX12 " for 10% off!
Offer valid until Dec 25th
So be sure check out her store! Now onto the details of the giveaway: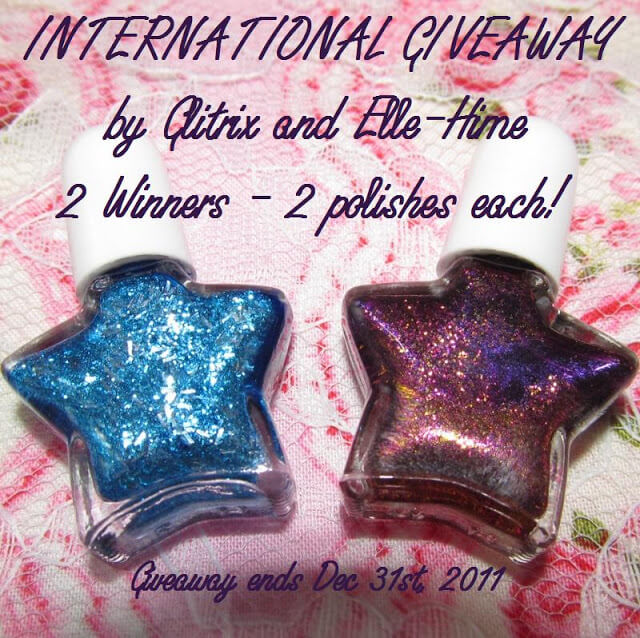 The polishes up for grabs are the two I reviewed here on my blog,
Oceanic
and
Royal Chic
. I have two brand-new bottles to send out to our US-resident winner, and Glitrix will be sending out the two polishes for our International winner. That's why we need to know your location to enter the giveaway; it's to be able to tell what group you fall into. =D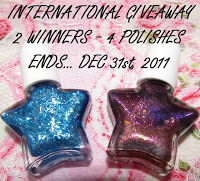 You may use the above image to advertise the giveaway and thus earn yourself extra giveaway entries. If you make a blog post you may also you an extra photo from my swatches of these colors; your choice of photo! If you're adding an image to your sidebar here is a smaller version to use.
I'm using Rafflecopter to run this giveaway and choose winners. All entries will be validated and illegitimate entries will be disqualified. I'm hoping to announce both winners in the first week of January. If you need any help entering or have questions about the giveaway just post them here!