I'm sorting through older pictures to make sure I'm not just sitting on swatch pictures. I did nail wheel swatches of these 5 Nyx Girls nail polishes and must share their sparkly beauty before they are lost for good! In the pictured order: Dynamic Glitter, Frizz Spots, Enchanted Forest, Dreamy Glitter, Under the Moon.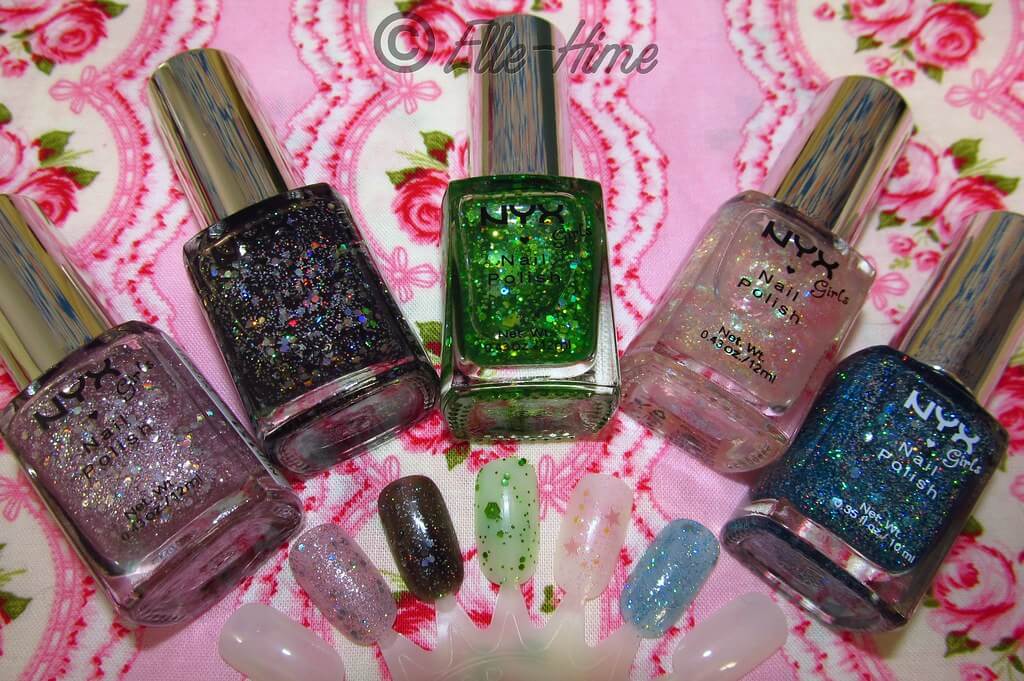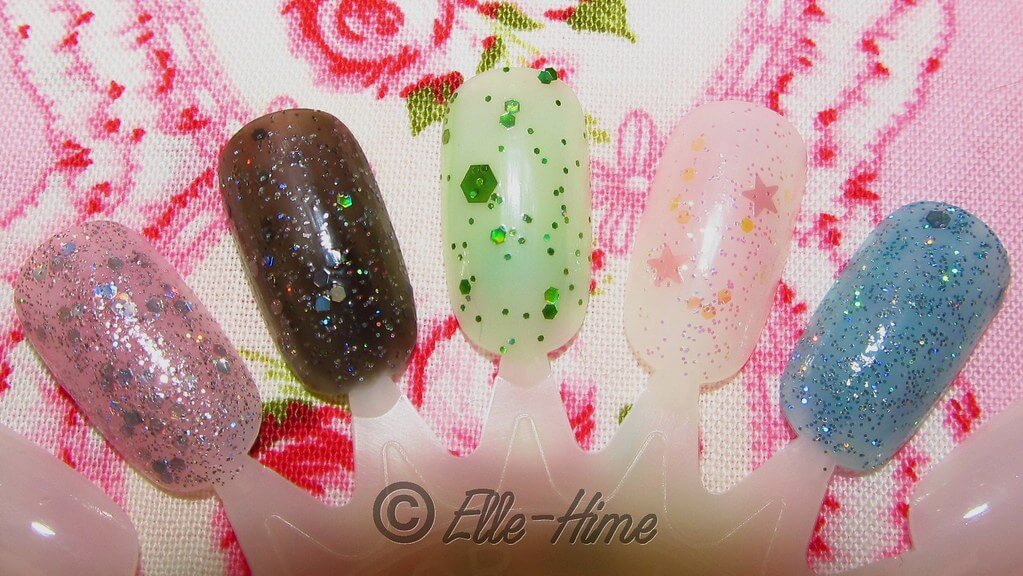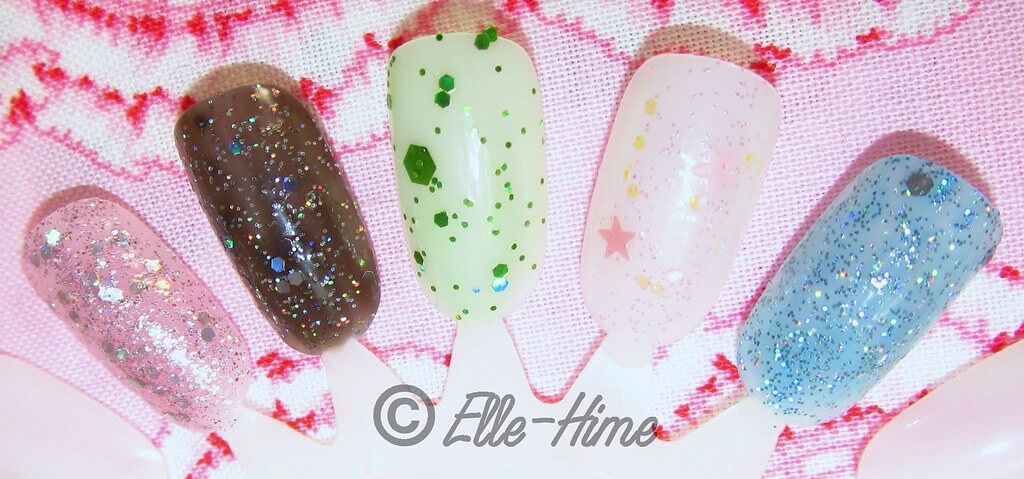 These swatches are 3 coats of each polish. All of these are easy-to-work-with (for glitters), and have no settling issues. Here are my descriptions:
Dynamic Glitter is the most densely-packed with glitter, would look great layered or by itself. Has a mauve-pink base and silver holographic glitters in a small size and larger hex pieces.
Frizz Spots is sooo cool! Of course perfect for layering over a dark color, but with enough coats it could stand on it's own, as well. The black jelly base contains small glitter and larger hex glitters, both of which reflect a rainbow of colors.
Enchanted Forest has the least amount of glitter but is also the most unique. It's base is tinted green but this might not show up over another polish. It's green glitters - small, large and giant - all reflect an array of colors: red, orange, yellow, blue. The giant glitters can be hard to catch.
Dreamy Glitter is delicate and pretty, with somewhat sparse glitter. The base is a pale peacy-pink tone. It contains iridescent glitter in a small and large hex size, and light pink star-shape glitters that are harder to get. Would be perfect for a glitter-french or could pop on a dark polish!
Under the Moon is a blue jelly polish filled with small holographic silver glitter and a few larger hex glitter of the same color. In the bottle and on the nail these glitters give off a weak linear effect and are very rainbow-sparkly. Seems best suited for layering but I'm also curious to see the eye-catching glitter built to opacity.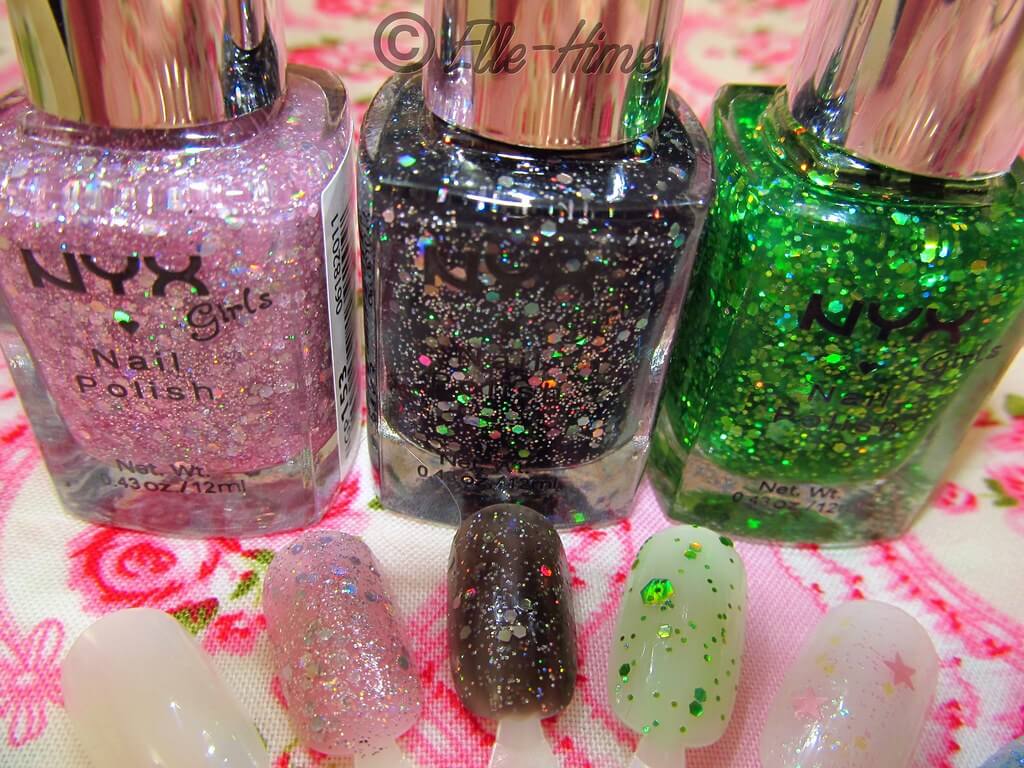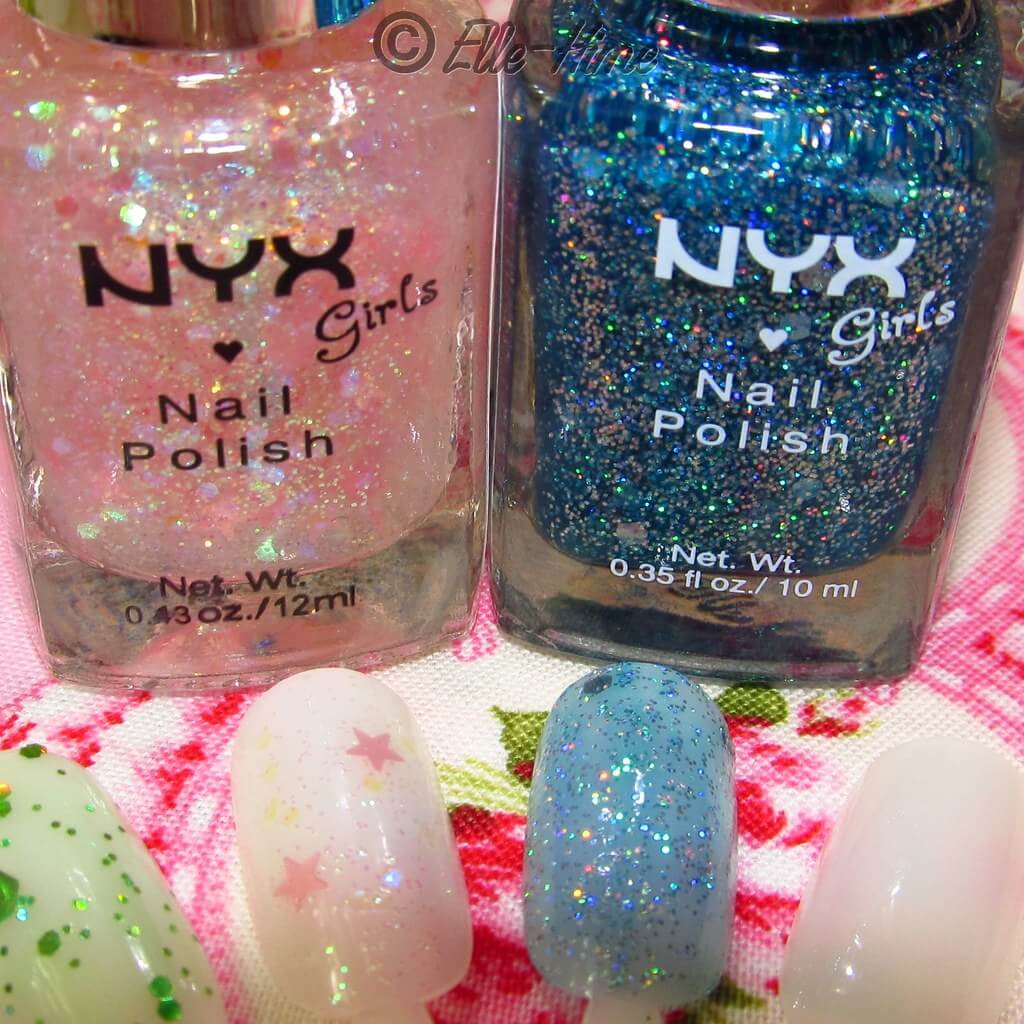 Hope you enjoyed my little swatches! I really like my
Nyx Girls
polishes, especially their glitters because the formula is spot-on. (Except for being more smelly than most my polishes...) Also, these store nicely with their squared bottles, and they are fairly cheap! Hmm, now I think I want something sparkly on my nails! Which of these glitters would be your pick?