I placed an order with CherryCulture today... I just love that site... They have some of my favorite brands at really good prices! Anyway, it made me realize that I never posted my last haul from them! These beauties arrived at the beginning of the month~
Milani In a Flash, L.A. Girl Glitter Addict - Uninhibited, Nyx Blue Avenue & Purple Avenue.
Nyx Advanced Salon Formula in Winter, Beige Glitter, Hieroglyphics and Creme Glitter.
The Beige & Creme Glitter polishes weren't what I was looking for, but yes, they are metallic flakies! I swatched them and put them up for sale on my blog sale page. I'm working on a post of
Nyx
swatches so keep an eye out for that if you're curious about how they look. Now onto the
Nyx Girls
nail polish. I was so impressed with the glitters I picked up that I had to try some cremes, too.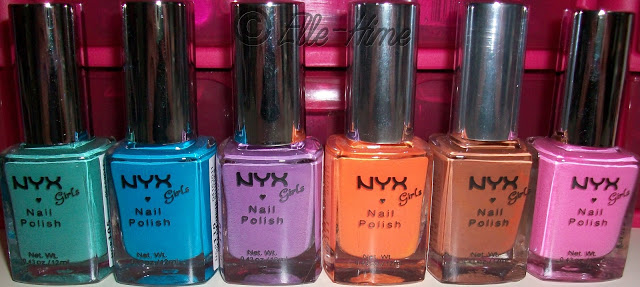 Nyx Girls Algae, Hot Blue, Between Mauve and Purple, Forever 1989, Dark Beige, Girly
Nyx Girls
Perfect Gray, Heather, Dusty Pink, Pistachio, Naked Pink, Gemma
I've already used several of these and have been happy with the formula and wear on them. I tried to get manicure pics but the colors came out really off so it's no use posting them. I will say that Pistachio is nearly a dupe of China Glaze For Audrey. I mean it's so, so close that I would have thought that is what I was wearing. Pistachio has a hint more blue, less green, is a hint less dusty, and just slightly less opaque. So Pistachio will go to the blog sale, too.
This was a fun haul and I got several colors that are unique to my collection. Any requests on what you'd like to see worn, just let me know. =)