Swatch & Review / Nail Art
This was one of the items provided for review in my
Violet VoxBox
from Influenster. They would like us to share a "shining moment" we had while wearing the polish. I didn't actually get to wear this for very long, but I did dress Sparkling Water up with some pearl-chain nail stickers. As I was finishing my manicure, I had a realization...
Are nail stickers "cheating" when it comes to nail art? Should they even count? Yes. Just because you make a cake using a box mix instead of from scratch, will someone claim that you didn't bake a cake: you cheated? No, you just made what you currently had time and ability to do. We all admire the hand-piped frosting flowers, the mind-blowing 3D fondant creations that make their way to Pinterest collections... but sometimes you have to be content with sprinkles. In the end it's tasty, you did make cake.
With nail stickers and decals... they are quick and easy to master, but do take skill to apply in a creative, eye-pleasing way. So what if I didn't sit down with a tiny brush and make each dot myself. I still chose where I wanted the design, carefully cut them to the proper length, and carefully applied them with tweezers. That's all I had time for. And you know what? It was pretty, I enjoyed the look - I did nail art.
Now, let's get to what we're really after: a proper swatch and review of Sally Hansen Sparkling Water!
First off, this polish was quite difficult to capture on camera. There is something about glass fleck finishes that cause cameras to throw their little mechanical arms up into the air I say "I dunno, a shiny blur, I guess." I tried my best in the limited time I had during my daughter's nap!
Sally Hansen is making some pretty great claims with this line of polish. Here is the product description straight from Influenster's page:
NEW Triple Shine™ Nail Color from Sally Hansen! Daily defense from water and wear. Defend against the Triple Threat: Tap, Salt, and Chlorine water. Water to workout, day in and day out, nothing will dull these nails. The gloss is protected with the Ultimate Shield Complex, exclusive to Sally Hansen, designed to help polish withstand the wear and tear of everyday living for non-stop shine. Outshine 'em all with our 30 shades!
And the rather amusing instructions:
Directions:
1. Shake well with cap on before use.
2. Apply 2 coats of polish to clean, dry nails and seal with top coat.
Show me a person who would shake an uncapped bottle of nail polish, and I'll show you a person who should probably not be painting their own nails.
My thoughts on the bottle, cap & brush to start with. I love the slim, squared packaging! Vaguely reminiscent of a coffin, torpedo, or bullet and it doesn't waste space. But why does
SH
need yet
another
bottle shape? Xtreme Wear, Sugar Coats, Insta-Dri, Diamond Strength... those are just a few of the brand's lines and they all have totally different bottles. It's kind of weird! There is one thing they do like to share, though. The brush is the same one used in the Insta-Dri and Complete Salon Manicure polishes. I'm also very pleased that they chose to implement an over-cap. There is nothing more aggravating than a squared lid that doesn't line up properly on the bottle after you use it the first time. But, the overcap could be easily lost, so I'm surprised that
SH
printed "Triple Shine" on the cap instead of the bottle. It must have been cheaper.
Sally Hansen's beloved giant brush.
As for my experience using Sparkling Water, it was okay. The big brush is hard to use on my small nails, overwhelming my pint-sized pinky and making for difficulty being precise near my cuticles. The polish also had a sticky feel to it and the brush felt stiff on the nail. It was hard to cover the few thin spots towards my nail tips. Sparkling Water is a beautiful color in the bottle, but the directions to "apply 2 coats" won't work - you need 3. I'm not counting that as negative. It's the norm for glass-fleck jellies and I was planning 3 coats from the outset. To show you the opacity of one coat, here is my thumb:
To get the most accurate example of the color Sparkling Water is with 3 coats, I had to move into indirect lighting. It truly is pretty, and has a nice shiny sparkle. But wait! These pictures with nail stickers show my usual topcoat, fast-drying Poshe. So this is the kind of shine I have on any manicure.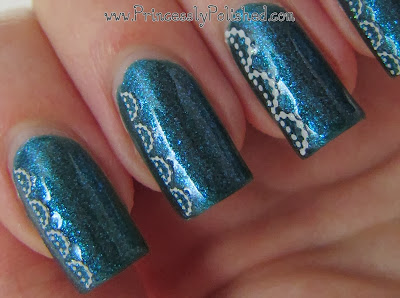 I tried to let Sparkling Water dry as long as possible by itself to see if it seemed three times as shiny as most polishes. It really isn't. It had the same finish as the other polishes in my collection with this finish. Basically, all glass fleck jellies are shiny; it's the nature of jelly polish. Finally I couldn't wait any longer so I moved onto nail stickers. It didn't get along with them very well... the very-tacky polish tried to push out from beneath the stickers no matter how gently I applied them. I finished with Poshe and fortunately that did dry everything quickly.
3 coats, no topcoat, direct lighting.
But then the chipping started, and didn't stop until I gave up and took the manicure off 2 days later. I'm thinking Sparkling Water didn't like my Poshe topcoat (or was very offended by my nail stickers and didn't want to be seen with them). So, what was missing here was the Sally Hansen Triple Shine topcoat. I'd like to try that and see if it makes any difference in shine or creates amazing, durable wear like they claim. Honestly, not including the matching topcoat was an oversight with this review opportunity, as topcoat greatly effects wear time and shine. Yet even the bottle's instructions don't care to specify that Triple Shine would be the correct topper, so maybe they don't really care because it doesn't matter!
Finish & Coverage: Glass fleck jelly, sheer.
Dries: Slowly. Shiny.
Formula & Application: Seems sticky in texture. You need to get it on there fast and then leave it be. Slightly prone to bald patches.
Wear: Poor. It chipped and peeled over my 2 days of wear time.
Removal: Easy. Watch for shimmers that want to stay behind on the nail!
Bottle & Brush: Solid 10ml size bottle, overcap hiding comfortable brush cap, big brush within the bottle.
Perfect For: People with wide, flat nails and time to spare.
Overall: I'm on the fence. My experience was average and ultimately inconclusive. Sparkling Water is a pretty color. I want to like it and I'd be curious to see if using the Triple Shine topcoat makes a difference.
Where to Buy: Should be easy to find in SH retailers. Walmart, Target, CVS, etc.
Thanks for reading my review, I hope you found it helpful. Have you tried any polishes from the Triple Shine collection? Please leave a comment letting me know which one and what you thought of it! Stay polished!