I was swatching Zoya Kristen a few days ago when inspiration struck. Actually, a piece of fuzz struck. Necessity is the mother of invention, right? As soon as I was adding topcoat I noticed a very fine piece of red fuzz glossed into my index nail, like so:
Zoya Kristen - 2 coats + fuzz & topcoat
Can you spot it? I was a little bit annoyed! Originally I was going to top Kristen with a glitter, but I quickly thought of a more effective way to hide that fiber. I grabbed my bottle of Zoya Skylar, my painter's tape, and scalloped-edge craft scissors.
Goodbye, fuzz! A quick coat of Skylar with a portion of my nails taped off did the trick. I really liked this manicure, too! Skylar contains super pretty flakes but I think she would have been too drab of a blue to wear on my whole nail. The dominating super-pale blue base of Kristen made for lovely, dainty nail art.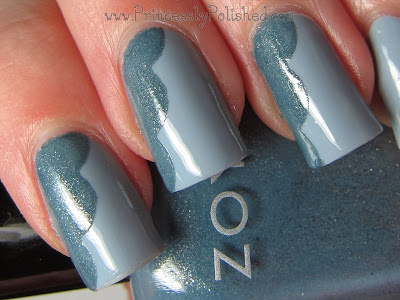 Do you have any scissors with fancy edges? Have you used them for nail art? If not, you should, as it is extremely easy. Just remember: only apply tape to nails that have dried fully, and remove the tape as soon as you paint the accent color on. Stay polished!