Edit: Whaa! I had this scheduled to go live on Nov 30th and I just noticed it still wasn't up... stupid Blogger! ;_;

Hello, everyone! I'm starting a new way to to end each month here on Princessly Polished. I'm expanding the collective haul post to include other topics such as projects I'm working on, my favorites of the month, blogging goals, etc... I hope you enjoy it!
To start things off, this just happened: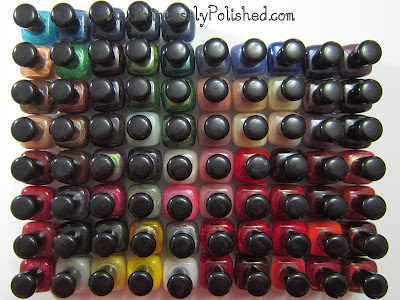 75 Zoya Polishes. No, this isn't my collection. These are, or were, my Mom's. (She collected more Zoya than me - I had just under 50!) While some of these colors will end up being adopted my me, others are going to end up being sold. Keep an eye out for that update.
As I mentioned earlier this month, my Mom had a heart attack and ended up in the hospital. It was a freak thing, as she had no heart attack risk factors, so it really threw our entire family for a loop. Then on Saturday she ended up in the hospital again because she still wasn't feeling right. I ended up watching my (much) younger brothers until she came home this week. Fortunately she seems to be doing better, but she really needs to rest and recuperate. Thus my lack of blog posts this month.
While I didn't do a whole lot of posting, I actually did get quite a bit of "behind-the-scenes" work done (which I tried to keep showing peeks of
on Instagram
to keep it interesting around here!) both Online and at home.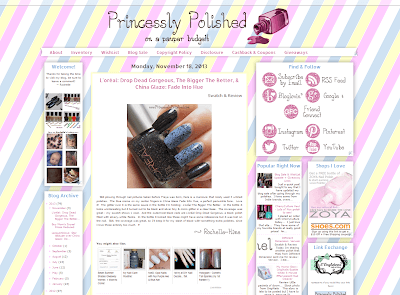 Princessly Polished is getting a makeover... The above screenshot is what the site used to look like. I was honestly considering hiring a professional to create a custom blog layout for me, but I really like to do things myself, and I didn't want to spend the money. So, I read a few tutorials around the web, and here we are. It's extremely close to what I would have paid $30+ for, so I'm happy. I still have to get some work done in the graphics department, but I think my new look is so much better!
All of my China Glaze shades in swatch stick form - yay!
My other big project for November has been total redoing & reorganization of my polish swatches and taking a proper inventory of the polishes in my collection. Now has been a great time to get this done because I can't paint my nails very often while having to change a diaper every 2-4 hours... And I've never done a proper Inventory of my polishes. Spreadsheets baffled me the first few times I tried creating them, but this time I'm getting it! By the time I'm done I'll be able to easily find the colors I have.
Going through each and every bottle of polish I have is also helping me to weed things out of my collection. I'm spotting dupes that I didn't know I had or things that I'm never wearing, so they'll be put up for sale some time in December. Expect a very massive destash around here!
How are you holding up against all the sales this weekend? I restrained myself and didn't buy any polish at all! Which is sort of amazing... I did pick these up from I♥NP earlier in the month, though.
The colors are Sweet Serenade, Washing Ashore, Bottle Service, Absolute Zero (which was a preorder bonus), and Pt 78. Pt 78 has been reboxed because it ended up not being the color I was hoping for. Oh well! You'll being seeing more I♥NP swatches next month!
Next month I'll look back at this post and see what I can check off!
Get all my 2013 swatches, manicures and nail art posted. I have a bunch of content sitting on my camera's SD card that was supposed to help me get through November and December. I didn't get as many posts written this month as I had planned to, so I have some cramming to do! I want to get everything Online before I forget about it...
Finish the polish swatching and organizing. I'm so close to getting this one done!
Get all my destash sales posted.
Put the finishing touches on PrincesslyPolished.com. I have a few more graphics that need to be made up.
I think that's everything. If it isn't... I guess I'll get to it next month! Oh wait, that's tomorrow. Enjoy the rest of your weekend!