Hello, Princesses! Today I'm sharing an absolutely gorgeous indie creation - Convergent by Digital Nails. This polish is also extra-special because it was the first manicure I got to do after giving birth to my daughter (she was almost 2 weeks old!), and it felt so great to do my nails again. The only bad thing about this polish... it's so beautiful and color-shifty that I spent almost an hour trying to choose which pictures to share. I got it down to 12.
Duochrome and multichrome polishes are wonderful to wear during the less-than-sunny months because they come to life in lower lighting. Convergent did not disappoint. This foil-metallic polish shifts through deep purple, sapphire blue, deep teal, and aqua. In some dim lighting it even showed as a beautiful emerald green! You may notice pale green at the far end of the purple shift, as well - it likes to hide, but it's there. As an added bonus there is holographic microglitter to give you a delicate rainbow sparkle.
Thinking that I could copy the cool kids and take pictures of my nails underwater because it shows off color-shifting polishes perfectly, I ended up with these less-than-stellar pictures:
Underwater with direct lighting. Sparkles!
Underwater - indirect light.
Underwater - indirect light. Blue-purple-green, see? =D
There is obviously some trick to taking good underwater nail pictures. I'll keep practicing! (If you have any hints, please share them!) So let's forget the fact that my fingertips look fleshy and cold underwater, and move on to some dry photography...
Direct lighting.
Kind-of-direct light.
Are you drooling yet? Not very ladylike, but totally understandable!
Indirect light.
Very indirect light.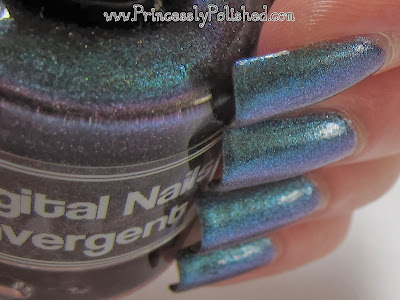 Shade.
Have you fallen in love with it yet? It's so much better in person. A digital camera can't do justice to Raphaelle's creations - they're just too awesome to be captured in so paltry a form. Here, have one more picture:
Now to the nitty-gritty!
Finish: Multichrome. Foil-metallic. Scattered holographic sparkle. (Wow!)
Dries: Quite quickly, and to a satin-y finish. I used shiny topcoat, as usual.
Coverage: Surprisingly perfect. (I got this out and thought "Rochelle, you should be layering this over a black base." Typically polishes like this are sheer and need a dark base to pop. But I didn't go grab a black creme, and carried on.) First coat: sheer. Two coats: boom! opacity. I was amazed. These pigments are floating in a charcoal jelly, which has amazing depth and coverage at two coats, all the way to the tips of my nails.
Formula & Application: The formula is great. Notice how I gouged my pinky nail? Foil polishes show every little ding, yet this one healed pretty well once I added topcoat. Convergent is also easy to apply and doesn't drag or create bald spots!
Wear time: Uhhh... honestly, it's been two months! It wore well, from what I recall.
Removal: Easy to take off, but you will end up with little shimmer particles stuck to your skin.
Overall: I love it! I can't believe I almost passed on grabbing it.
Perfect for: The mermaid princess that longs to get back to the deep sea. Also: foil-metallic lovers, multichrome lovers, and pretty much anyone who can appreciate a good jewel-tone!
Where to Buy: Digital Nails etsy shop.
So yes, I would definitely recommend this polish. I don't see it in stock currently, so you may want to try asking Raphaelle if she can hook you up with a bottle - she's a dream to work with! Take care until next time!