Hair Care - Video / Review
Hello Princesses! I was sent two complimentary Goody hair products in my Violet VoxBox to test & review. This is how they are both fitting into my hair care routine, and I've made a video that gives a closer look at the QuikStyle hair brush.
I have an every-other-day hair washing schedule. On the days I don't wash my hair, I get to use the headband.
Goody Athletique Headband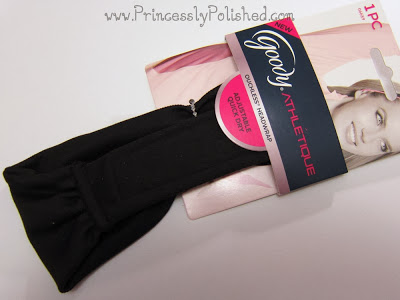 Before this VoxBox I didn't have any headbands in this loop style. They just aren't my thing because they don't work well with my hairstyle. But, every time I take a shower without washing my hair I have to put it up in a shower cap, and this hairband is working wonderfully for that! I've also used it to keep hair out of the way for facial masks.
It is a huge improvement over the regular band I was using. It keeps hair away from my face, and even off the nape of my neck. Even better, if (when) I ever get anything on it I'll be able to throw it right in the wash. And the fact that it is adjustable with velcro in the back is pretty great.
I know I've said it before, but I was so excited to get this brush! After seeing it in the store I wrote it off as being too expensive to try if it wasn't going to work, but I sure was curious. Imagine my surprise when it showed up in my VoxBox! As a paddle brush with extra microfiber bristles to help dry your hair, it's use it pretty straightforward.
I only use this brush when my hair is wet, to gently detangle before using the hairdryer, and usually once more partway through drying. It definitely helps dry my hair faster, but the trade-off is that I now have a hairbrush that needs shampooing now and then! So far I'm liking it, and I think it will be a permanent addition to my hair-care team. If you'd like to hear more about the brush and my experience with using and washing it, watch my video below!

I do wish the brush was easier to clean, but with my every-other-day hair washing (and drying) schedule I should be able to go two weeks in between brush washes. After washing the brush I set it by a heater vent to dry and it was completely dry when I needed it the next day. So, I was given a really good team of products for review! The headband is comfy and perfect for keeping my hair under a shower cap, and the brush is working to get my hair dried faster.