Today I'm talking about the tweezers I was sent for review from Design Glassware by
Mont Bleu
. If you didn't see my previous post about their products,
click here
! I'm loving those glass nail files! I really wondered to myself "would the tweezers be as good"? They look pretty, but what matters most with any beauty tool is functionality.
Design Glassware has many different types of tweezers embellished with crystals, the type I have being listed as "Black Simple II Pink". They are stainless steel tweezers with a black silicon coating that gives them a very nice, slightly rubberized grip. They also have two pink "buttons" for an even more comfortable grip, and are accented with matching pink Swarovski crystals. They come in a slipcase so they won't get damaged while floating around in your purse or make-up bag, and a little rubber ring to keep them in a closed position.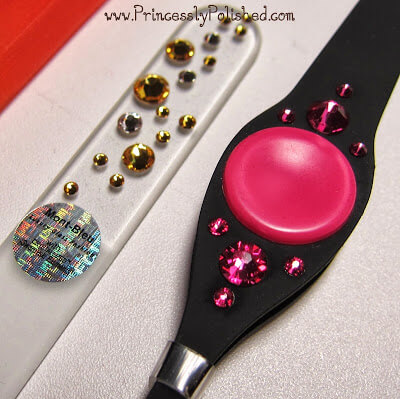 It isn't easy to photograph rhinestones, but I tried! The items from Design Glassware look great, I know I keep saying it, but it's true! Along with their looking good, I was happy to find that the tweezers work perfectly. Anyone who has ever tried to pluck an eyebrow hair with cheap tweezers, and missed that hair again and again knows that low-grade tweezers are a complete waste of time. I was able to pluck each hair on the first try with these, as well as invisible baby hairs that I didn't know were there.
To me, these tweezers from Design Glassware are on-par with my Tweezerman brand tweezers, which have outstanding quality. They are priced similarly, too. I never had my "good tweezers" with me in my purse, though, because they are an ugly shade of glittery pink. These ones are so much nicer to use in public! Also, I haven't ever seen tweezers with the unique comfort buttons in their handle - it does make them easy to hold.
So, if you're looking for a new pair of good tweezers, or are familiar with Tweezerman quality and want something similar, but sparkly! I recommend picking up a pair of these. And here is something just for you: a coupon code for their website! What will you buy?
Use the code:

BLOG

for 20% off your order!
Disclaimer: This product was sent to me free in exchange for an honest review. This in no way affected my opinion of it! All thoughts in this post are my own. See my full disclosure here.