Wow, it's been awhile since I did a haul post! After my very successful low-buy month of February I continued the trend right through the rest of spring. Sleeping 90% of the time you aren't working really helps the wallet! ;P Alas, I did pick up a few things this month...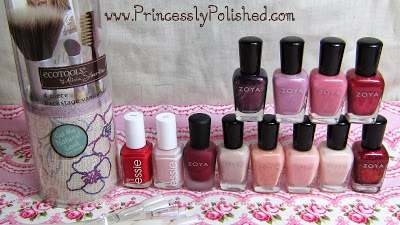 In helping my Mom sell off extra polishes in her collection I ended up with more in mine... funny how that works. This is what I picked up from her sale:
Left to Right: Zoya Yasmeen, Caresse, Simone, Jasmine, and Sarah
Left to Right: Zoya Posh, Minka, Giselle, Scarlet, and Blossom
These are some really pretty colors! I still have several bottles available on my
Blog Sale page
, check it out if you have any
Zoya
colors on your wishlist!
I also snagged a couple clearance Essie nail polishes, a basic red and a sheer french shade that has the prettiest microshimmer in it, which didn't show up in my picture.
Left to Right: Essie Lollipop and Vanity Fairest
I spotted this EcoTools brush set at Big Lots for only $4.50! Considering it isn't discontinued and retails around $13 Online I was very happy with this score. It is from their collaboration with Alicia Silverstone, who I could really care less about... What can I say, I'm more interested in the item than the name on it!
Still, it's a really nice little set. I've been meaning to get myself an actual powder finishing brush, and this one is perfect! The eyeshadow brush is something I'll use - I can never have too many brushes for all my powdered shadows. And it's been a long while since I've had a good lash & brow comb in my collection.
The cup is of course meant to hold your brushes, but I don't keep my brushes in a cup, and already have a cup at my make-up station. So, I'll be using it to corral my new nail polish swatch sticks until I get them properly sorted out! Isn't it cute like that?
Swatch sticks were my other June investment. I'm working on organizing my nail collection better, and these are the best way to do it as far as I can tell. I bought the natural color for opaque colors and clear ones for sheer polishes and glitter toppers.
Now that I have them I'm loving the "swatchsicles", and once I get more painted and sorted I'd like to do a post about them! I took way too long in buying some of these! How do you keep track of your colors?
So, that was my hauling for June. I also received a package from Influenster, and you'll be seeing more of those items soon!