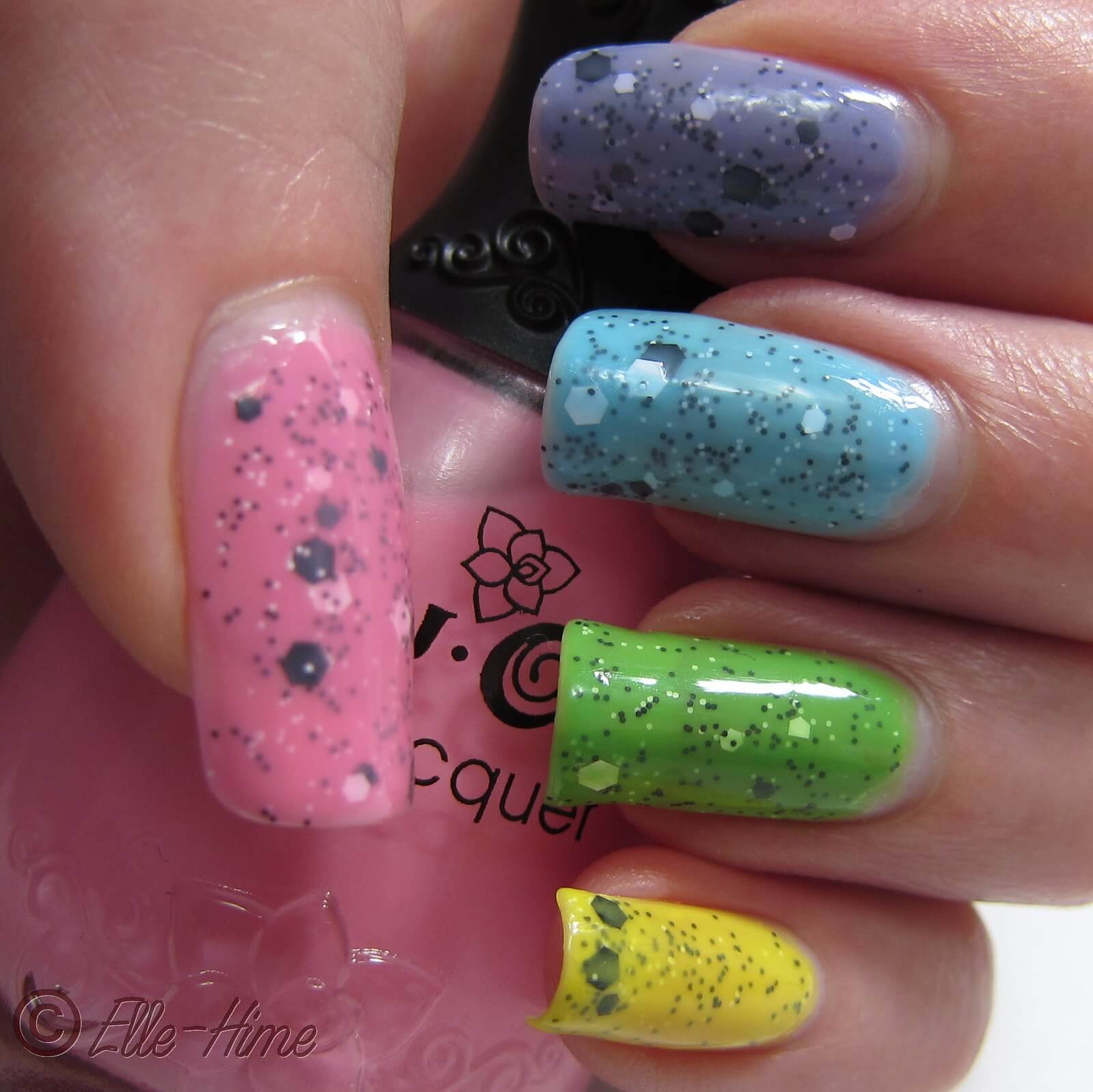 Oops, this manicure almost got away from me! These were my nails on January 1st, two weeks later I finally realized that I forgot to post about it! I ordered 5 of the Jelly Syrup colors by Nfu-Oh, and figured that
since I have 5 fingers on each hand I could use them all together. And because they are jelly polishes I should do use them for jelly sandwiches! The awesome black & white glitter Social Suicide from
Different Dimension
was my choice.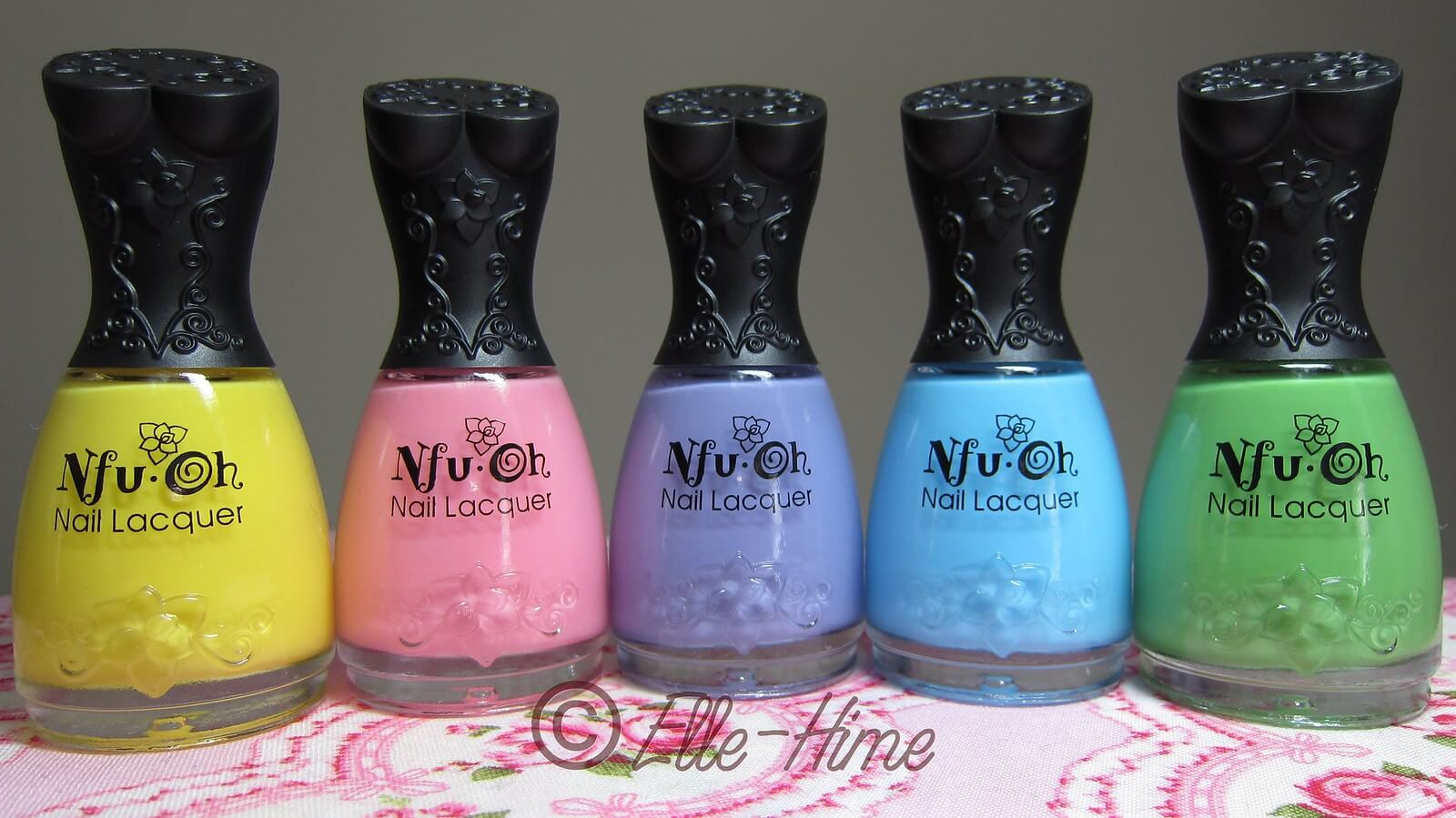 As seen above: The Nfu-Oh colors I used are #05: yellow; #10: true pastel pink; #13: lavender; #15: robin's egg blue; and #17: pastel green. These are on the bright and vibrant side of pastels, but they are still pastels to me. It was very hard to narrow it down to just these five colors to start with, but I know I'll use them a lot.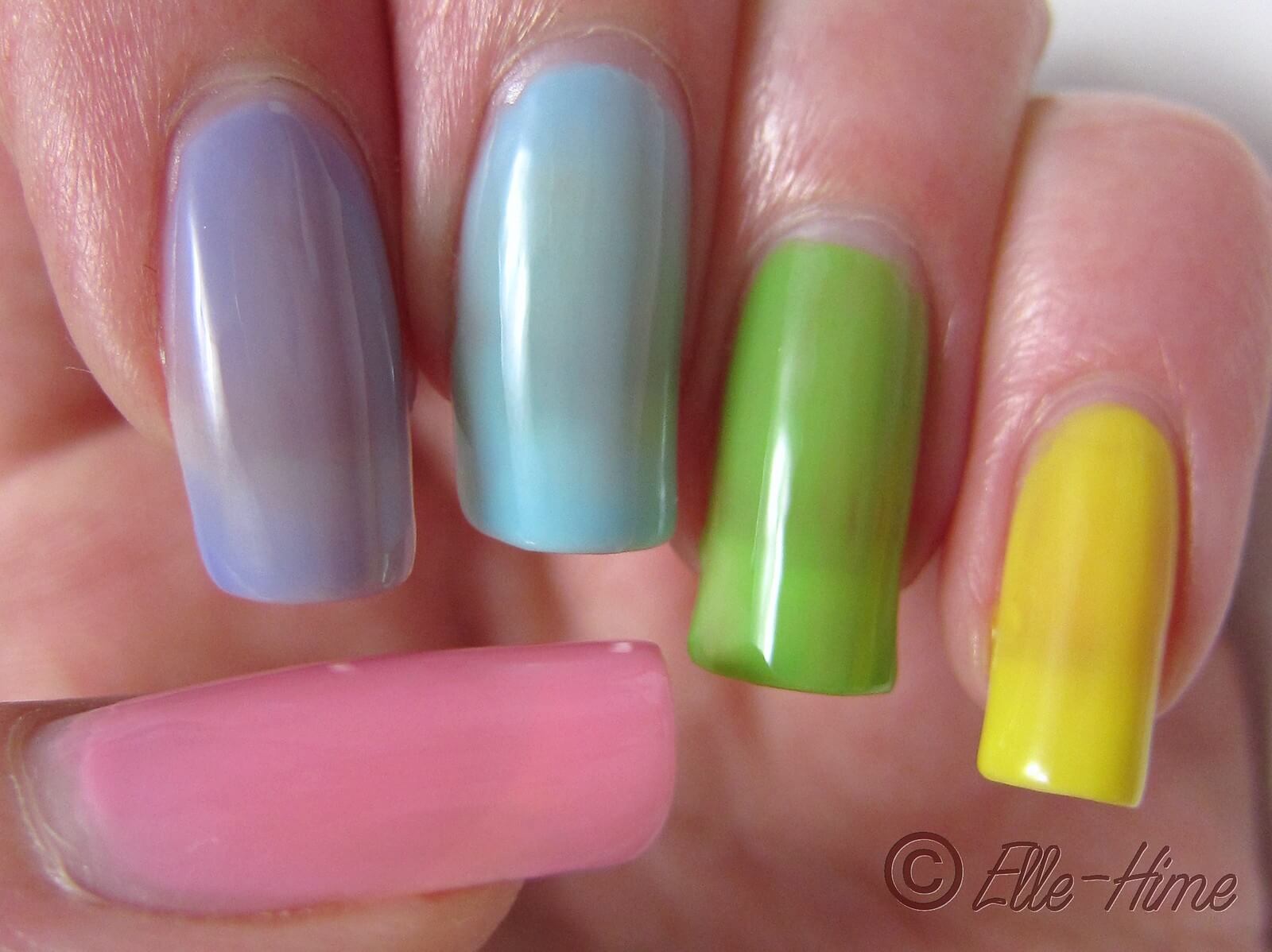 I started my manicure with two coats of each color. As you can see they are sheer, shiny, and squishy-looking. The first coat tended to be a little patchy but the second coat leveled it out well. I was careful with my brushstrokes to get a good spread of polish on each nail. I was really impressed with the yellow, I didn't expect it to be so bright and it was more opaque than the purple. After admiring how pretty these jellies are by themselves I put one coat of Social Suicide on each nail and covered it with the jelly color again.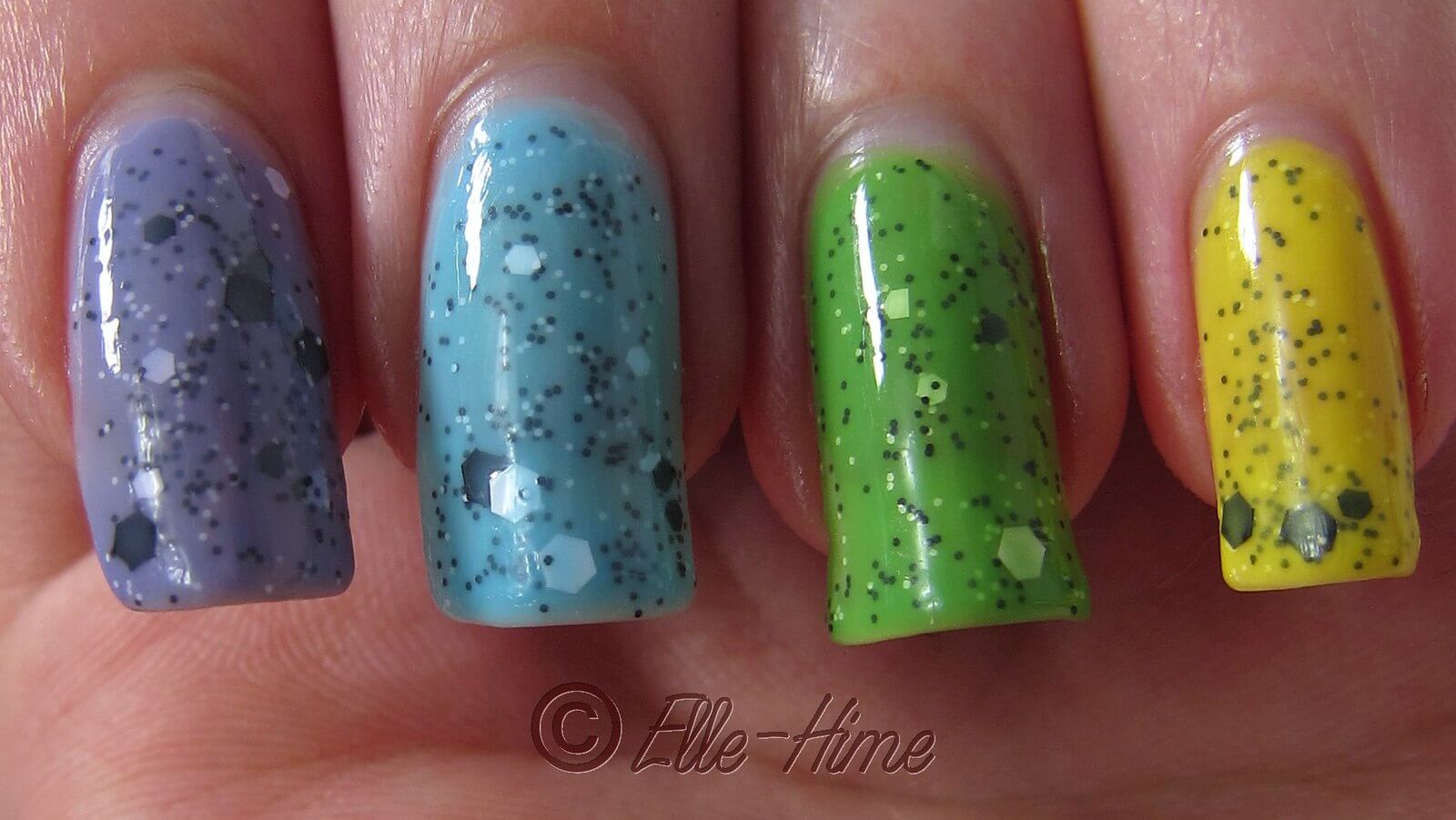 I loved this look so much! It seemed like my nails were tiny pastel dinosaur eggs, hehe. I used one coat of my Poshe topcoat to seal everything in and they dried to a super-shiny smooth finish. Three coats of these polishes made for good opacity, though they were still sheer at the tips. You could use a creme-glitter-jelly combo if you have a creme that would match one of these jellies.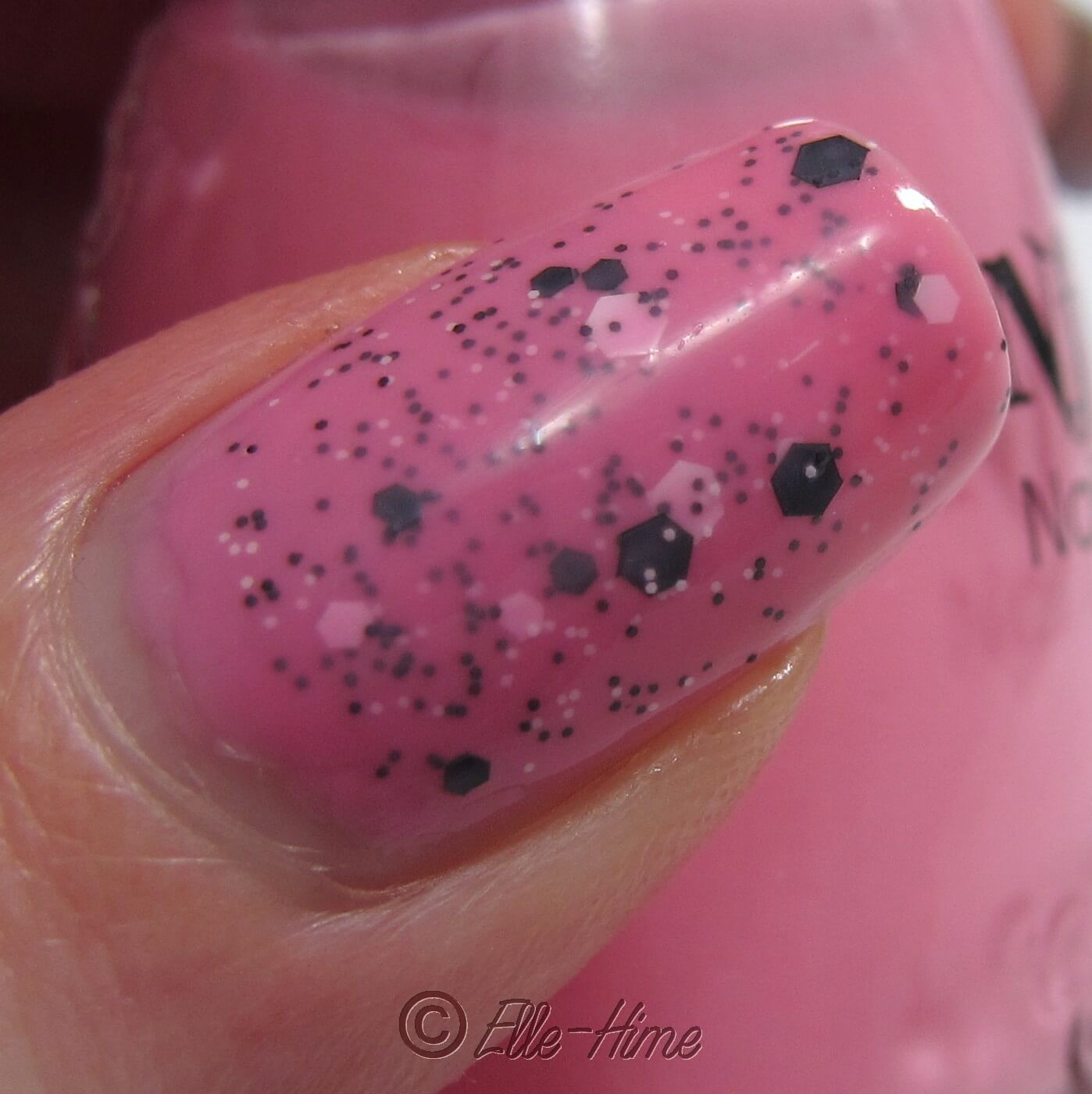 My pink thumbs were my favorite nails of all, if only because I think pink, black and white is an awesome combination! I would wear a complete manicure of any of these colors, but especially this pink! I was also very happy with the wear I got out of this manicure. It stayed very shiny and it didn't get any chips. I have always been impressed with my Nfu-Oh polishes and these followed that trend.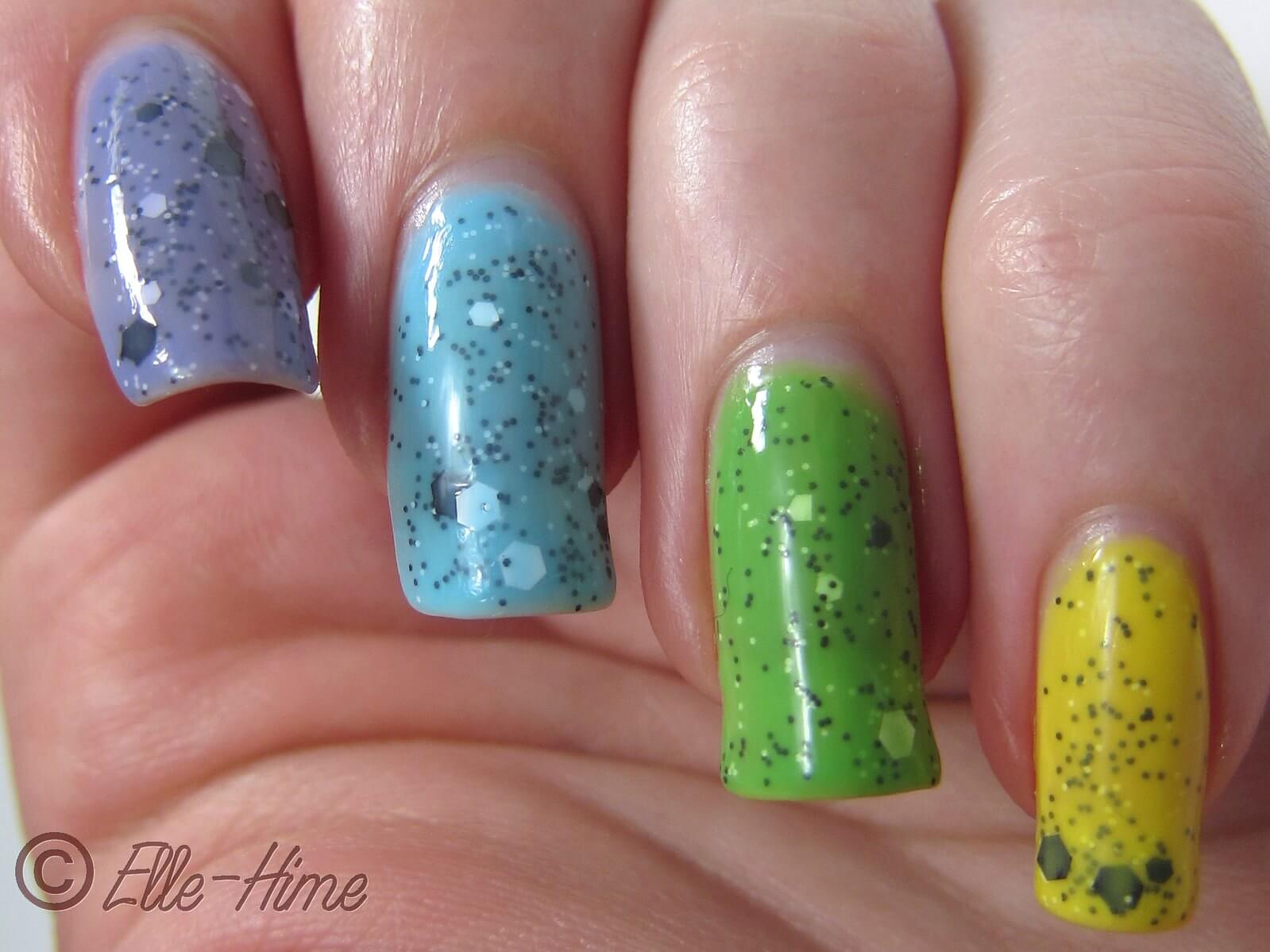 I'd definitely recommend these polishes if you like the jelly look and what you can do with them. If pastels aren't your thing there are a bunch of other colors in this line, too! I buy my
Nfu-Oh
polishes from
FabulouStreet.com
- the customer service is great! Social Suicide is available in the
Different Dimension
etsy shop
! Let me know if you have any of these polishes and what you think of them. =)