Oh, readers, this post is a fun one for me to share! You may think that with all the pastel colors around here that I am simply a girly-girl. Not true! Beneath my frilly, lacy outer layer you will find a cold, hard nerdy comic book geek. Hey, sometimes your knight in shining armor is actually a knight in really tight spandex. Don't complain, fellow princesses, you know a spandex spidey-suit is easier to clean than a full suit of armor. Yay for wash-and-wear! ...Moving on!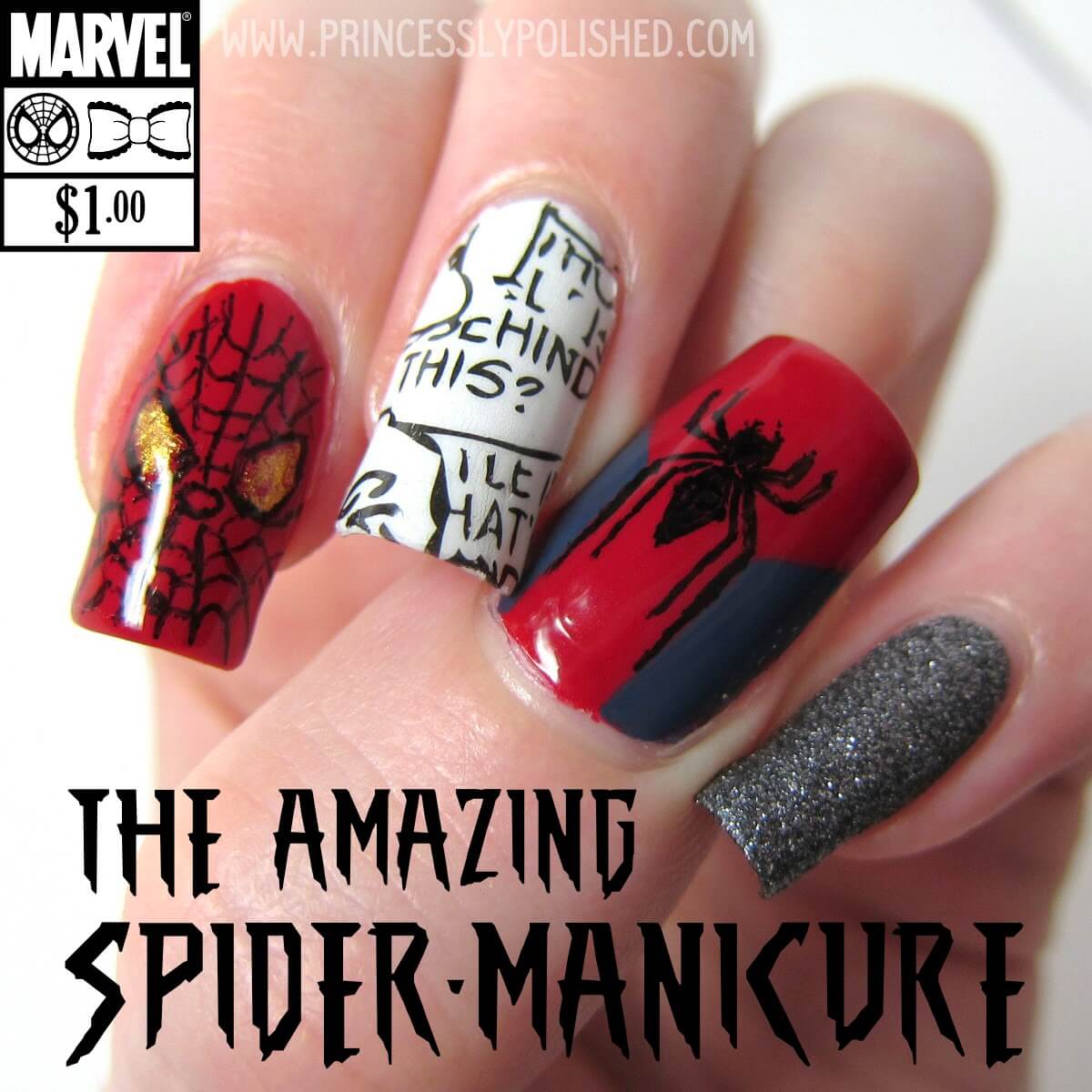 See what I did here, channeling the vintage comic book cover style? I'm pretty proud of it... not nearly as proud as I am of these nails, though!! I painted them on May 3rd, in preparation of my my 2nd wedding anniversary day-early dinner & movie celebration. (What a mouthful.) See, I really am a geek - I totally felt this was a sufficient romantic date for an important occasion.
So yes, this was nail art for The Amazing Spider-Man 2 movie - wait 'til you see the other hand! - but promise that I will reveal no spoilers. I hate spoilers!
Look, my left hand, too! It was styled after the movie's villian: Electro. Before I get too far into pictures of my nails I'm going to share the products I used on each hand. Let's start with what my pinky, ring, and middle finger nails had in common on each hand.
OPI My Boyfriend Scales Walls: ring & middle finger nails
Fing'rs Tattoo Paper in the "Pow! Wow! Bam!" assortment: over MBSW
Milani Silver Dazzle: pinky nails
China Glaze Bahamian Escape: thumb & index nails
Different Dimension Light It Up Blue: over Bahamian Escape (2-3 coats?)
Zoya Trixie: polished underneath my nail's free edge
Sally Hansen Cherry Red: thumb & index nails
Zoya Natty: spider-suit detail on thumb
Pure Ice Get Low:

polished underneath my nail's free edge, eye detail on index finger
My colors for Spider-Man were based off his suit in the first Amazing Spider-Man movie. They changed the eyepieces to a larger and more traditional silver/white for part 2, but I really liked the adapted sunglass lenses from the first suit...
Of course the eyes were the hardest part to do. They didn't come out perfectly but they were so tiny in person that the flaws were unnoticeable! =) And considering I free-handed all of this I really can't complain at all!
I drew the spider symbol mostly from memory. Wow, there have been so many variations to this symbol! I used tape to make guides for the blue panels on the suit. I would have loved to work more spiderweb into this but it would have been way too busy and distracted from the really awesome spider.
And of course I used Get Low to polish under my nails, too. I would never reach for this color as a full manicure, but it is perfect for something like this! It's rich and flashy, and gave the metallic punch that I wanted.
Get Low contrasted perfectly with my use of Trixie under the nails on my left hand. To me it these hidden contrasting colors were like the cherry on top of "Spidey vs Electro" hands. (Don't remind me that Peter Parker ditched his golden lenses by now, thanks.)
Electro was a very easy villian to capture. While I definitely could have gone with more black, I'm glad I didn't... because Light It Up Blue is one of the most amazing glow-in-the-dark polishes ever!! And that is exactly what Electro does... glow with a crackling electric energy. (I don't have any pictures of this manicure glowing, but I do have these older swatches to give you an idea.) These two nails gave me the enviable super-power of finding our bag of popcorn in a dark movie theatre, too.
I'm so glad I got to share this manicure and now have the pictures to look back on it and smile. When I get to write posts like this I feel like I'm adding to a little digital memory book. This manicure makes me think of... bonding with friends & family over our favorite super heroes, taking the time to sit and paint at the dining room table while my husband sat across from me, going to dinner with my husband (at the restaurant we visited the day I proposed to him ♥), and then getting to see a movie, too! Isn't it neat how pictures can instantly transport us?
♥ May 5th, 2014 - 2 years strong ♥
I dedicate this post to my Amazing husband.
Happy Anniversary to us!