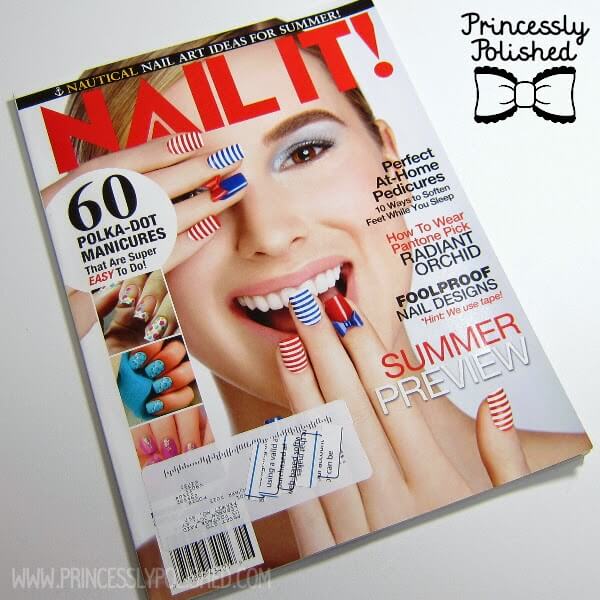 My third issue of Nail It! arrived early in May. My one issue with this issue (ugh, didn't realize I was saying that until it came out) is that they changed their address labels. I really like to peel the mailing label off of magazines when I get them because to me it looks nicer (and I feel more comfortable sharing the magazine with anyone), but this one stuck fast. Hopefully it was just a fluke? =( So I quickly covered up my address labels with some scrap labels I had around...
At least the cover look is basic enough that the only thing missing from the model's nautical nail art look is a blue pinky nail. Not too bad. I will say that my daughter really liked this cover. She must have thought the girl was trying to play peek-a-boo with her. At 8 months old it's her favorite game.
How to Wear Pantone Pick Radiant Orchid (pg 46):
This was a really basic 1-page spread of polish, make-up and accessories in Radiant Orchid. I'm not really into this stuff so it was fairly "meh" to me. I think the reader-submitted nail art featuring the Pantone color was more worthy of this cover article's title, but I guess that was already taken by...
60 Polka-Dot Manicures (pg 58):
Reader art featured on the cover and spanning eight pages. Wow, they must have had a lot of submissions. Some of the manicures were really cute and creative but for some unknown reason I'm super picky about how I wear my dots. Mainly what I thought when looking through the photos was "man, I need to get better with my dotting tools."
Perfect At-Home Pedicures (pg 82):
I have a confession. I can't remember the last time I polished my toenails, or what was on them! Sadly I ignore my feet and fortunately they are able to manage on their own in between toe nail clipping & cleaning. However this 4-page article was a nice reminder that feet deserve to be pampered, and gave me a few ideas of how to spruce them up this summer.
Foolproof Nail Designs (pg 86):
Another eight-pager (with two used up for the giant opening spread photo), this is a handy guide to pretty much everything that can happen on your nails by using tape and/or stickers. They even include several tutorials. I've been around the nail art scene for awhile and I hunt down easy solutions, so I didn't find much that was new to me. I'd definitely recommend this article to a newbie, though!
Summer Preview (pg 94):
I really-really liked this tropical-themed section! Eight pages of beautiful nail art, artsy photos of models with pretty braided braided hair and exotic plants? Yes, please! My favorite nails (probably of the whole magazine) were these, aren't they lovely?
Nautical Nail Art Ideas for Summer! (pg 106):
At ten pages, this is a nice beefy article. It has a bit of everything. Models posing with sea-faring nails and props, nail art tutorials, and suggested polish combinations for those who want to capture the right nautical look for them. The tutorial below is what caught my eye. I love seeing how a complex-looking design is easily broken down into basic "I can do that!" lines and geometric shapes.
So, have you heard of
Julep
's new Plié wand?
Nail It!
featured this tool before in a web article talking about the
product getting it's start from crowdfunding
. The masses must have wanted it, because
now it's a thing
! And while I must admit that when I saw photos of the concept and heard it described I thought it was kind of ridiculous. I mean, if you aren't good at polishing your nails shouldn't you just keep practicing and get better? I think that is what 99% of us do.
However, seeing their little product video and how they made it oh-so-interchangeable did impress me. Not enough to buy it, mind you. Oh, no. It is only designed to work with their nail polish, which I don't own. It's also rather pricey. What do you think? I'm curious to see how many strange knock-offs it inspires!
Aside from the tropical nails and handy tutorial I've already pointed out above, I also really appreciated these two pages:
While I didn't actually learn anything new-to-me, they were nicely written and I'm all for educating the masses on how to get creative with your nails using every-day objects. It also served as a reminder that I need to find a cheap tooth brush for splatter nails (look at those gorgeous splatter examples!) and that I need to try a plastic wrap manicure some time.
This was a well-rounded issue and I liked that most of the cover subjects spanned eight or more pages. This was also my daughter's favorite issue so far, for her own reasons. What did you think of it?