12 pictures. I have a dozen photos to share of these polishes, and I still don't feel like it's enough to show off their pretty color shifting. I tried a few different types of lighting to show the range of colors, but believe me when I say these two polishes are much more flashy in person. These nails all started with a black base.
I'll talk about
Ozotic
528 first, if only to get it out of the way since it is (sadly) a discontinued polish. 528 is made of what may be the prettiest glitter of all time: a multichrome that shifts through the entire color spectrum.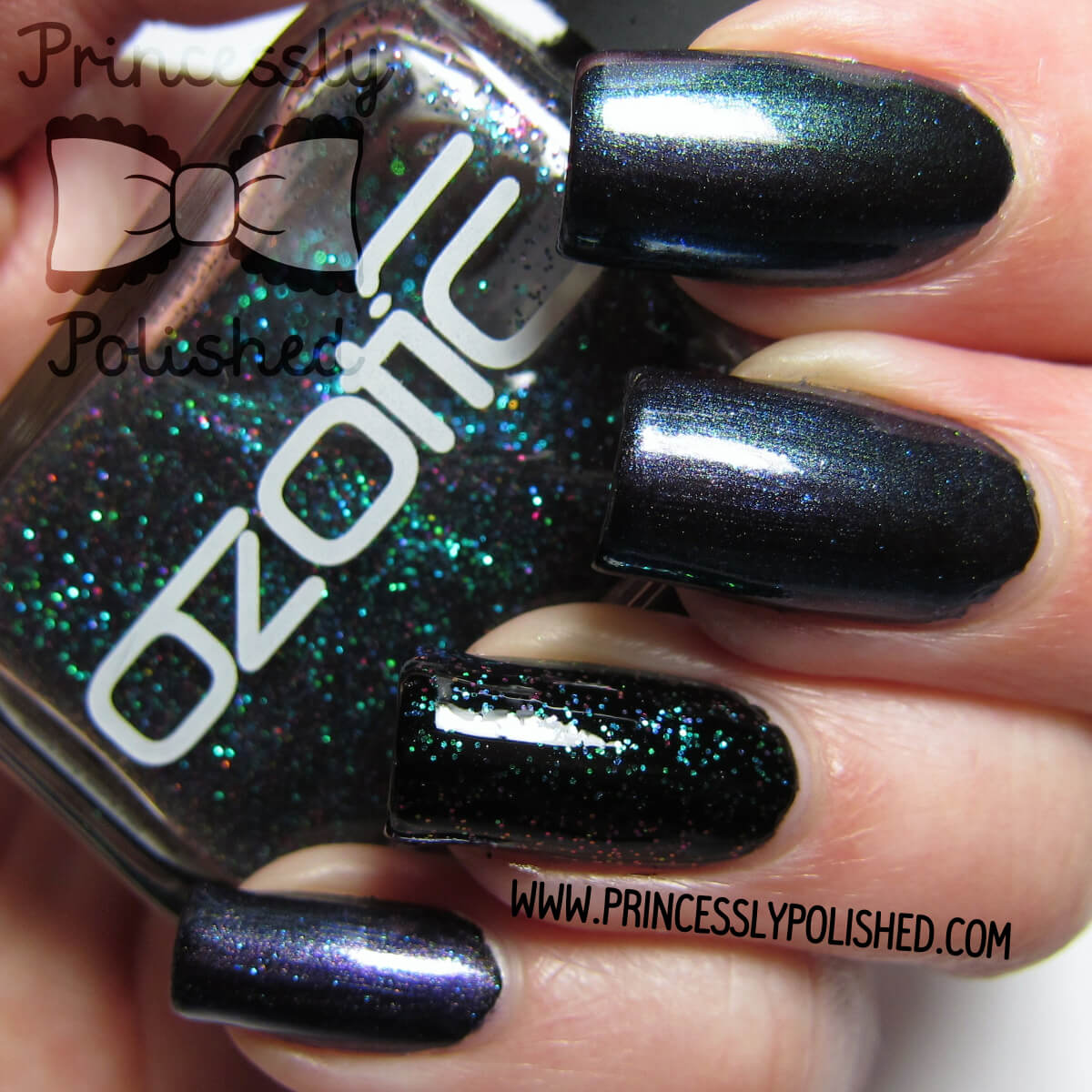 While most lacquer addicts will be familiar with this retired Australian line, in case you're not allow me to restate that there is only one type of glitter in this polish. All the colors you see are coming from one specialty flake.
Just look at this pretty speckled rainbow on my nails! Really look at it! I used 1 coat of Ozotic 528 and was quite happy with the coverage. I'm really happy that I snagged this bottle from a blog sale! I definitely have to figure out how to use this in a nebula-style nail art.
ILNP
Sweet Serenade is a more accessible shade, and with the launch of new colors on preorder today you might want to
check out
Barbara's ever-expanding line of color-shifting awesomeness after you're done reading here. So, let's take a look at this polish under a few different types of lighting.
Shade
Warm/Yellow
Warm/Yellow
Regular/White
So, this is 1 coat of Sweet Serenade over black. It applied beautifully and in person you don't see brushstrokes in this polish. Any strokes you see are from the close-up photography! It shifts through deep purple, dark blue, aqua and teal. They were hard to pick up in my photographs but this polish also has pretty electric blue flecks shot throughout it, which added an extra zing. Personally I think they are what makes this polish special! (Oddly enough, my
quickie swatch here
shows these flecks the best. Guess I didn't get close enough the second time around!)
This polish has a really strong color change if you get it in the right lighting (which is most lighting!), and there were times that my nails were almost entirely purple or blue. Very nice! It's color family reminds me of another polish I love,
Digital Nails
Convergent
, but it is by no means a dupe.
One more thing, I painted under my nails again! This time I used
Zoya
Trixie, a pretty silver foil. It was easy to apply under the nails thanks to it's smaller brush.
I loved wearing this manicure and kept it on for
a week! Painting under my nails has been going well and made for some extra flash in an already fancy manicure. Let me know what you think!