Swatch & Review / Nail Art
Arizona, take off your rainbow shades...
I grew up listening to the oldies. So when it comes to a girl named Arizona, the song is all my brain can come up with. I wonder who is the real inspiration behind Zoya's Arizona? Anyway, this is a manicure that seemed so much better in my head.
Color Club's Cosmic Fate is an orange tone, but in more of a shiny, new copper penny way. Zoya Arizona is very, very orange. Shiny-clementine-peel-orange. I told myself to go ahead and try it, they'd probably look better together on the nail. Uh, no. Oh well. Pictures turned out too well not to share, though!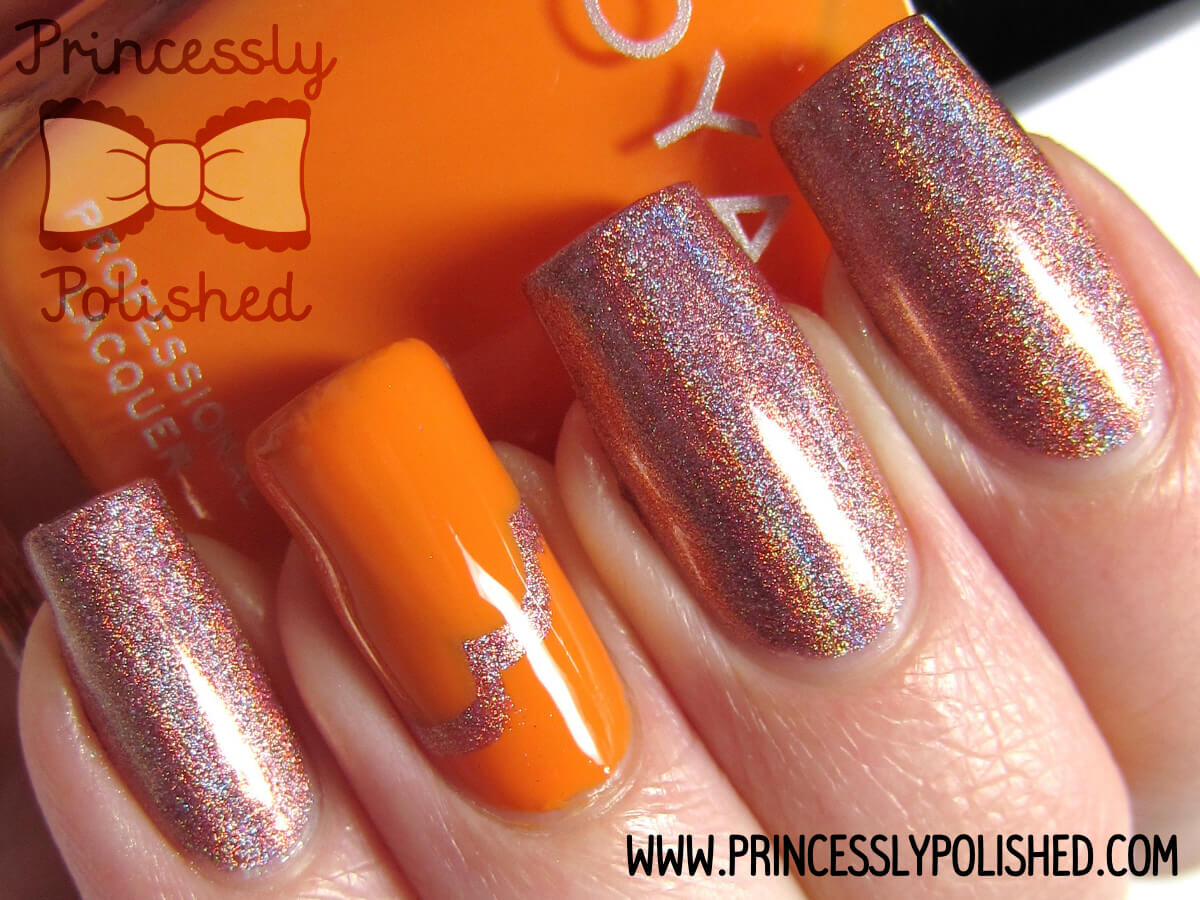 This bottle of Arizone was actually a gift/giveaway prize that came straight from Zoya! (Thanks, girls! Or guy, actually. The package included a note saying "Packed by Brian".) It's a very saturated and bright creme polish, but unfortunately not very opaque. At two coats it is quite a bit streaky with plenty of visible nail line. So I used Cosmic Fate in a cloud design to help hide that, but then I had pretty thick polish at the tip, as it took two more coats of Arizona to have decent coverage over CF.
Cosmic Fate is much more agreeable, wearable at 1 coat and simply stunning at 2. I used topoat and it didn't dull the holographic effect at all. I expected this to be my least favorite of the Halo Hues line, and the least flattering on me, but it seems to have a hint of blushy pink. Couple that with how the holo pigment makes colors look silvery and suddenly I have a flattering orange polish in my collection. Wow!
I also used Cosmic Fate to paint under my nails, but didn't take pictures of that. How do you feel about orange polish? It isn't super common, so in case you want to add some to your collection, follow the links!