So, in my last post I said that I was looking forward to the weekend... Well, my husband and I ended up coming down with "
the stomach flu
" (that's a misnomer, did you know?), and we're still not back to 100%. Out of the two of us I ended up being the really, really sick one, so my weekend was pretty much a loss and so far this week has been a yucky blur of missed work and trying to nap. At least I'm finally coherent enough to write about some manicures I did awhile ago!
These nails are wearing 2 luscious coats of Zoya Monica, which is one of the polishes from my Mom's collection, and was on my wishlist. This is nearly a 1-coat polish; best at 2 thin coats to give it really good depth. It's an eggplant-purple creme and I actually had to darken my pictures a little bit to represent it better! Also, wear topcoat with this one! It is so pigmented that when dry it will leave purple marks on porous surfaces that your nails scratch against (think paper...). Dispite the heavy pigmentation it didn't stain when applied over basecoat.
My original intent was to pair this creme base with a tape manicure using one of my new I Love Nail Polish colors, but life got in the way and it didn't happen. I tried something new, though! Often referred to as a Louboutin manicure, I painted the underside of my free edge! I've always admired these manicures and have heard of it being good for protecting your nails more fully, so I'm giving it a whirl.
I used one dabbed-in coat of ILNP Sweet Serenade, and I loved the way it looked! Super hard to capture on camera but the effect of this shifting polish was a real treat. Seeing the underside of my nails painted just made them seem so finished!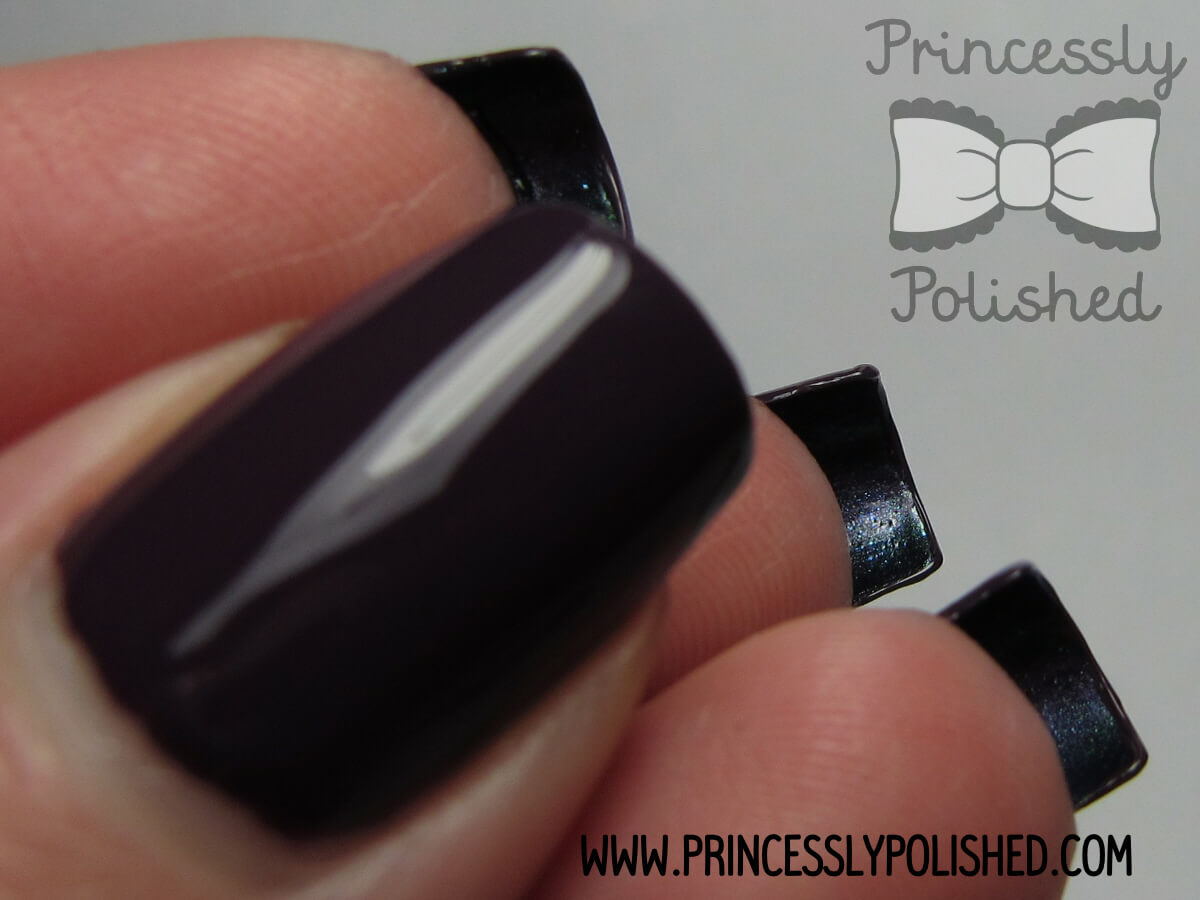 Sweet Serenade really does pair perfectly with Monica, too. It has a deep purple flash that matches Monica almost perfectly, and layered overtop it would have made awesome nail art. A single fingernail swatch of Sweet Serenade made me thirsty for more... In my next post you'll get to see how I wore Sweet Serenade!
Yummy together, aren't they? Tell me what you think, and look forward to more awkward hand poses of me trying to show off my free edges that I'm painting under! =D