Here's a fun post! It could also be titled "When ShopRunner Shipping Goes Crazy", or "How I Ended Up With Enough Hair Stuff For Five Women", but those are too long and I'm trying something new. Instead of posting little hauls here and there (which can end up being often and make it look like I manage a "lookie what I bought todaayyy!!" blog - ugh), I'm going to group them together at the end of each month. I'm hoping that this will also make me realize just how much stuff I'm buying per month, and notice where my money is going. Instead of it being a nail polish here, a new hair clip there... I want to fully realize how much stuff I'm acquiring so I know when to reign it in.
This month it's a lot of stuff! =D
Oh, but there are other good reasons, too. I plan on linking from my haul posts to any reviews or swatch posts I may have done for the items. (Sadly that didn't happen this month... I was very sick with a cold.) Or, if the item hasn't been featured on the blog already, readers can tell me what they want to see most and I can try to accommodate by posting about those things first. =)
So let's get started! Follow the cut for more pictures and tales of wild Online shopping adventure!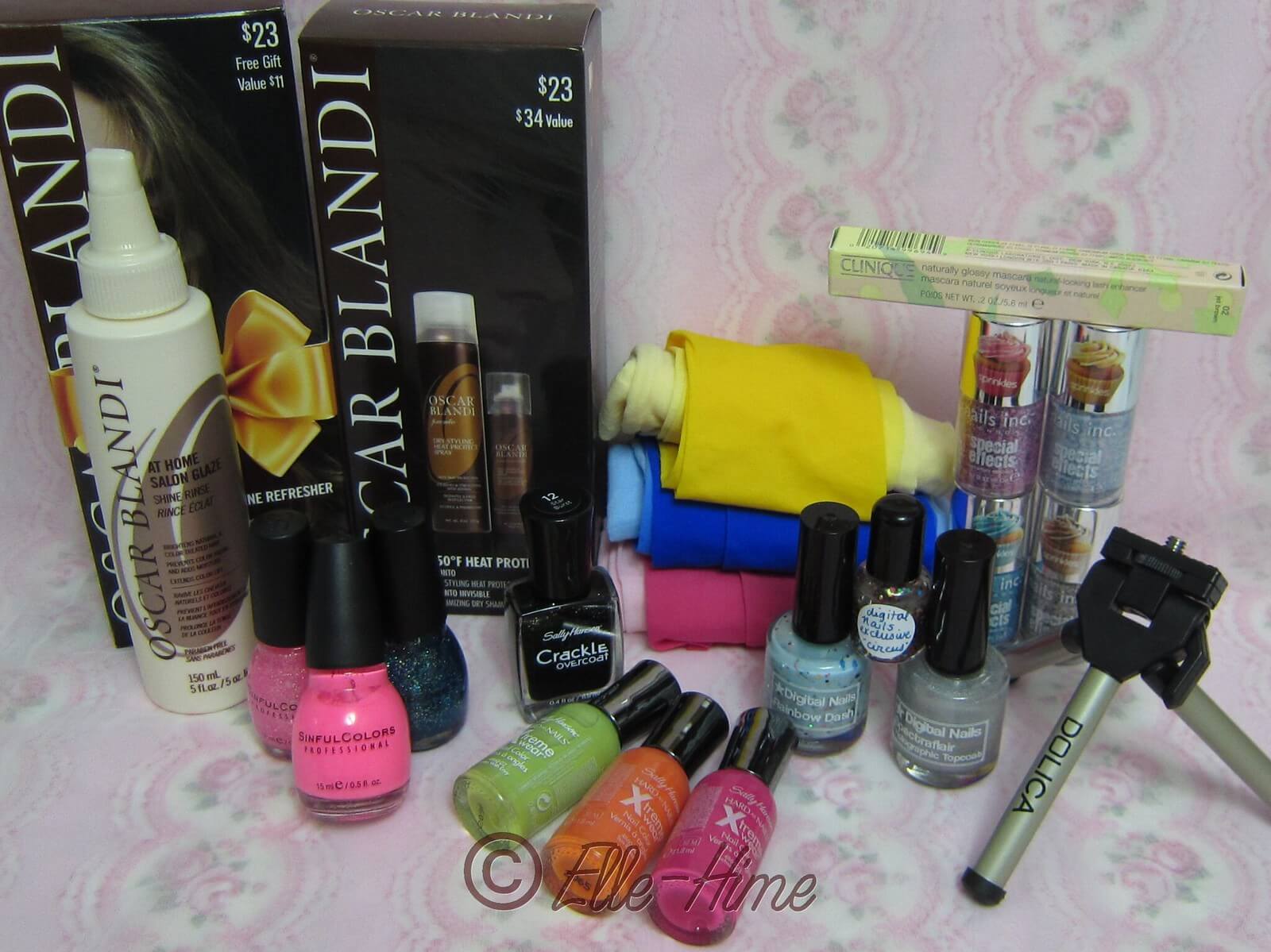 The first thing I want to mention is something I should have picked up forever ago. A tripod. And I didn't pick it up - my husband did. It's just a little guy, standing at about 3 inches tall.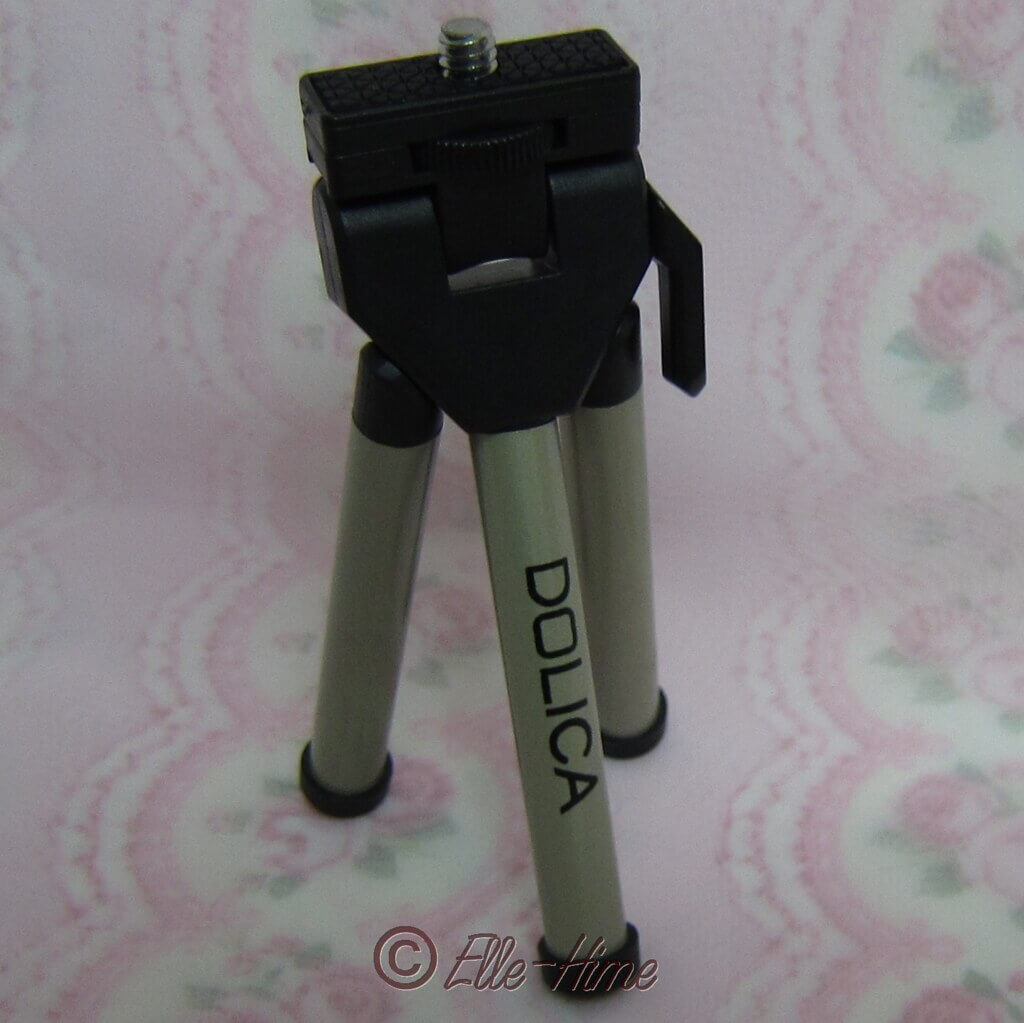 It was only $2.99 on Newegg and qualified for free 2-day shipping through
ShopRunner
. Crazy. If you're interested in it,
here is the product page
. My mini-review: it is a lightweight and easily stashed basic tripod. It won't hold a big DSLR, it's not meant for that. Attaches very easily to my camera and doesn't tip. The lock is a bit weak. I used it for the pictures below that have nail polish in them. ;)
So that time ShopRunner (SR) worked perfectly as it has been for my husband and I. But last week I had some weirdness happen with it. Surely not all the fault of SR, as I was buying from the just-redone
Beauty.com
; I expect it was some combined glitch in the system. It's kind of funny, too!
Beauty.com was running an awesome 20% off-your-order sale, and I needed some more of my dry shampoo as I'm on my last can. I'm silly and generally postpone making an order until the last day of promotions like this. So I was throwing everything I wanted in my virtual cart, and then rushing to checkout. Funny thing is with the new Beauty.com site, it had me automatically logged in for SR shipping, but I can't use that on my order with an aerosol. When I tried to opt out of SR shipping, it acted like it was reloading the page with everything I wanted... but it didn't. Again and again, it only gave the SR option. And I couldn't get everything that way. In a moment of desperation - I'm not sure what I was thinking - I agreed to let the dry shampoo go and just ordered the other stuff.
I had my invoice (at 11:07pm), and Beauty.com is cool in the fact that you can edit an order you just made. So I went to do that, but in the end I had to go through their sister site, Drugstore.com (at 11:38pm), to actually place the order with everything I wanted in it and not be forced in SR 2-day shipping. So I went back to check that my first order had been edited. It wasn't. I hit Cancel, and a message saying it was attempting to cancel showed. No problem. I had fixed all that in a half hour, right..?
Wrong! At 11:44pm I got an E-mail saying they were unable to cancel my Beauty.com order because the warehouse already processed my items. I want to know: who on earth was working that late at night?! So fast!! @_@ I guess they have a night shift or something...
Anyway, I ended up with two near-identical orders on their way to me. The next day, I received two shipping notices. And two days later, both packages showed up together. Here is my haul of shame: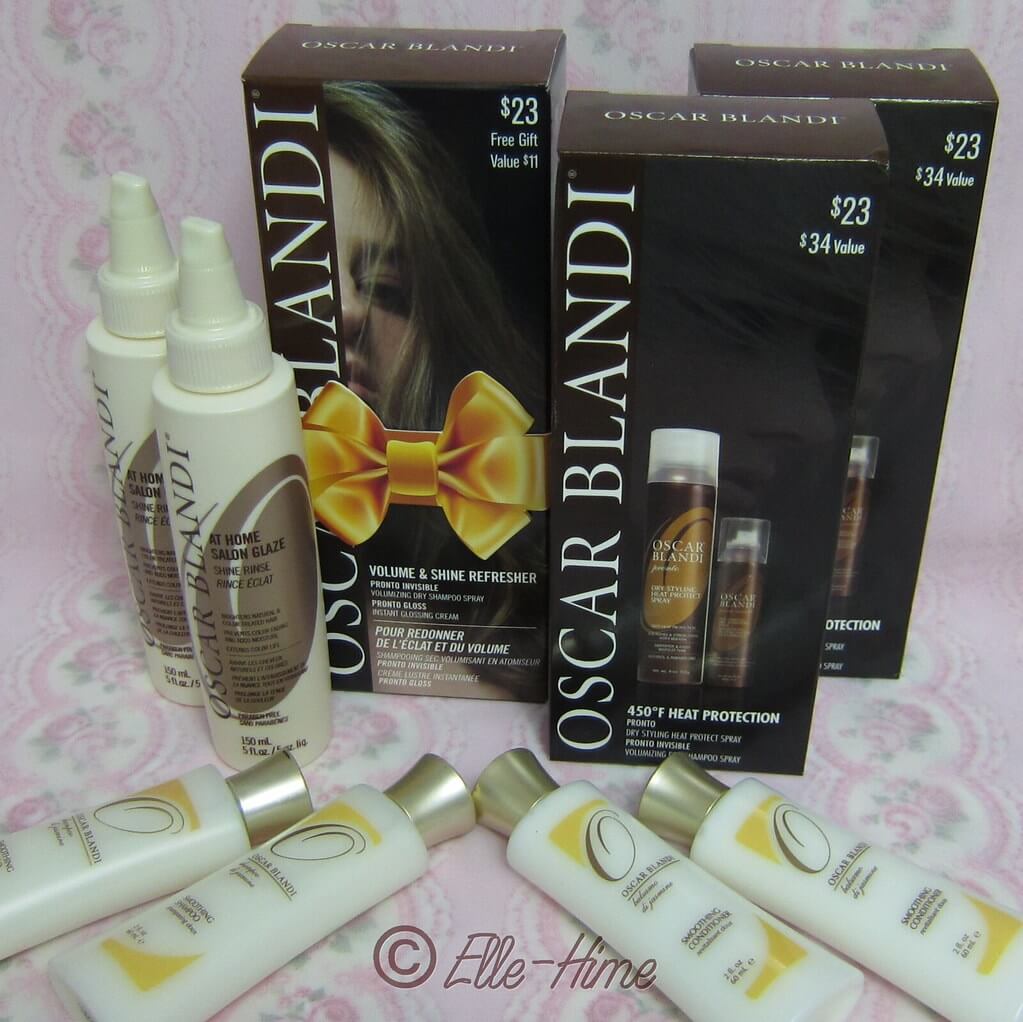 Now, I could have sent one of the orders back; shipped it to Beauty.com and had my money back, free-of-charge. (They are really awesome about returns.) But in the end, I got these items for such a steal! Most came with travel-size versions of my most-used Oscar Blandi products, and then they were 20% off... it was a really good deal. I'm keeping everything. The only thing that I haven't tried yet are the shampoos and the Heat Protect spray - something new that I'm really looking forward to testing. Some time I need to do proper reviews of all this stuff because it is awesome.
Back to my double-order woes, though. As of this writing Beauty.com is still having this SR glitch (I'm going to bring it to their attention). I tested it by starting another identical order to my first attempt. I really want to know something, though. Why are the slightly smaller aerosols okay to ship with SR, but my one 5oz can of dry shampoo is not? Seriously, the Heat Protect is 4oz... how does this make a difference? Furthermore, both orders arrived at my doorstep in two days. Obviously there is a way to get these 5oz aerosol cans from point A to point B in two days time without them blowing up in a fiery inferno halfway.
All I'm asking is: guys? ShopRunner..? isn't there some way you can work this out better? I really like this 2-day shipping service. I'm enjoying
the trial you gave me
, but not being able to use it on certain things: my much-loved nail polishes, perfumes, and
some
aerosols is putting a damper on it. I would love to see you find a way to work around this. Oh, and Beauty.com? Your new site has taken some getting used to, but it seems cool. But you've got a weird shipping bug going on now. =P
Now some nail polish to break up my long-winded storytelling. These were bought in a few different groupings, but they did all come from Walmart: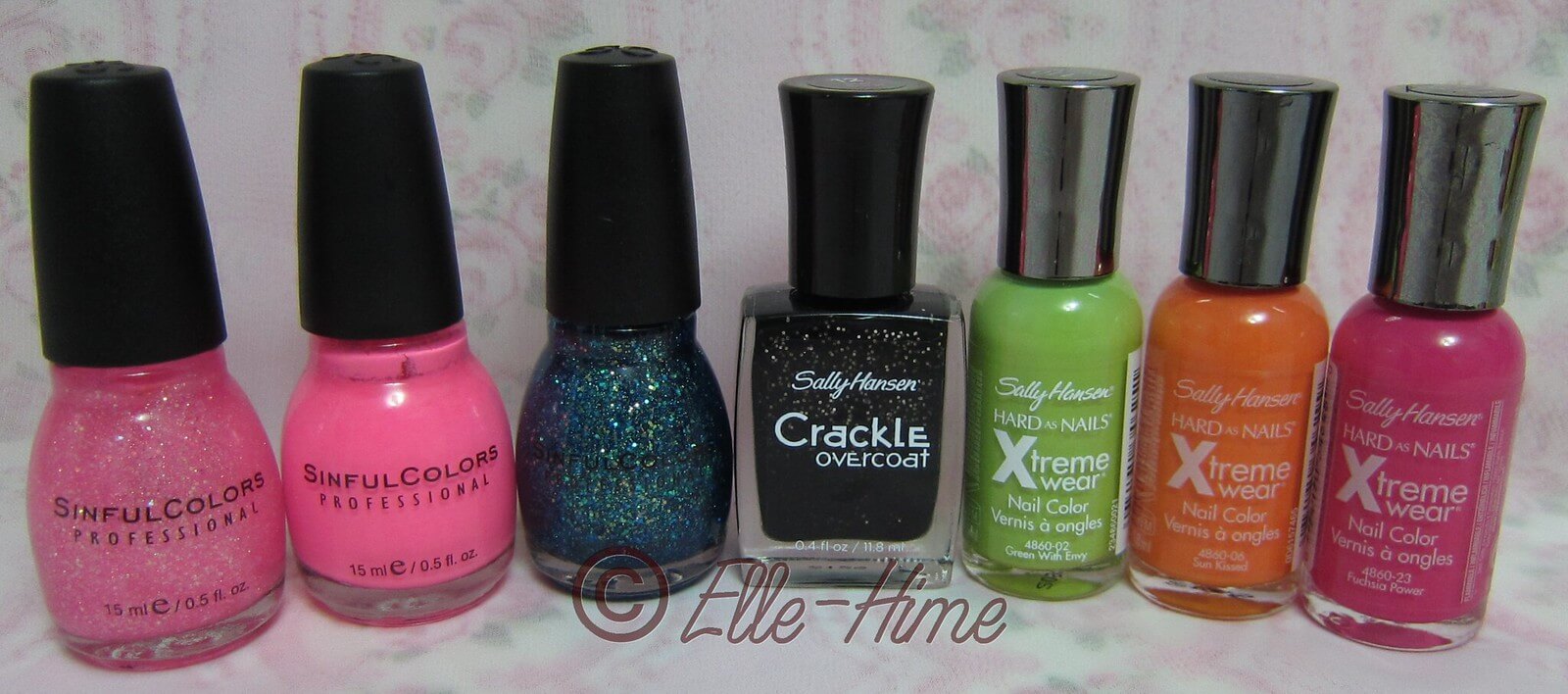 Left to right: Sinful Colors Pinky Glitter, 24/7, Nail Junkie; Sally Hansen Crackle overcoat in Star Burst, and Xtreme Wear polishes in Green With Envy, Sun Kissed, and Fuchsia Power.
I've already used 24/7 a few times - see the fill line? It is the exact color I want for a neon pink. I had to get the crackle because hello, it's got silver hex glitter in it! The SH Xtreme wears are partly for water marbling and Sun Kissed in particular is a dupe for Zoya Arizona. =)
I also bought some cute tights! These came from eBay, overseas, so shipping took a couple weeks. They are really cute, with a gradient that is darkest at the foot.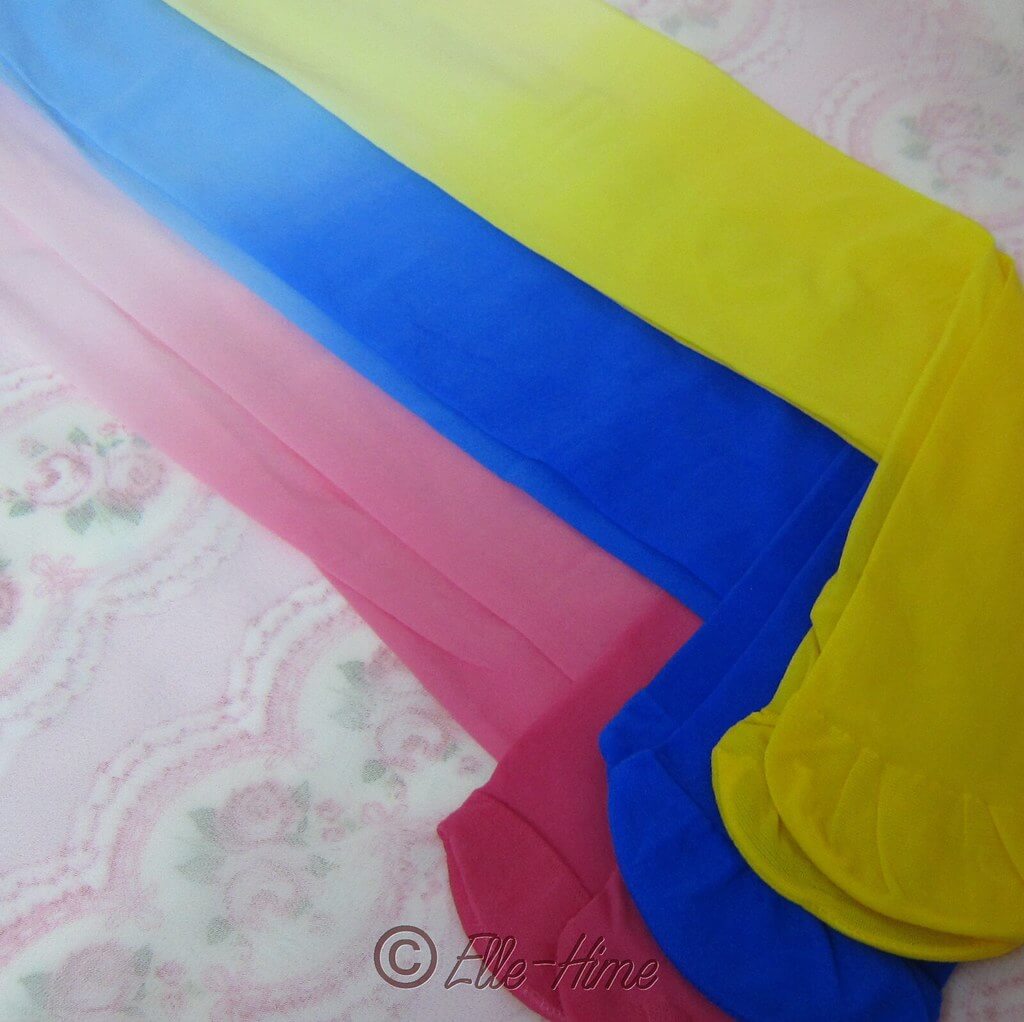 You can find these from various sellers by searching "gradient tights" on eBay, but be warned, they are for skinny, short people! Definite Asian sizing from this brand, they just manage to fit me as low-rise tights. I do adore them, though. I would have loved these as a kid, and I'd recommend them as children's size 14/16 in the US.
Indie nail polish! I made an order at
Digital Nails
on etsy, not going to say much about it here because I have tested all these polishes, took pictures, and just need to get a review post up about them: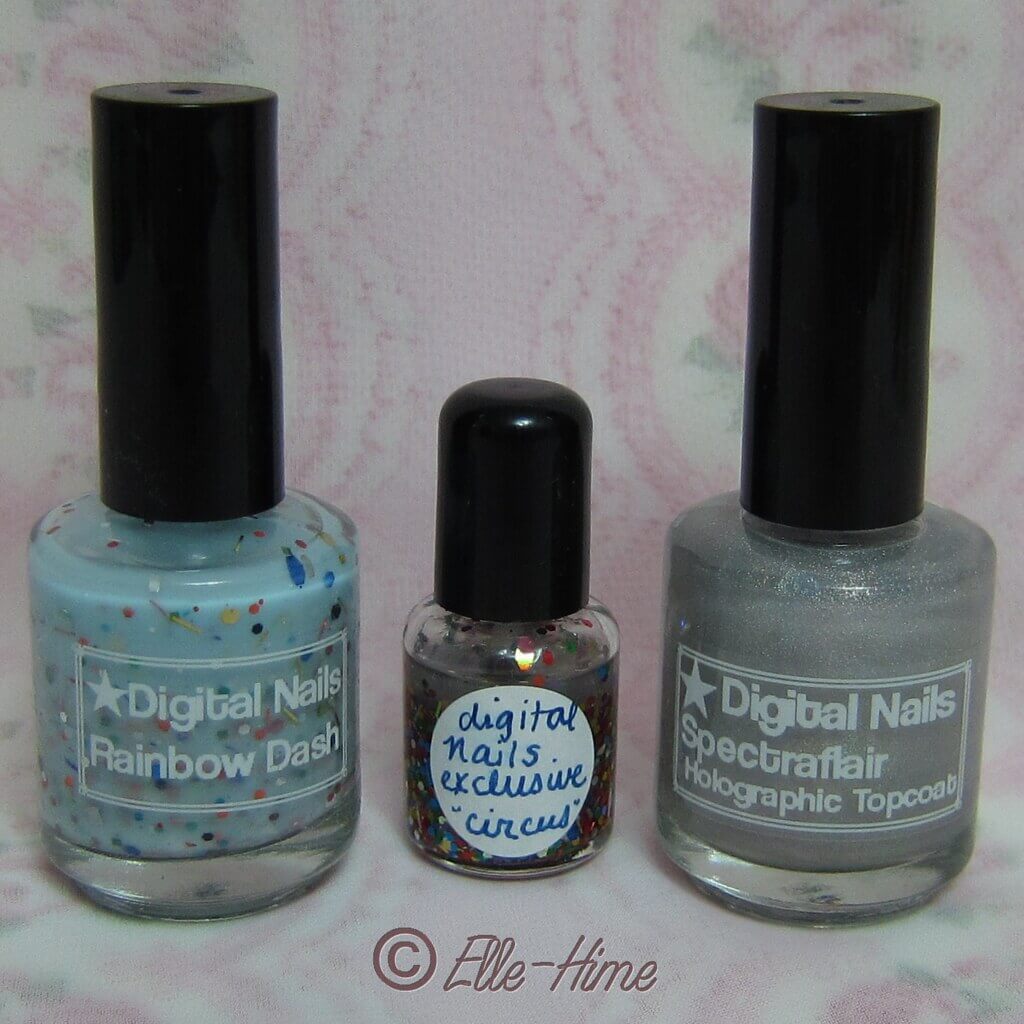 Rainbow Dash, Circus, and Spectraflair Holographic Topcoat. Like I said, more on these coming soon!
Most recently, my Sephora order. I put this up on Instagram in sneak-peek style (yes, I will still quick-share my hauls that way. Are you following me there?) so here is everything unwrapped and in all their glory: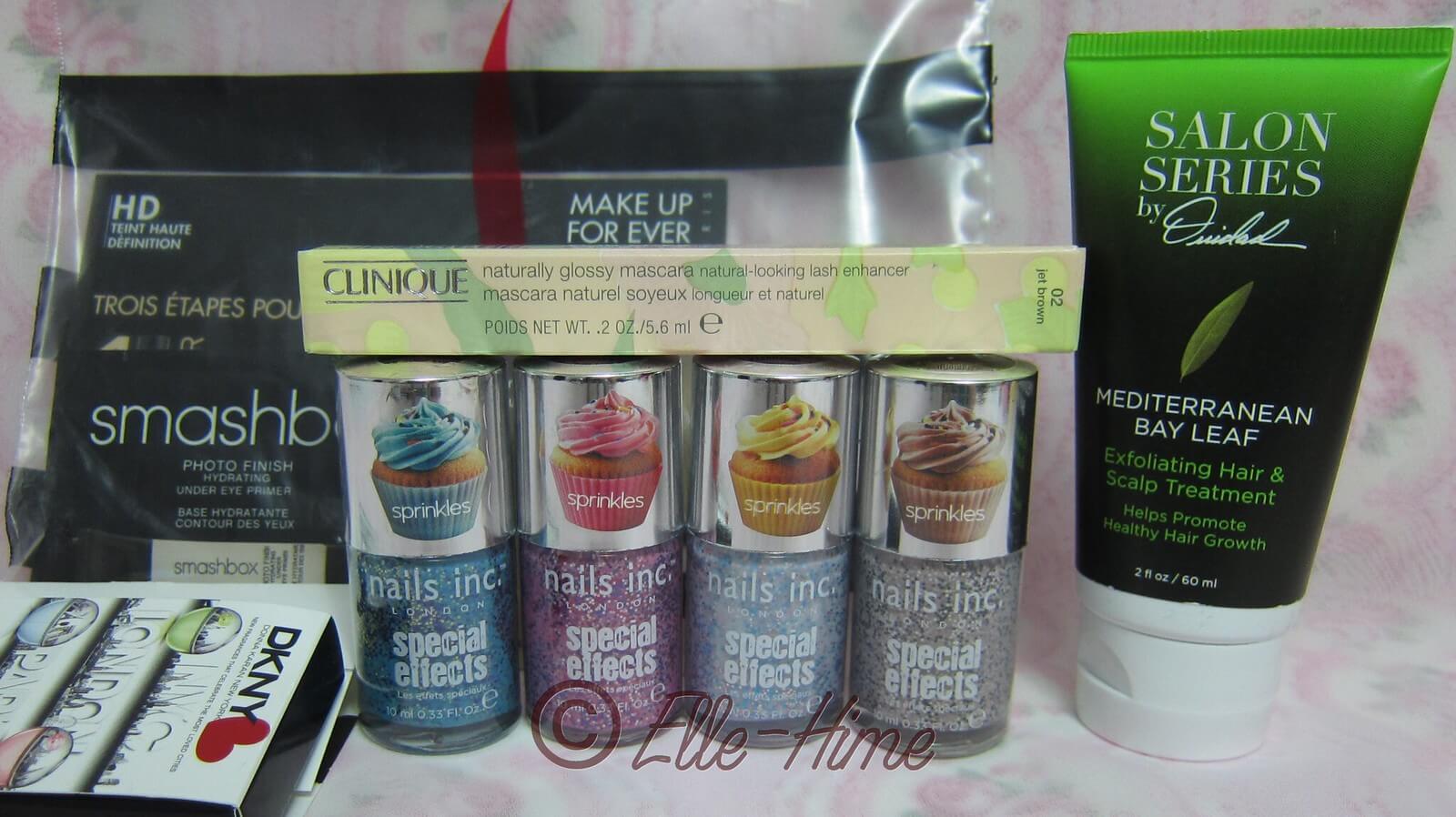 I bought
Clinique
Naturally Glossy Mascara
in Jet Brown because I'm still looking for my perfect brown mascara.
Nails Inc.
Special Effects Sprinkles
polishes - all four colors, left to right: Pudding Lane, Topping Lane, Sweets Way and Sugar House Lane, which are amazing to behold! I chose the new
Ouidad
Mediterranean Bay Leaf treatment
as my deluxe sample, which I'm hoping can replace a product of similar function that
Oscar Blandi
no longer sells. I also have extra samples that came in a cute little bag because Sephora was running a promotion to pick out 5 free samples instead of the usual 3, and they had stuff I wanted to try! So yay. =)
There, my first monthly collective haul post! What do you want to hear about first? =)