Influenster Prizes! · Craft Projects · Spring, is that you?
Oops, it's already April! I don't know exactly how it happened, but I haven't been the only one to say this: March went by just as quickly as February. (Was it that way for you, too?) Perhaps because it had the same cold, dreary blur that the days of February had. I don't really know. I do know that I was very disappointed 1 week ago when I realized how close April was. Alas, now it is already here. Let's see how I did this month.
Finish stocking that last bit of nail polish on Storenvy! (Ugh, I haven't even touched my destash pile this month...)
Build a light box? (Not done, but I found the boxes!)
Polish my nails more often.
Feature some Influenster J'adore Box content!
Not too bad, I guess we could call that 50-60% completed? I left my list of goals pretty bare because I expected to be busy, and indeed I was.
Unexpectedly large haul this month thanks to
Sally Hansen
and
Influenster
selecting me as a badge prize winner for my testing and review of the
Triple Shine color Sparkling Water
that was in my
Violet VoxBox
. I'm still waiting on another pack of prizes from that same box. Yes, I was pretty surprised by this! It had been awhile since I did those reviews so I figured I hadn't been selected to win any extra prizes. Then I got two e-mails about winning things - whoa!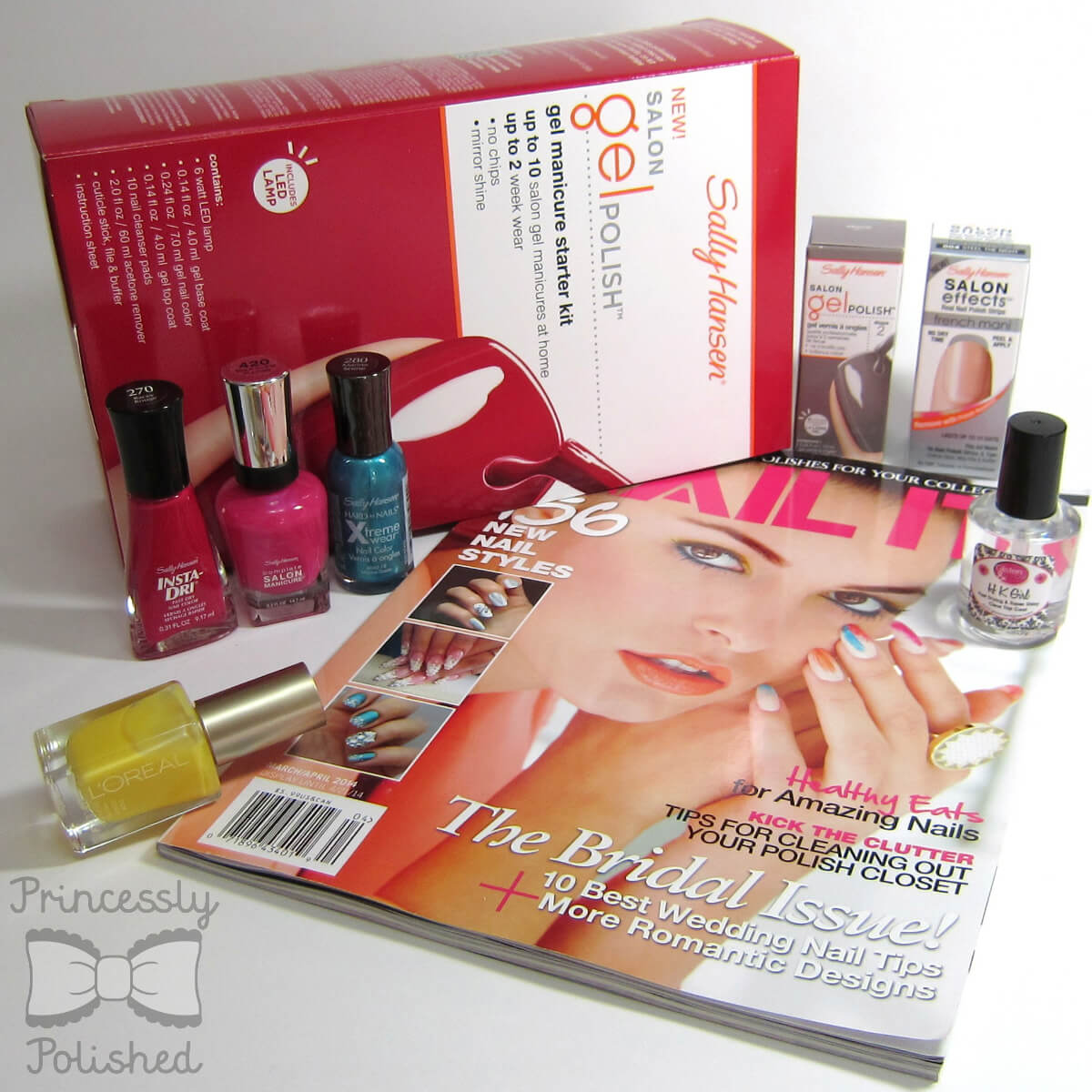 Sally Hansen prize pack containing "Red My Lips" gel polish system, "Greige" gel polish, Salon Effects French tip kit in "Steel the Night", Insta-Dri in "Racey Rouge", Salon Manicure in "Back to the Fuchsia", and Xtreme Wear in "Marine Scene".
So, I really thought I'd get something centered around their Triple Shine line, since that is what they had us all reviewing. Instead I've got a few polishes that I probably won't be keeping (already own one, brushes too wide for me in the others), nail appliques and a whole gel kit. Wow. Gel nail polish is something that I can't quite make my mind up about. Do I want to try it or not? I guess now it the time to make up my mind!
Nail It! magazine, which I have already made a post about.
Glisten & Glow HK Girl topcoat because of all the rave reviews and a sale!
L'oreal polish in "Tweet Me", found this on the cheep (haha!) and couldn't resist it.
So, a pretty good monthly haul thanks to all those freebies. I do put a lot of thought into my reviews and I'm very honest with them, so it's nice when a company recognizes that. If it hadn't been for the shower of gifts we'd be looking at a magazine with a couple of nail polish bottles sitting on it!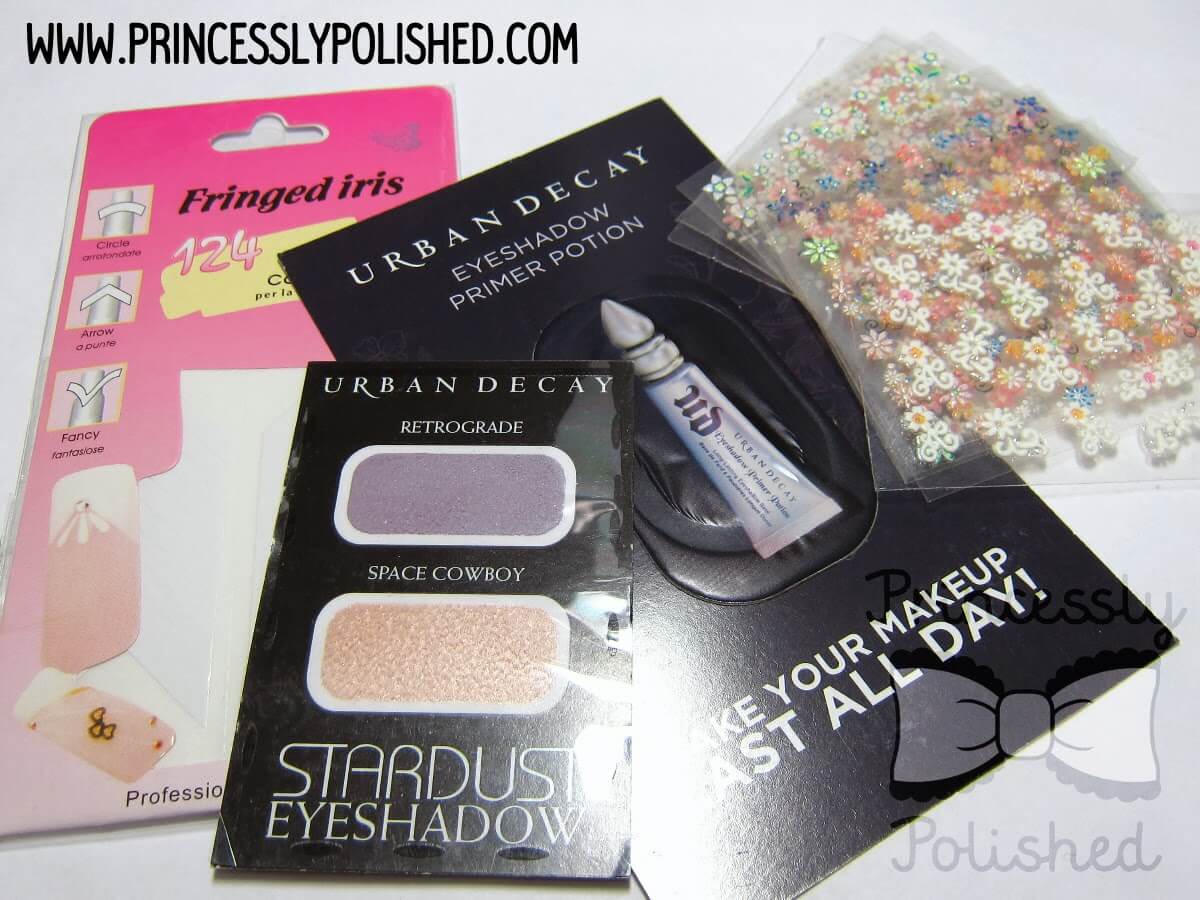 Congratulations to
Silvia
as winner of the Spring Forward prize pack! (
See the original post.
) The next giveaway will be starting soon!
Finish stocking my Storenvy Shop
Build lightbox
Tweak photo watermark settings
Giving myself a very short list because for all that I expected to keep me busy in March I'm anticipating an even busier month of April! Hopefully I'll be busy outdoors, too. It's still cold at night where we live but the days are becoming sunnier. Really looking forward to being able to open the windows and go for a walk with my husband and the wee one.
But, part of the reason this post was late was because I seriously need to upgrade my desktop photography "studio". Now that I have a couple of boxes at the ready I'm truly itching to get crafty! It's also been 3 months since I set up my new watermark, and I've realized that I'm not entirely happy with it. I don't know exactly how I'm going to change it, but I'd like something more subtle. =)
Are you as curious-but-apprehensive about gel as I am? Have any advice for me? Did you read the whole post? =P Leave a comment!