Nail Art / Swatch & Review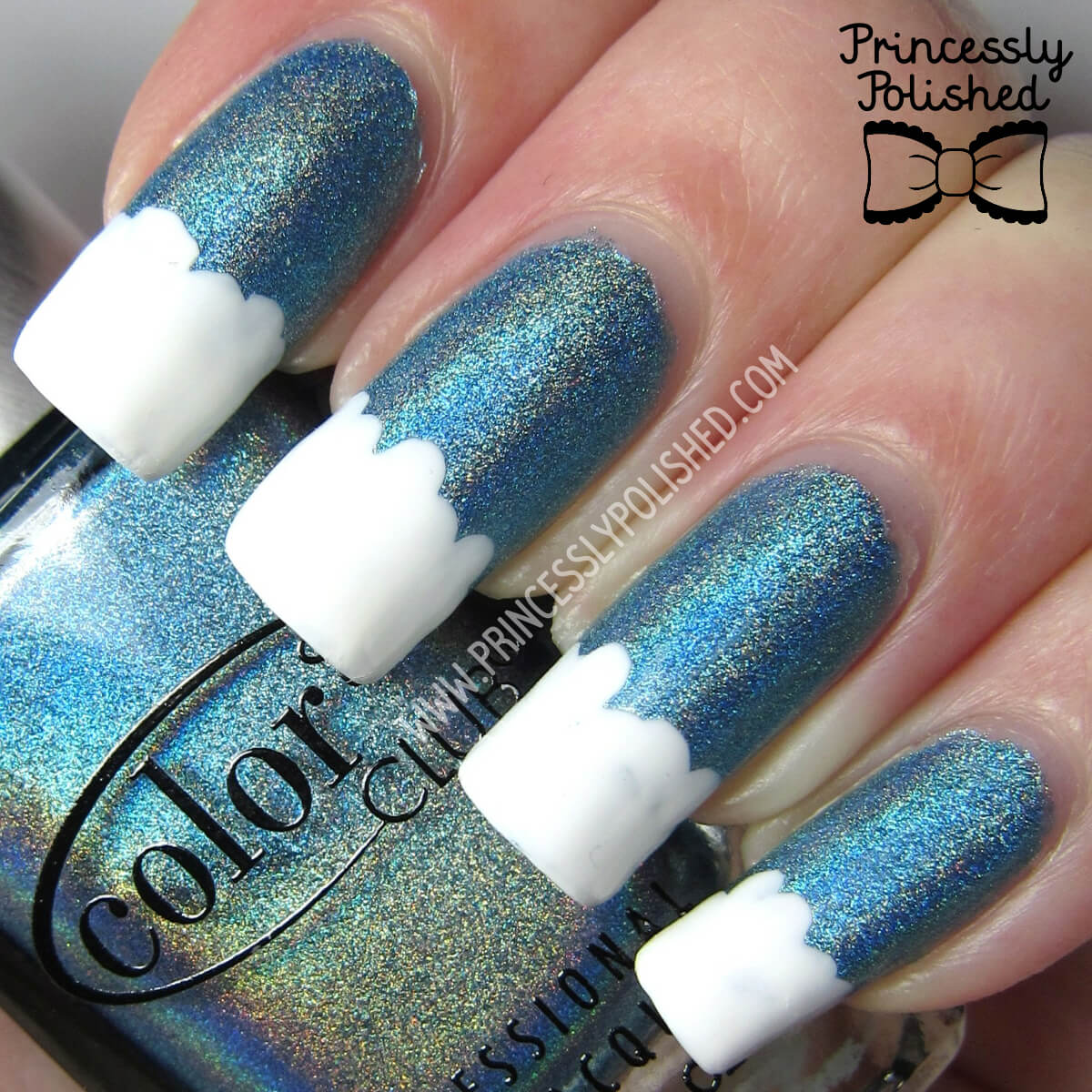 These weren't supposed to look like snowy, winter nails, I promise! If you're having flashbacks to negative temperatures I give you my whole-hearted apology. After wearing Color Club Over the Moon for a day and enjoying it's sunny-sky hue I thought puffy cloud tips would be pretty cute. So I free-handed cloud tips using Zoya Purity.
I also painted under the tips of my nails using Purity but did not bother taking any pictures. It is a nice effect but causes some panic when eating foods involving sour cream. I found myself wiping under my nails repeatedly whenever I thought I had gotten messy... I couldn't tell where the sour cream was!
This manicure also finishes up my swatching of the 2013
Color Club
Halo Hues collection, which was a gift from my husband! I did nail art with most of these swatching manicures, which is pretty neat. (See my earlier manicures using
Beyond
,
Cosmic Fate
,
Kismet
,
Miss Bliss and Eternal Beauty
if you missed them.) And most of the nail art has been using cloud techniques, which wasn't intentional so I'm pretty amused by noticing it now.
Anyway, Over the Moon is a jaw-droppingly beautiful blue holographic polish with a very strong linear effect. Absolute perfection in formula and coverage: I'm wearing 2 easy coats. The wear has been great with this polish and the effect wasn't dulled a bit by topcoat. It dries fast on it's own so fast-drying topcoat isn't an absolute must, but topcoat does give your nails more shine.
I leave you with this macro, I love the depth and how my camera captured 3 very different modes of focus within the shot. Blurry backgroud, crisply focused mid-ground and super-bokeh foreground! I love looking and sparkly polish up close, don't you?
Don't forget that you can always click my pictures to see substantially larger ones! =) Well, most of the time, anyway. ;D Want these polishes? Here are links!