After taking my first issue of Nail It! for a test run, I bought a year's subscription and was very happy to find the next issue in my mailbox recently. Yay for not missing any issues! I'd like to continue to share my thoughts on the magazines I get, and if you're a reader too I'd love to hear what articles you enjoyed, too!
This March/April edition advertises itself as being "The Bridal Issue", and the overall tone of the magazine is bright, fresh, and what you would expect for spring as far as the colors and styles that are promoted. Lots of florals and pastels!
The cover photo features nude nails with vibrant feather accents - the breakdown on how to create these nails yourself is included on page 22! I found these nails to be different from the typical "feather design" that includes recognizably patterned feathers.. At first glance they look like brushstroke nails, because of how wisps of colorful feathers are layered. The rest of the photos from the cover shoot are on page 90.
69 Nail Designs (pg 64):
Yet again Nail It! features the reader submitted nail art on the cover! These time the full-page spreads feature pastels, florals, and lines (think intricate striping tape & nail vinyl creations). This took up quite a bit of the magzine and every bit of it was drool-worthy. Go, fellow nail fanatics!
Healthy Eats For Amazing Nails (pg 84):
This two-page article listed 7 foods that are super good for you & your nails. They pointed out what the foods were a good source of and how that benefits your tips. While most of the foods weren't a surprise to me, #6 was: oysters. Because they are high in Zinc. You learn something new every day!
Kick The Clutter, Tips For Cleaning Out Your Polish Closet (pg 84):
I'll admit, I cringed a little when I saw this one! A nail polish magazine telling you how to weed out your stash? Surely this is because they want you to feel inclined to throw away half your colors to buy the new products they are promoting, right? I cringed a little harder when I saw the first heading was labeled "Toss" in big, clear print. But, I was afraid for no reason!
Nail It! commendably gave advice on how to weed out potentially hazardous-to-you items in a manicurist's arsenal: old files, clippers (rust = toss it), expired lotions (funky smell = toss it) and the like. As for polish, they accurately inform readers that polish lasts for years when stored in a dark, cool place (no, not your fridge!). They even mention thinner being used to revive a gloopy nail polish. But if you're inclined to let a polish go their solutions are: gifts to friends and charitable donations!
The rest of this article wraps up with recommended items to have in your collection and creative storage solutions.
New Twists on Wedding Nails (pg106):
This 8-page feature includes artsy photos of inspiring nails and a step-by-step tutorial, as well as more submissions from readers:
There is also a separate article on pg 80 for Wedding-Ready Nails that gives a 9-month plan of what to do to get your natural nails ready for their perfect manicure on the day of your wedding.
An ad with useful content! I'm always happy when an ad is either A) so gorgeous that it looks more like art than an ad, or B) offering up some useful content to promote itself. This Sally Beauty ad (pg 49) featured a small tutorial for flower-sprinkled tips using some of the products they sell. It would be easy to create with just about any polishes and dotting tools that you already own!
The last article was pure eye candy, with plenty of pastel-colored pretties and models posinb with tasty treats. I mean, just look at this popcorn-themed one! She is wearing popcorn stacking rings! Too cute! This is the sort of coordination I can get into.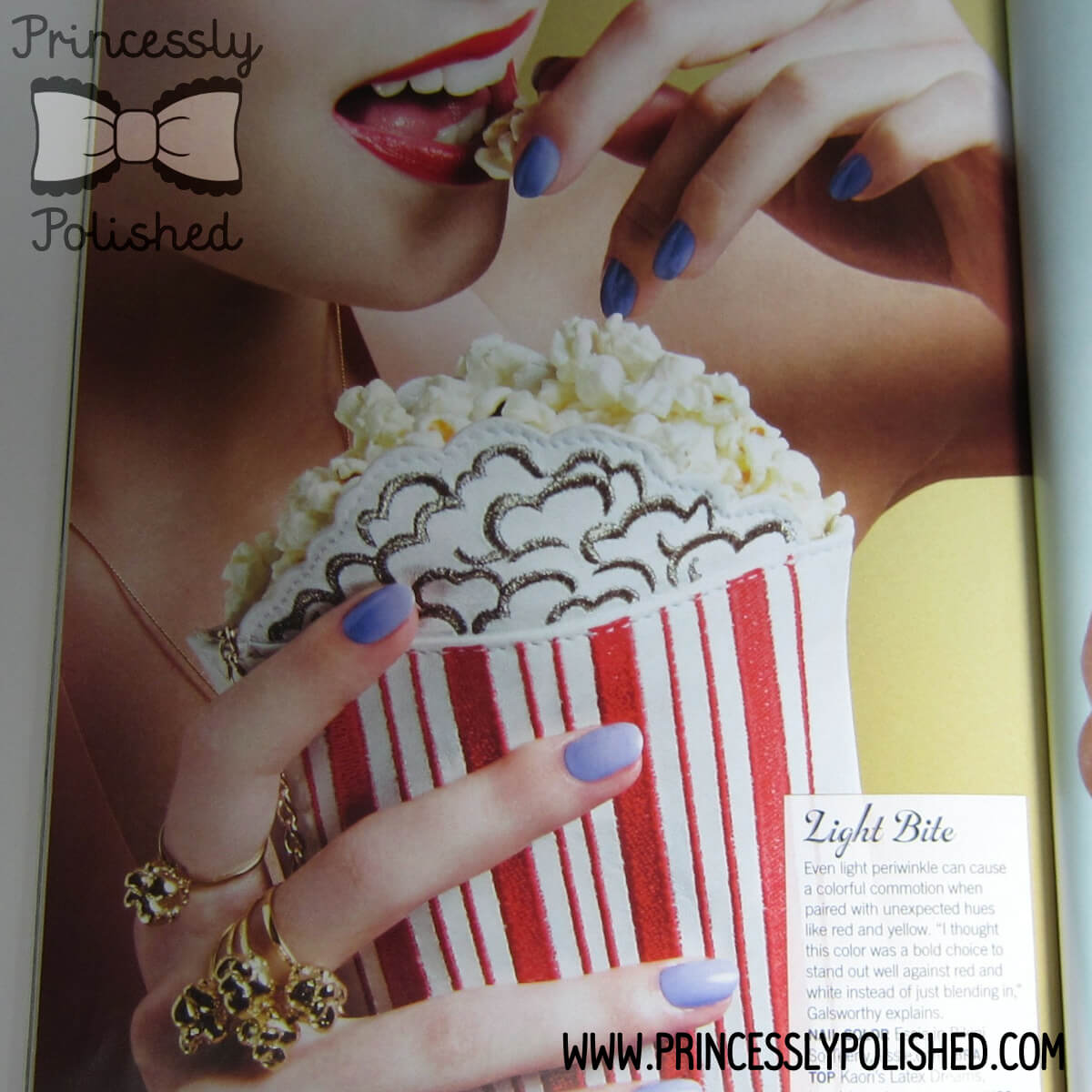 Overall there wasn't any article that I skimmed or felt let-down by in this issue. I'm a happy little reader! If you're interested in finding this issue it should be on the stands for a few more weeks. Thanks for reading my little review!