Today I have swatches of the very pretty Kismet from Color Club's second Halo Hues collection. Before I gush about this holo I want to give a few updates about what is going on around here, though! Exactly 1 week ago I got a phone call from work saying "hey, we got the return to work note from your doctor, you're on the schedule next week". Next. Week. As in yesterday. My husband and I were so not expecting that! We both figured I'd have until the end of January before I was given any hours at work. So, last week quickly unraveled into hasty baby-sitter planning and me trying desperately to get as much as I could done before Sunday. Only I didn't get a whole lot done because I mostly made myself depressed and incredibly stressed out.
Now that everything is done I'm still recovering from my migraine-filled weekend, but work has been fine. Little Freya does just fine without me for 9 hours, and having to pump breastmilk on my lunch break isn't so bad after all. Still, this does eat up more of my time. Until I become a Super Mom who can do it all (ha) I am aiming for a blog post schedule of Wednesdays and Fridays. If I can manage anything more than that I'll just consider it a happy bonus until it becomes regular.
So, I currently have Kismet on my nails because I was determined to have my nails properly filed, prepped and painted for my return to work. I was originally planning some basic nail art but by Sunday night I was running out of time and energy. So I peeked into my untrieds box and grabbed a Color Club holo. Holographics seem to be my go-to polish for times that I need my nails done in a hurry. They dry fast, clean-up is easy and they look amazing all on their own.
This is two coats of Color Club Kismet, no topcoat. The linear rainbow effect is far stronger in person! I don't know what it is about this muted celery-stalk shade that makes it so holo-friendly, but it seems like almost every brand makes a holo this color, and it is always very strong! I'm super pleased that it is silvery enough to not make my hands look red! =)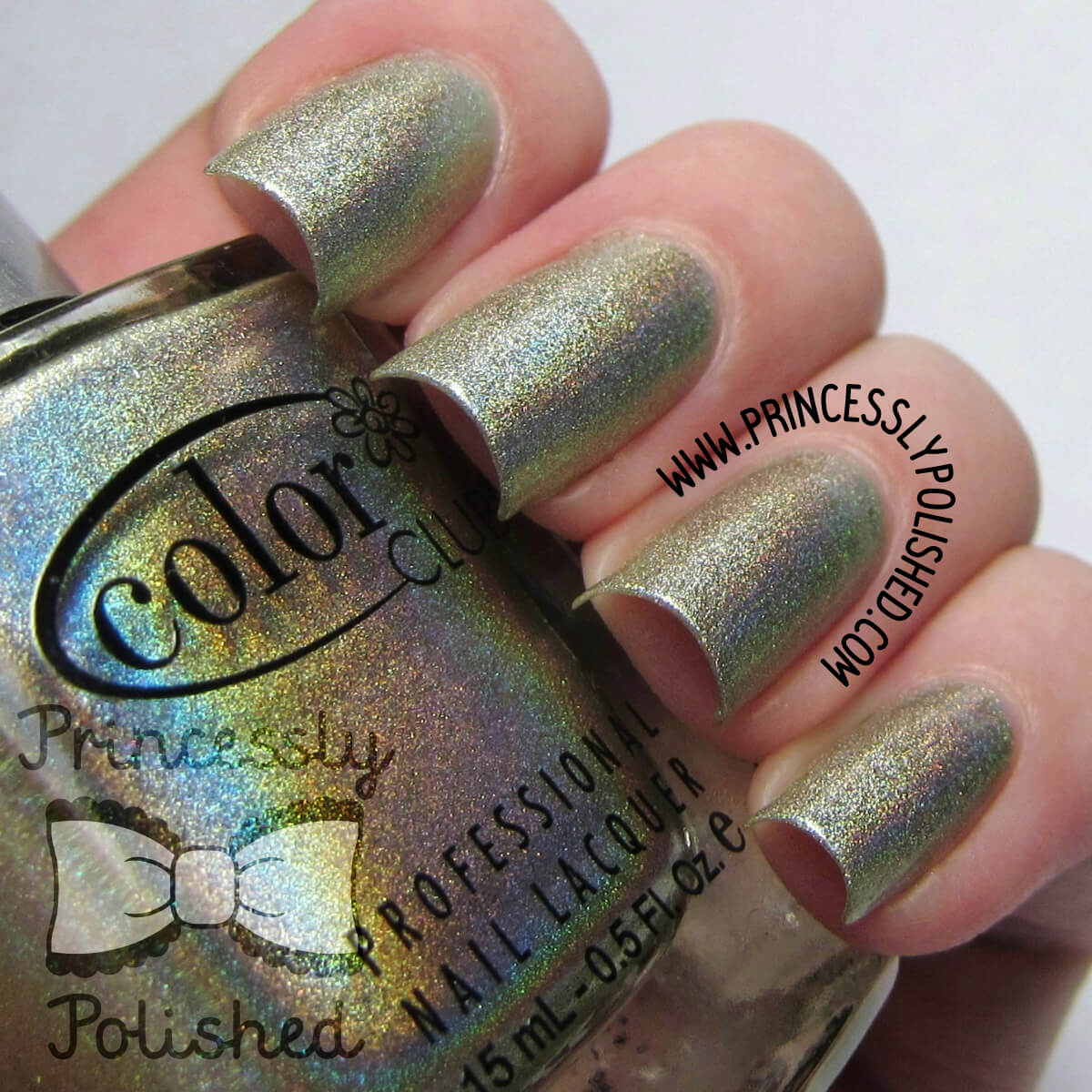 I know I've said this in my other Halo Hue posts, but I can't get over how good these polishes are for the price. The formula is nice and even, no issues with dragging or bald spots, and I am still wearing this two days later with only the slightest hint of tip wear! That is the durability of Kismet polish without topcoat. Wow.
And may I also say that I'm so happy that I managed to put in my first two days back at work without breaking any nails? Because I am happy. Very happy. My nails have done so much better in my 4 months off from work. I hope they can stay this way.
Color Club Kismet:
Finish: Metallic linear holographic.
Dries: Fast.
Coverage: Thin but covers well at 2 coats. Could do 3 but it wasn't necessary on my nails.
Formula & Application: Wonderful formula, easy to apply.
Wear Time: 2 days with no chips is AWESOME for a holo!
Removal: Typical of holos, it is easy to remove.
Overall: I love this polish! A must-have if you don't already own a color like it.
Perfect For: Sunny days and bright lights.
Where to Buy: http://shopcolorclub.com/