Even on a "no make-up day" hydrated lips are a must, obviously. I will venture no where without my Burt's Bees lip balm, or a worthy stand-in. Before I would have not added the part about the stand-in, but these glosses have convinced me that one actually exists.
The Company: Too Faced | The Product: Glamour Gloss
Current Retail Price: $19.00 a piece
The Colors I'm Reviewing: Sex Pot, This is Pretty!, Barely Legal, Strip Tease, Pillow Talk, Erotic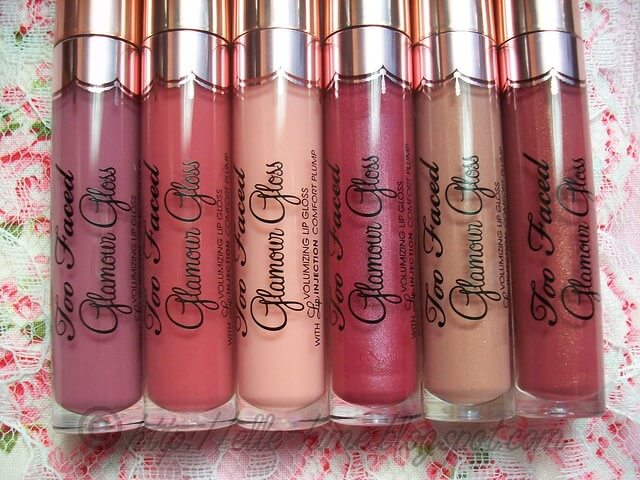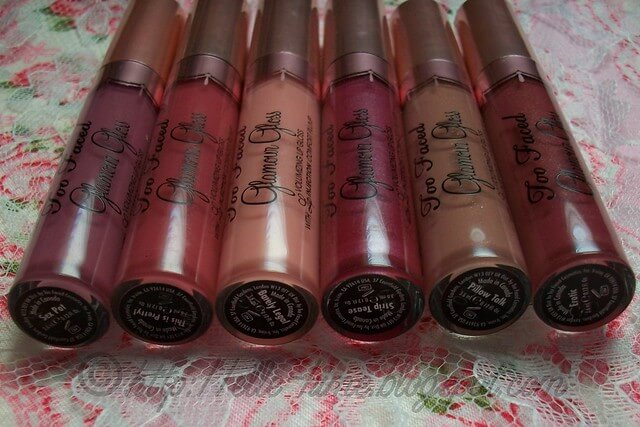 ↑ Without Flash | With Flash ↓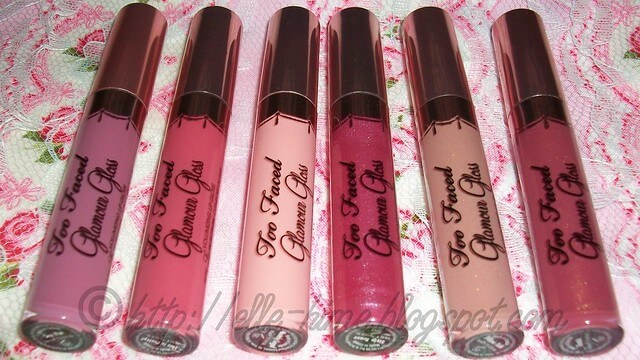 After the third tube of my once-favorite plumping lip gloss burst (just like the second one did, but this time in my purse!) I was looking for a new lip plumping gloss in sturdier packaging. I have a tube of Buxom Lips gloss, and while it works the ingredients are just nasty. I was not thrilled to drop almost $20 on a lip gloss, but the promise of pretty colors, fairly long wear-time and a refreshing mint tingle with vanilla scent sounded too good to resist. These are in fact "Volumizing Lip Gloss" with a toned down version of Too Faced's famous Lip Injection in their formula. I have been using these glosses for about a month now, and can say that I'm really impressed.
Some people hate lip plumpers, either being so sensitive that it causes them actual pain, or complaining that they work by causing mild allergic reactions which isn't right, or saying that it wears their lips out and leaves them feeling dry and deflated afterwards. I have tried a few different plumping glosses in my time and have never had any issues like that. I for one love the tingling sensations, and am a huge fan of Burt's Bees original lip balm because of it's cooling mint ingredient. These glosses have a gentle, cool tingle that lasts about an hour. It's not intense, but it's there and feels great.
So, do these actually give your lips more volume? From what I have experienced, yes. Is it a huge difference? No, and that is a good thing! The main thing I need for luscious lips is to keep them very, very moisturized. Let them soak all that goodness in and they will do fine. If these actually puffed my lips up like a cosmetic procedure it would look unnatural, and that's not what I go for. (I've seen my lips when they reacted to something, and that kind of inflation is not pretty.) Instead what I get from these is a just-right enhancement. The formula is super moisturizing, and gently fills my lips out. If I apply these lip glosses throughout the day I can go without my lip balm, and by the end of the day they look and feel great. With continued use the appearance and condition of my lips has actually improved!
These glosses stay in place really well - I have to be sure to apply them evenly over the lips. I don't have trouble with feathering or gunking up around my mouth, and they last for a few hours before they need to be reapplied. The pigmentation is quite good, and the gloss isn't super-enamel-shiny. It's a nice, natural type of shine. They aren't overly sticky, but I do have to watch my hair in the wind right after applying. These smell wonderful, opening the tube is like taking the lid off a box of cupcakes and after dinner mints! People notice! The scent fades once applied, and I don't notice a flavor when I lick my lips.
I didn't take packaging pictures... partly from forgetting to! But these round-tube glosses are easy to spot with their rose-gold caps that feature a big round rhinestone set into the top. Maybe slightly obnoxious, but it's definitely princessy and fits my style well enough. I decided I liked them since they aren't cheap-looking, and seeing the glittering cap when I opened my purse in search of the gloss did put a smile on my face. Some colors have a doe-foot applicator, and others have brushes. Only two of my colors have the brushes - Strip Tease and Sex Pot. The brush gathers up more gloss, and I like that. Still, one brush was very frayed - I trimmed the worst of the bristles and the rest merged back into the brush once I used it a few times. With the doe-foot wands I find myself redipping for a second helping in order to properly cover my lips.
Now, colors! I'll do these in pictured order: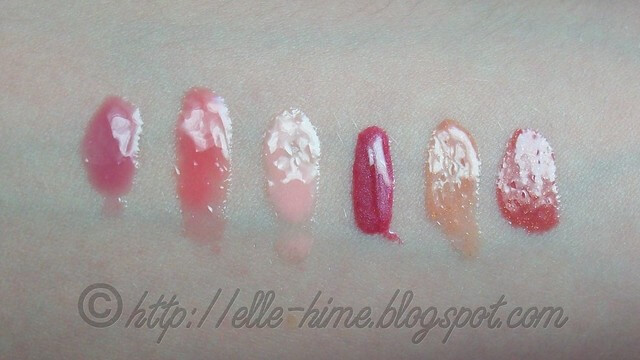 ↑ Without Flash | With Flash ↓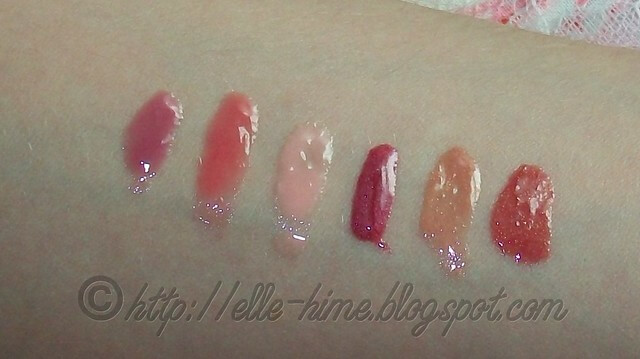 Sex Pot: (description: Sheer lilac)
Too Faced is spot-on with their description. This is a pastel shade, no glitter or shimmer in it. Just a sheer lilac-type color that will be good for cool skin tones. It isn't extremely noticeable on my pigmented lips, but it looks nice and is unique to my collection.
This is Pretty!: (description: Neutral Rose)
This is one of the first colors I picked up when I wanted to try the gloss, and one of Too Faced's new colors, as well. I figured it was a safe choice; it is in fact a perfect choice. When I first saw the gloss I wasn't all that impressed, but after applying it I realized that it beautifully evens out and enhances my lip color. No shimmer or glitter here, either, just lovely shine. Once again Too Faced's description is spot-on. This color looks great on me, and I think it will work for anyone.
Barely Legal: (description: Marshmallow Pink)
I think this is one of the more common colors, as mine came from a set. I love the color in the tube, and once again Too Faced has a good color description. This is another sheer color with no shimmers. Sometimes pale glosses will look freaky-weird on my lips, but this works for me. I think it would be especially nice on girls with paler lips than I have.
Strip Tease: (description: Iced Raspberry)
This, I love. Absolutely gorgeous. Wonderfully pigmented berry-tone that has super-fine shimmer. You'll assume it's all silvery shimmer in the tube, but it reflects blue, purple, and pink in strong light. This is the other color I bought to first try - it has a nice brush applicator, and really made me fall in love with Too Faced Glamour Gloss. Definitely going to keep it in my collection!
Pillow Talk:
(description: Mauve Shimmer)
For once I cannot agree with the color description! My swatch came out just right...does that look mauve to you? I'd call it a Nude Shimmer, definitely. A neutral-type color, but I probably won't be wearing it on account of it's containing golden and...reddish? shimmer.
I just don't do gold...
Very sheer color - not mauve. Let down. =(
Erotic: (description: Cranberry Fizz)
I was hoping this would be a deep red that I could enjoy, but it falls on the warm side. The shimmer is golden. To me cranberry should be a deeper color than this, but oh well. I only opened this to swatch it on my skin to share here.
In summary, I really do love these glosses. I would also love for them to be cheaper and have less tawdry names, but they work perfectly for me, have a delightful smell, and the colors are, on the whole, very nice wearable shades. Coverage and lasting power is good. Their plumping action is effective and very refreshing. With a super-moisturizing formula to top it all off, I'll keep buying these.
I would recommend these to...
someone who enjoys girly packaging... would like to find a gentle lip plumper... anyone who loves the mint tingle of Burt's Bees lip balm... who can afford to drop the money on a quality gloss... someone who needs to keep their lips well-moisturized.
Can be found at:
And other Online retailers.
Disclosure: I purchased all of these products myself and have shared my honest opinion.