When I recently placed my first order through
TooFaced.com
, the site worked differently and there was a bit of worry about my order. Here is a quick look at then and now, as I placed another order on August 18th when the revamped site debuted. (As an added bonus, this is a haul post, too!)
(Image from Too Faced mailing list E-mail, edited by me.)
How things were back in the olden days:
Back on July 26
th I saw that Too Faced (TF) was running a few nice deals that couldn't be found elsewhere, and I could
get cashback through Mr. Rebates
, so I went ahead and placed an order. That was a Tuesday, so I expected to see my order get underway and be sent out within the week. No such thing happened. I had an order notification E-mail and funds holding on my card that night, but the next day... the money was returned to my card. No record of the transaction. On the old site you could have an account on TooFaced.com, but it did not hold Order information - I had no way to look up the status!
I contacted TF through E-mail on July 30th, which meant I had to wait until business days for a response. I tried searching for similar TF order issues in the meantime; not much turned up. The following Tuesday I had my response, that my order was processing I would be sent out soon. Still, I was not actually charged for my order until August 4th, which is the day the package arrived at my door.
While the original site wasn't really flawed, it was unpolished in function and left me worrying and clueless as to what was going on with my money. Also, it was a danger to someone who might place an order, think the money is spent, spend more elsewhere, and get hit with an overdraft fee or cancelled order. I did not like that at all.
Compare that to now:
The site does not look radically different, but contains more interactive features. TF was advertising these: Get the Look Videos & Tutorials - these are not something I usually care about but I browsed through the section and they do have a variety of looks, and how-tos on what their products and tools are for. When you go into a tutorial a button is provided to add all the items they used to your cart in one click. Even when some palettes go out of stock I hope they keep the tutorials up for reference. Also, one thing that I love about their tutes; their models are really smiling and look happy, even in their "before" pictures... that is so nice to see.
Reviews & Ratings - like many other make-up companies, now you can leave reviews for their products right on the website. This is done through a 5-star rating system and personal comments.
Glam Status Loyalty Program - Now this I can get excited about. They have added a familiar perk - the dollars you spend being transformed into points. These will accumulate over time and earn you various rewards. So nice to see this! Now I'll be more tempted to buy TF products from their actual site, rather than ordering through other retailers like I have in the past.
Other new things are Order Tracking (hooray!), Restock Notifications (good), Wish Lists (nice), and more news and info about Too Faced in general.
So, how is placing an order after all these changes? When I first got the E-mail that their site was redone it would not even load. I'm guessing this is because all their changes went live, they were working out the bugs, and 1,000 adoring fans wanted to go see it! Plus, they were doing a giveaway for the first 200 orders placed through the site. About two hours later it was functional for me. I clicked around, logged in, put a couple things in my cart and checked out. Payment is still by Credit Card only. My receipt said I had the special gift set added to my order, but I realized that they may have sold out.
A few hours later I went back to the site again and the special offer was taken down, and was not added to my basket when I tested it. If TF finally fixed their cart system up so it can keep track of how many freebies they have left and then cut people off when they are gone that is a very good thing. My card said that it had funds holding on it that night, but the charge was gone the next day, just like in past orders. I still don't understand this. On August 22 I received an E-mail that my package was shipped through UPS, and when I checked the tracking it revealed that everything had been sent out on the 19th, and would arrive today! I'm very impressed that the site was getting orders out so quickly. Finally TF has my money, and yes, my package did arrive!
I can't believe that I was one of their "first 200" customers on the new site - wow!!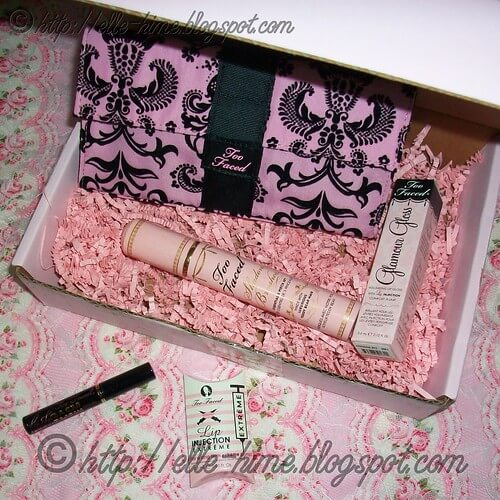 Too Faced still sends you adorable boxes of pinkness! Squee! Here are all my wonderful GWPs: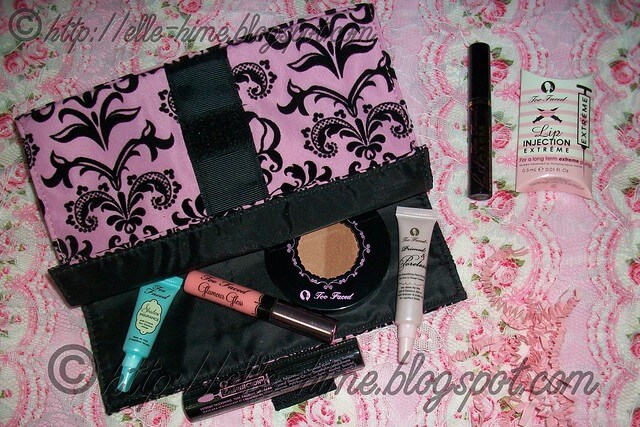 The lovely pink & black damask make-up bag that contained 5 samples of their best sellers: Original Shadow Insurance (it's baby sized, adorable!), Glamour Gloss in Barely Legal (more dark and peach toned than the full-size), a Sun Bunny bronzer, Original Primed & Poreless mini, & Lash Injection mini.
I also earned their current gift of a sample-size LashGASM mascara, and picked out the Lip Injection Extreme as my freebie of choice. Really should have photo'd that out of the pillow pouch, it's incredibly tiny!
The items I bought were the Shadow Brushes Essential 3-Piece Set (review forthcoming!), and another Glamour Gloss in Chihuahua Bite. I'm super happy with everything, especially how fast it shipped out - I'm glad to get this complete review up in a timely manner. If anything I'd like to see TF speed up their process of actually taking your money, and letting you know the moment things are shipping. Their products and packaging are great, of course!
My account with TF is so much nicer now. I can check on past orders, let the company know my coloring & style for product recommendations, and now I'm earning their perk points with every order on top of the cashback I'm already getting for shopping there!
I would recommend TooFaced.com to
... Anyone who doens't mind having an account with a company... Someone who uses
Mr. Rebates
for cashback... All fans of Too Faced!
Disclosure: I purchased these products myself and have shared my honest opinion on everything.