Blasted. Crackle. Shatter. I told myself that all the fracturing topcoats were too trendy to bother with, and a fad that I'd kick myself for falling into. Sometimes they just looked so cool, though! With the right colors they could be very catchy, maybe edgy, or even sweet and pretty. And finally, when I saw that Sephora had their own version done by OPI, I chucked a bottle in my basket for the sake of trying it out.
I bought the "safe" color option of Blasted Black, I've used it a few times and have tried applying it different ways to find that sweet spot of perfect application. So, onto my pictures and review!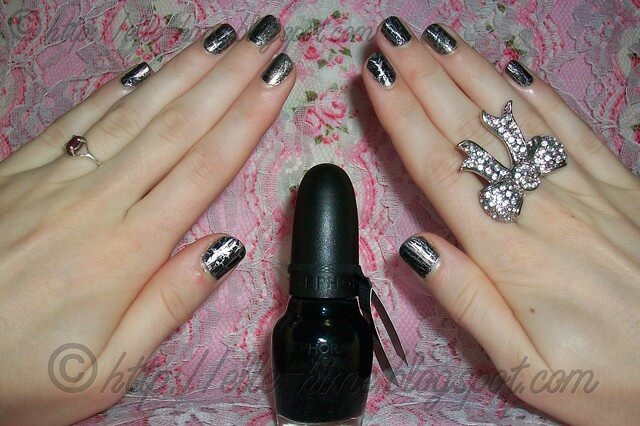 I applied this color over a silver foil polish - a stunning combination because of the excellent constrast, and I thought it would be good for photos, but it didn't come out as clear as I would have liked. The manicure was a day old in these pictures.
My opinion on the formula and lasting power of this polish is that Sephora by OPI is in fact good stuff. For close to $10, it had better be! Blasted Black dries to a not-quite-matte finish, I'd call it a satin. For the purpose of testing the polish out I have not put a top coat over it, and unless you want your polish extremely shiny (or completely matte) you may not need one. I did not have any trouble with the dried polish flaking off of my base nail color. It was prone to tip wear, but not chipping.
Application... I'm a shatter newbie so I have been experimenting with how to apply the polish for the best look. You have to work fast with this polish, as it will begin to do it's thing on your nail almost instantly. Essentially you want to get nice defined breaks in the top coat for bold contrast, and possibly keep your cracks from looking too linear. I tried different methods of painting for this manicure.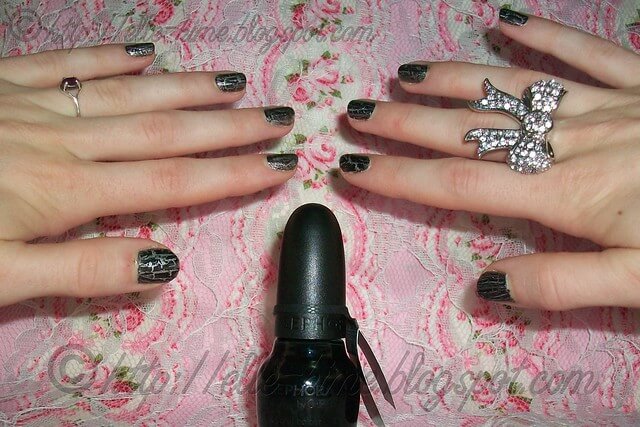 The pinky and ring finger on my left hand had a nice look - I wiggled the brush side to side a couple times during application. The middle and index finger on the same hand also got the wiggle treatment, but I put the polish on too thin. If your coat is too thin it won't be properly blasted and instead looks sheer and sickly. My left thumb turned out perfectly! I applied the polish thickly there and made two quick horizontal swipes right before it dried.
My right thumb turned out okay but it is a case of very skinny, linear breaks. (In a way it's reminiscent of nail ridges, ew.) This was caused by swiping it on with no side-to-side movements. On my right index finger I tried making an X across my nail, and then filling in the missed spots. I think it may work better the other way around, but the breaks were appealing anyway. The middle and ring fingers on my hand turned out just fine, except for where I tried making horizontal swipes across the ring finger nail when the polish was too far dried. My right pinky got a borderline too thick helping of Blasted nail color, but the breaks turned out pretty good anyway.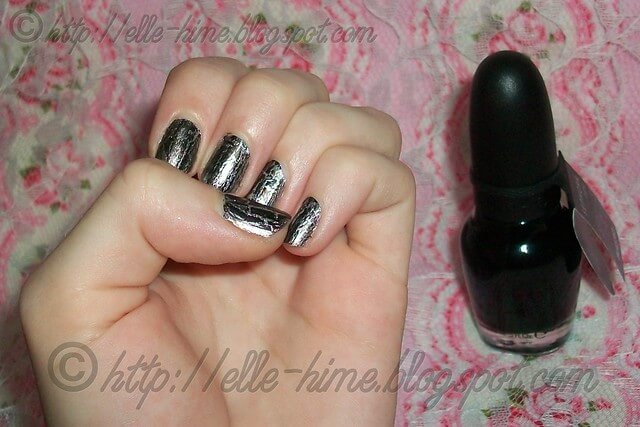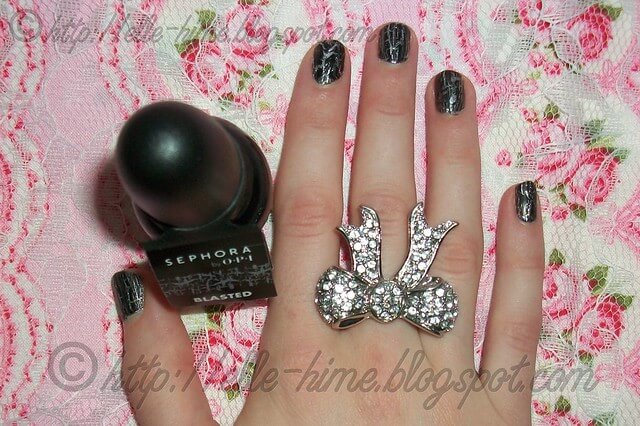 So, my suggestions are to use a decently thick amount of polish, work quickly, and get some horizontal motion on your nail bed. Be careful when you're cleaning your brush in the neck of the bottle, you could create a clump of polish at the opening if you aren't making it run down inside the bottle. The first time I used this I began to see build up, but I closed the bottle and it was gone the next time I wanted to use it. Keep your bottle closed as much as possible to prevent thickening, and be aware that it will eventually need a couple drops of thinner/polish restore added.
Am I a convert? ...I'm planning to buy more colors, does that answer your question? I like this polish for how it is fairly easy to work with, dries so super fast, and is a great way to liven up your nails or give your few-days-old mani a facelift. Because it's actually good to wiggle your brush it's basically a foolproof option for nail art! Also, it is super easy to clean off your skin. I'm a messy nail painter and was pleased to see that once dry it scraped right off of anything that wasn't my fingernail!
This type of polish would by perfect for... someone who likes creative looks, or a variety... a person with unsteady hands... someone who doesn't have the patience for fiddly nail art... anyone who doesn't have time to wait for their nails to dry... someone looking to extend the life of a manicure... doing a little girl's nails.
Find it at:
Disclosure: I purchased this product myself and have shared my honest opinion.