I'm currently getting over a cold (which is why I missed posting on Wednesday), while also dealing with a really cute baby that has decided not to stay asleep at night for the past two weeks. My husband and I have been in a perpetual state of running-on-empty. I've been depressed about my inability to get things done, but looking on the bright side (literally, since the sun is out and our snow is melting!) I do have a lot to be thankful for. My very supportive husband, a generally healthy family, and getting to watch all the amazing accomplishments of our baby girl. Little Freya will turn 6 months old tomorrow, is getting used to being spoon-fed, loves to sit up on her own, and yesterday she said her first word: "mama".
The manicure I'm sharing today is one that came from poking halfheartedly through my untrieds, and then being surprised with how much I enjoyed wearing it. The nail polish from I♥NP is called Absolute Zero, and it was an exclusive color only available with pre-orders some time back. In all honesty I wasn't too enthused about it, navy blue isn't my thing, but I did pre-order some polishes, thus it ended up in my collection anyway.
My swatches show 1 coat plus topcoat; I'm especially impressed that I only had to use 1 coat for a nice rich finish. Absolute Zero has a slightly metallic and holo-infused finish. It ended up being quite pretty in person and had a lot of life on the nail. Sadly it doesn't come across very well in my pictures, and it also didn't seem to get along with my Poshe fast-drying topcoat, which was causing the polish to pull up around my cuticles. I also found I had tipwear much faster with this manicure than I normally do with any other ILNP color.
Under my nails I used 2 coats of Zoya Emme, which is the type of frosty/pearly pink that would normally be a brushstroke-filled letdown on top of the nail, but you don't see this problem when you're painting underneath. I'm really happy to discover this use for frosty polishes. Emme is a very pretty pink and gave a light, girly feel to this manicure.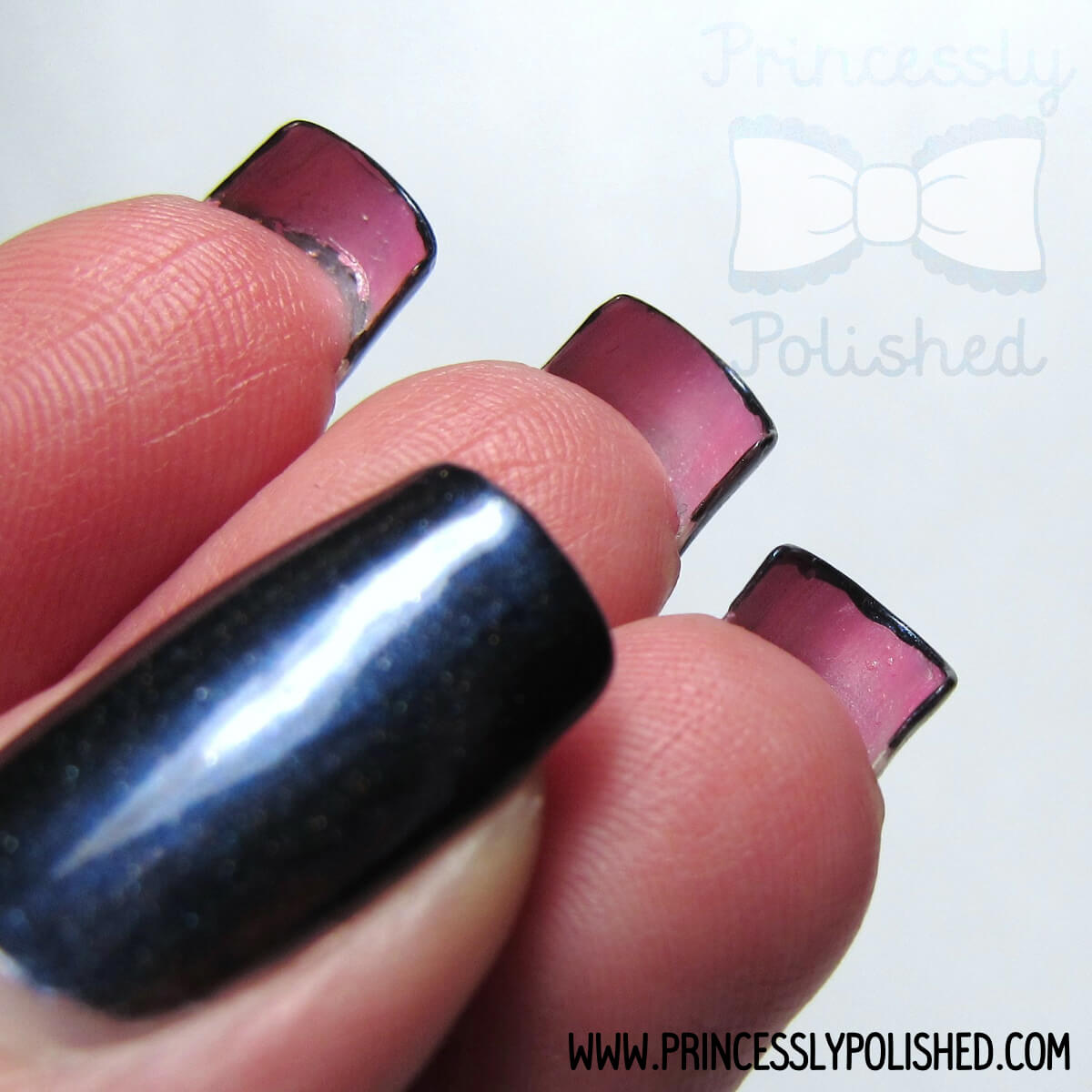 I like this picture because you can also see the out-of-focus sparkle on my thumbnail! Here is another close-up that shows off the subtle rainbows in this manicure.
Where to find these brands: