After so little buying of STUFF this summer, this month's haul feels HUGE! I've been quite happy with "shopping my untrieds", but I did pick up some really awesome new goodies as well!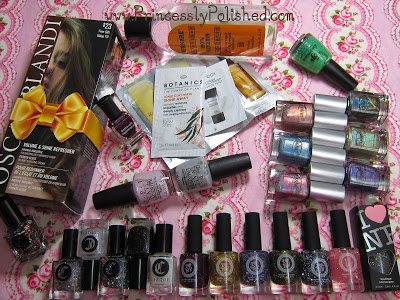 If the above picture seems a little bare in the upper right corner, that's it is. I missed a polish! Fortunately I managed to include it in the "close-up" photo...
Pure Ice Fairy Godmother and Salon Perfect Kaboom.
These were both found at Walmart. I've already
swatched
Fairy Godmother, which I love. It's a perfect shade of purple and only $2 for a bottle! Kaboom is a Floam-type glitter dupe, and the only one I found from
Salon Perfect
's summer neon glitter collection. I'm really surprised that
China Glaze
didn't decide to put out these colors under their name, and make them more widely available. Oh well. I figure it should be handy for nail art! Between one polish being a tricky purple and the other a neon these are very hard to photograph, but this quick picture is actually pretty accurate on my screen.
Color Club Beyond, Over The Moon, Kismet, Cosmic Fate, Miss Bliss and Eternal Beauty.
The entire 2013 Halo Hues collection! These were a gift from my husband, which makes them even more special! I had the collection on my wishlist and he snagged them right away (without my knowing) when I found them at a decent price on Amazon. The colors are awesome and very holographic. I hope that Color Club keeps releasing more Halo Hues because they are so good for the price!
I♥NP Once Upon A Starry Night, Angel Burp, A Nice Chianti, All Gold Everything, Purple Stuff, 11:59, and (still boxed) Silver Spoons
I snatched up polishes on my wishlist that were being discontinued when
I Love Nail Polish
announced them going on sale. So far I've tried
Once Upon A Starry Night
and
Angel Burp
and shared them here. I really love these polishes, from the
super-cute but practical packaging
they come in to the pretty bottles with their thin grippy handles. The shipping was fast, too! So glad to finally have these pretties in my collection~ These came right from
http://www.ilnp.com/
.
Cirque Dark Horse, Galinda, XX, Lullaby, Iris, and Kaleidoscope
Finally, I splurged and bought all the
Cirque Colors
polishes on my wishlist. They were actually all in stock at the same time (they never are during a sale... =( sigh!) so I gave in. Didn't want to miss them if they get phased out or something! I can honestly say that these babies are STUNNING. They've been swatched on a lot of great blogs already, but I'll be sharing my own creations with them, too! I have a sneaking suspicion that photos aren't going to do them justice, though... These came from
http://www.cirquecolors.com/home/
.
So, that's the damage for this month. So many very nice polishes, it's hard to know what to try next! If you have any requests for what you would like to see layered, compared, or reviewed in particular leave a comment below!