Good evening, Princesses! How has your weekend been? We've finally gotten some rain and cooler weather here. Today I'm sharing my thoughts on two lash products that I was sent for review via Influenster by the Mary Kay brand, their new Lash Love Lengthening Mascara and Lash Primer. Here they are being worn together on my curled lashes!
Like most ladies, mascara is one of my favorite cosmetics! So I was really excited to get to try these. (Fun fact: my first ever mascara was a Mary Kay tube given to me by my mother! Revisiting this brand's lash offerings is quite nostalgic.) Read on to see how I like them!
Mary Kay Lash Primer:
I will admit, I was feeling very apprehensive about this pearly white tube! A few years ago there was a boom in lash primers, and brands are still releasing them fairly regularly now. I tried several samples from big name brands and didn't like any of them at all! The primers always seemed to be goopy and stick my lashes together, which made my lashes turn into "spider legs". So when I opened the tube and saw that it was a barely-there clear formula, I was intrigued.
Here are
Mary Kay
's claims taken from the
product page
description:
"Add dramatic definition to your eyes to create fuller lashes when used as a basecoat under mascara. Or wear the clear formula alone for a natural look.


Instantly intensifies lash volume and creates longer-looking lashes.
Lifts lashes and helps them stay curled longer.
Coats without flaking, yet removes effortlessly.
Helps mascara wear longer."
The formula includes conditioning ingredients such as glycerin, aloe, and a few other conditioners. Other features are the unique brush - the black and white swirl of bristles aren't just for looks! The white bristles absorb and deliver the primer, and the black bristles should comb and separate your lashes.
Application is easy and straightforward. The brush is average sized and easy to maneuver. I curled my lashes prior to putting the primer on, and only primed my upper lashes. I did have some lashes sticking together so I used a lash comb to get them back to feathery fullness.
I wouldn't call this a wonderful clear mascara on it's own. I don't think my lashes looked any different wearing only primer, besides holding a curl. As for helping my mascara to last longer and not flake, well, I didn't notice either of those things happening without using the primer, either. It may help, but I don't think the Mary Kay mascara needed the help. I did notice that it made my lashes look thicker once I applied mascara; fortunately not spider leg thick! Other good things about this primer are that the formula is lightweight and it doesn't make removing your mascara any more difficult!
Mary Kay Lash Love Lengthening Mascara:
This mascara was provided in the "I ♥ Black" color; it is also available in brown. I didn't use any other eye make-up in my photos (besides the primer) so you can see how it makes lashes pop!
Here are
Mary Kay
's claims taken from the
product page
description:
"Long, strong, seriously separated lashes. What's not to love?


Creates bold, instantly intensified length of lashes.
Lifts, curls and perfectly separates lashes.
Conditions and strengthens lashes.
Nonclumping, flake-free formula wears all day for over 10 hours."
Other features are the inclusion of fibers to physically add more length to your lashes, conditioning ingredients and the spiffy brush head. It has a slight curve and slightly longer bristles on the convex side.
Application was easy, with the brush being average sized and having bristles that could reach all my lashes - even the tiny ones! - by turning it the right way. I really like these molded rubber mascara brushes, I feel like they give better application than the traditional bristly wands (look at the Lash Primer brush, I'm talking about those).
My lashes were already curled before applying, and the curl held just fine whether I applied the Mary Kay Lash Primer or not. This mascara does need a few minutes to dry before you open your eyes wide or it will transfer to your lids. Once it is dry I have not had any trouble with it smudging or flaking, with or without the primer. The lengthening fibers are subtle and I don't really notice them much. Overall I find that the only difference using the primer makes to this mascara is that with a primer under it is seems more volumizing. Lashes appear thicker, and want to stick together more. This mascara also removes easily!
Here are a couple pictures of me using these products! First I used the Lash Primer on my curled upper lashes. Then I applied the mascara to one eye's lashes to see the difference.
It's pretty obvious which side has the mascara, isn't it? I then finished applying the Lengthening Mascara...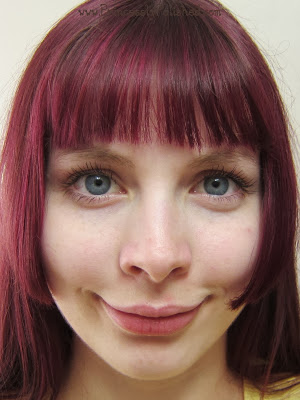 Much better! Now we can see all those lashes!
In conclusion, both of these products are solid performers. Mary Kay's Lash Primer is the best I've ever used, simply because it isn't gross! It is not a must for me, though. I don't feel that I need the extra volume it gives, and the good mascaras I use don't flake or smudge anyway. I will continue to use it on my upper lashes, and I'll try it with some lower-end mascaras to see if they benefit from the primer boost! I wouldn't bother wearing it by itself; I reach for brown mascara when I want a subtle look!
Mary Kay Lash Love Lengthening Mascara is very nice. It doesn't usurp my current favorite, but it is also cheaper per tube. I will definitely keep using it! The lengthening fibers don't make a mess of lashes, and it does a good job of grabbing little lashes thanks to the wonderful brush. It's only fault is a slight tendency to stick lashes together, and the dry time. I prefer mascaras with a drier formula. What I like best: it doesn't flake off!
Many thanks to
Influenster
and Mary Kay for selecting me to try products in the Glamour Look VoxBox! These two are definitely my favorite out of the bunch! Of course, who doesn't love to try new mascaras? ;)